Tata Indica eV2, the fuel efficient car
Published On Apr 29, 2011 03:38 PM By CarDekho for Tata Indica V2
One more variant from the treasure of Tata Motors is soon going to capture heart of car lovers especially of those who are more concerned about fuel efficiency. Tata Motors'Tata Indica eV2 is apparently the most fuel efficient car present in the Indian auto market so far. The new Tata Indica eV2 is not just a redesigned or reshaped new car in the series of Tata Indica, but it also claims to deliver a whooping mileage of 25 kmpl because of which it has been in news these days.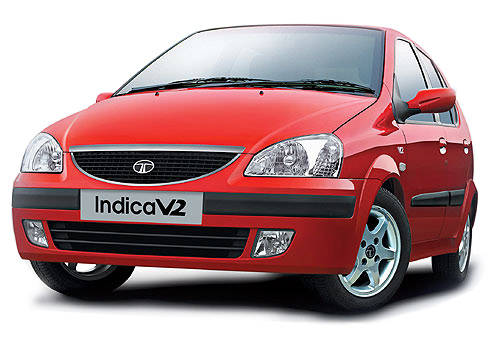 See More Tata Indica V2 Pictures Read More on Tata Indica V2
The new Tata Indica eV2 has undergone various technical changes that make it different from its predecessors. These new technical changes in Tata Indica eV2 are noticeable at first instance when a person takes the first look at car.The major changes introduced in new Tata Indica eV2 are summarised in the coming paragraphs. The bonnet of the new model has been totally given a new shape of aero dynamic model with this the smooth air flow in the front side is quite noticeable. The brake callipers of the new Tata Indica eV2 are redesigned and upgraded with computation fluid dynamics software making the air passage easier between the brake callipers.

See More Tata Indica V2 Pictures Read More on Tata Indica V2

With an objective of increasing fuel efficiency the tyres of Tata Indica eV2 are designed with low rolling resistance rubber which reduces the unsprung mass of the car. With this the suspension bearings are also changed to make compatible to tyre-wheel configuration.The upgraded DICOR engines is made suitable to reach the BS4 emission norms, along with this ECU remapping and injection system have also undergone various technical examinations before installation in new Tata Indica eV2.The new Tata Indica eV2 will be available in the following models with the price tag indicated in front of their names. Tata Indica eV2 L, Rs. 3,95,137,Tata Indica eV2 LE, Rs. 4,34,143, Tata Indica eV2 LS Rs. 4,49,826, Tata Indica eV2 LX, Rs. 4,78,350. All these prices are the ex-showroom prices.
Read More on : read more on Tata Indica V2
Was this article helpful ?
0 out of 0 found this helpful