Mercedes Launches S 500 Coupe, S 63 AMG Coupe and G 63 AMG Crazy Color Edition
Modified On Aug 01, 2015 07:42 AM By Manish for Mercedes-Benz AMG GT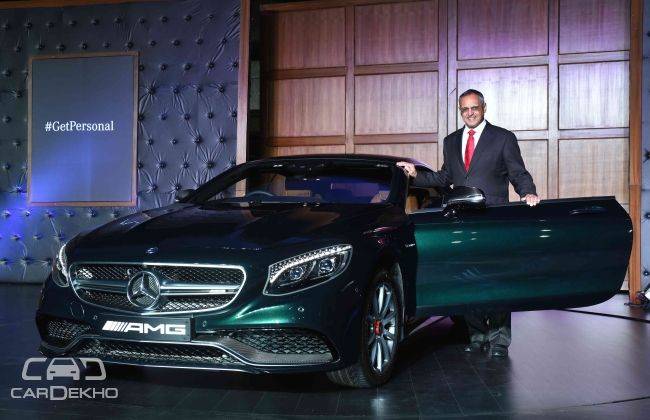 Mercedes has always been synonymous with the epitome of luxury and now also aims at achieving dominance as a luxurious sports car. The car company has launched the S 500 Coupe, S 63 AMG and G63 AMG in the country today. These models mark the entry of the S-class coupes in the Indian market. The company has tagged these models at S-Class Coupe - INR 2.0 Crore, Mercedes-AMG G63 Crazy Color edition- INR 2.17 Crore and S63 AMG Coupe - INR 2.60 crore.These new models are Mec's additions to its 15 model launch, intended for 2015. Mercedes has also launched the G63 AMG, in a new color scheme, showcased under the "Crazy Color" moniker. This basically means that the SUV will be available in bright colors like the Neon Green, shown below. The mechanical components of the beloved terrain trailer, still remain the same.

S63 AMG Coupe and S500 Coupe feature redesigned bumpers. Both cars also flaunt multi-spoke alloy wheels.
S 500 Coupe

The S 500 coupe is a two-door version of the S500 four-door sedan. The car has a 4.7-liter V8 twin-turbo engine that produces 453bhp and 700Nm of torque. The power-plant is same as that of the four-door version. S500 flaunts a rear-end with a more sloping profile that also features an exhaust system, with built-in flaps. These flaps help provide a distinct exhaust note, thanks to the rumbling V8. The exhaust note can be controlled by regulating the engine speed. S500 Coupe is available with red brake calipers. The car features generous carbon fiber usage and carved exterior design.
S63 AMG

The S63 incorporates similar styling cues as the S500, with additions of aggressive body kits, a bulging bonnet and carbon-fiber trims on the interiors. The S63 AMG has a quad-exhaust unit and incorporates extensive AMG branding.The car has managed to achieve a more athletic look with the help of its wide squat stance and bulging wheel arches. S63 AMG features a wheelbase of 2945mm, length of 5027mm, a width of 1899mm and a height of 1411mm. The car uses its 5.5-liter V8 Bi-Turbo engine, which is paired to a 7-speed AMG SPEEDSHIFT transmission to achieve an acceleration of 0-100 km/h in 4.2 seconds. This time is achieved by the S63 AMG in rear-wheel drive configuration. The car can also achieve the same acceleration in 3.9 seconds in its 4MATIC all-wheel drive configuration. S63 AMG has a steel-aluminum hybrid body shell, which makes the car 90kgs lighter than the S63 sedan. This helps it achieve an electronically limited top speed of 250 km/h.
The Specs
S 500 Coupe:
Engine: 4,663cc V8, bi-turbo
Horsepower: 455 hp
Torque: 700 Nm
Gearbox: 7G-TRONIC PLUS automatic transmission
Price: INR 2.0 Crore (Ex-Showroom New Delhi)
S 63 AMG Coupe:
Engine: 5,461cc V8, bi-turbo
Horsepower: 585 hp
Torque: 900 Nm
Gearbox: AMG SPEEDSHIFT MCT 7-speed sports transmission
Price: INR 2.60 Crore (Ex-Showroom New Delhi)
G63 AMG:
Engine: 5,461 cc V8, twin turbo
Horsepower: 537 hp
Torque: 760 Nm
Gearbox: 7-speed automatic with manual shifting mode
Price: NR 2.17 Crore (Ex-Showroom New Delhi)
Check On-Road Prices of: Mercedes Benz S 500 and S 63 AMG coupes and G 63 AMG
Was this article helpful ?
0 out of 0 found this helpful