Bisimoto tuned 708bhp Hyundai Sonata headed to SEMA
Modified On Sep 23, 2014 01:11 PM By Akshit for Hyundai Sonata Transform
Following the debut of 1,000bhp Bisimoto-tuned Hyundai Genesis Coupe at the last year's SEMA, the manufacturer will be unveiling the most powerful 708bhp Sonata at this year's edition. Developed in collaboration with Bisimoto Engineering, the one-off model packs a 2.4-liter 'Theta-II' four-cylinder engine, equipped with a Turbonetics turbocharger, a Spearco intercooler and a Golden Eagle intake manifold. The engine also has Arias forged pistons, R&R steel connecting rods, Deatschwerks fuel injectors, Magnafuel 750 fuel pump, and above all, an AEM Infinity 6 ECU. The engine comes coupled with a six-speed manual transmission, featuring a 'Bisimoto-spec Action Ironman Clutch.'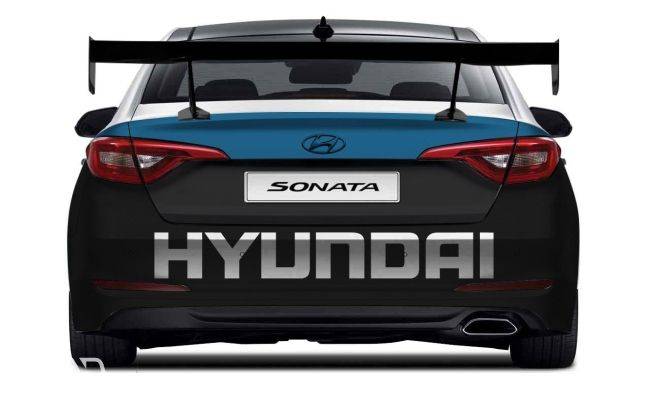 Bisi Ezerioha, owner and chief engineer, Bisimoto Engineering, said "With a proven and efficient 2.4-liter engine as a starting platform and a sophisticated, sleek, four-door design, the 2015 Sonata was the perfect candidate for this year's build. Outrageous power is nothing without reliability, and it was a firm goal to retain the reliability that Hyundai is known for. After hundreds of hours of testing, failure analysis and prototyping, 18 new products will be engineered and produced in house to produce 708 horsepower from the Sonata."
Exterior tweaks to the car includes a custom laminated body wrap and graphics, complete with an aero kit, front-splitter, Burns stainless exhaust system and 18-inch alloys. While the interiors also comes with a host of sporty interior goods such as racing harnesses, AEM wideband gauges and EK Autoworx interior paint job.
With exactly 708 bhp, this would have taken the title of 'World's Most Powerful Sedan' away from the 707bhp-Dodge Charger SRT Hellcat, if this were a production car.
Read More on : 2014 Hyundai Sonata Transform
Was this article helpful ?
0 out of 0 found this helpful