Sedans Vs Hatchbacks - What's The Better Buy?
Modified On Jul 05, 2016 06:35 PM By Khan Mohd.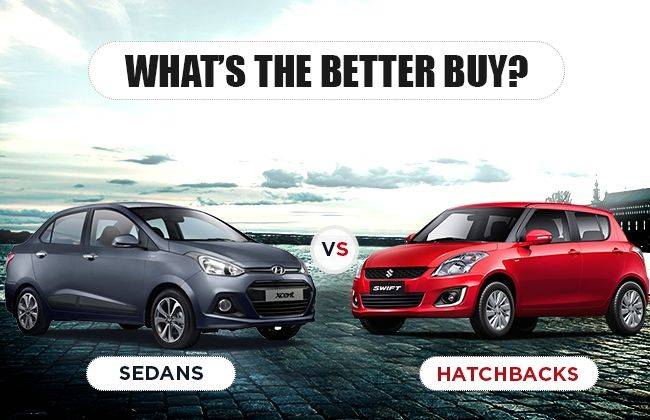 A sense of pride, an indication of growing status and prosperity, a steadily building social authority --that's what a car represents in today's age. Whether you buy a sedan or a hatch, does it really matter? Yes, at times it does. A car buyer's confusion is further augmented by the narrowing gap between the prices of a hatch and a sedan. Compact sedans, for instance, have erased that line of affordability between a two-box and a three-box car. But the question of whether buying a sedan or a hatchback is wiser still remains unsolved. Let's try to resolve them today.
Why you should consider buying a hatch.
1. Practicality
There's no denying the fact that hatchbacks are more practical than their sedan counterparts. The compact dimensions of hatches with chopped boots make them easy to manoeuvre in busy city traffic. Besides, parking a hatch takes less space compared to a sedan, thereby making it a favourite among city dwellers.
2. Good for learners

With a relatively short bonnet, hatchbacks are the way to go for learners as they can practically see the 'end point' of the bonnet, which decreases the chances of a frontal crash with the car ahead. Also, they can have a fair idea about the rear of car while reversing it for parking.
How many times have you seen an 'L' mark on the windshield of a sedan? Hardly sometimes, right? But it can be frequently found on hatchbacks, hinting towards the learner's obsession or rather compulsion in driving them. The Tata Nano is an apt example of this.
3. Fuel efficiency

Without a doubt, most hatchbacks offer better fuel economy compared to sedans thanks to their comparatively lighter weight. Take the example of the Hyundai Grand i10 and its boot-added cousin, the Xcent; the former offers marginally better mileage than the latter, reason being the added weight of the boot in the Xcent.
4. Boot space

The general consensus is that sedans have more boot space than hatches, however, that's not true in some cases. The limited opening space in a sedan's boot lets in only a limited amount of baggage, and that too, of a small/medium size. Larger or abruptly shaped cargo just does not fit.
Contrarily, the openable tail gate of a hatch can welcome most of the owner's belongings. And if space is short you can just fold down the rear seats and enjoy the massive space liberated. Most hatches are offered with foldable rear seat options, eliminating the need of a dedicated trunk. The Honda Jazz is a perfect example here -- it has magic seats in its top end variant which can be folded down completely to make way for huge boot space. This space can't be matched by the City's fixed boot.
5. Resale value

Yes, the favourite question of most buyers while opting for a new car (And one of the strong reasons why Marutis and Hyundais sell well). The two-box car definitely has better resale value compared to a sedan. This is because, in general, hatchbacks have more takers than SUVs and sedans in India.
For example, the Maruti Swift has more resale value than the Swift Dzire provided usage history is similar.
6. Perfect city car for families

With low maintenance cost, high fuel economy and spacious ambience, hatchbacks form a perfect recipe for an urban family. Whether it's dropping kids to school in the morning or taking mother to a temple or rushing to an office or taking groceries roadside, the small car is an ideal vehicle for all these tasks as it zips through the crowded streets.
7. Less expensive than a sedan
This is true in most cases that hatchbacks are affordable than sedans. In all the developing countries of the world, like India and Brazil, you can see a similar pattern where hatchbacks are sold more than their sedan counterparts.
Why consider a sedan/compact sedan.
1. More stability at highways

This may not be true for all cars but most sedans are more stable at high speeds on highways compared to hatchbacks. This has more to do with the added weight of the boot and the longer wheelbase.
2. Snob Value
You have to admit that sedans command more respect in parking, on road, and in your society. The bigger the car, the more impact it has on one's social status, at least in India. It is still called an ideal 'car' that one dreams of buying someday.
For instance, the Hyundai Verna will garner more eyeballs than the Grand i10 or the Elite i20.
3. Lower NVH
Generally, sedans are quieter than hatchbacks as they have better insulation all around.
4. Privacy

The hatchback is more of an open car with windows and windshields giving you a good view of the world around, however, they give equally similar view from the outside as well, thus letting in a sense of insecurity among passengers. Thieves and other anti-social elements can clearly see the belongings that you are carrying -- the rear windshield too gives them access to glance over things. Here, sedans can be more protective with a packed boot. The Honda Brio is a perfect example here, with its wide rear windshield having clear glass.
It's more of a personal choice but if you look at the value for money criterion, hatchbacks are perfect for urban people with their compact size, cabin space, fuel efficiency, and, of course, the buying and maintenance price. Nevertheless, if you live somewhere other than the metros or in suburban areas, sedans could also work for you.
We pick hatchbacks as the winner of this tussle. What's your take in the sedan vs hatchback battle? Do let us know in the comments section below.
Was this article helpful ?
2 out of 2 found this helpful