Rejoice! Mercedes G-Class is back!
Published On May 05, 2015 06:53 PM By Abhijeet for Mercedes-Benz G Class 2011-2023
Faster, more powerful than ever and now even efficient, the iconic G-Class has been given a thorough update by Mercedes-Benz, and thankfully it still looks the same. The classic off road machine, which needed a bath and looked even cooler on the streets, now begins a fresh new chapter.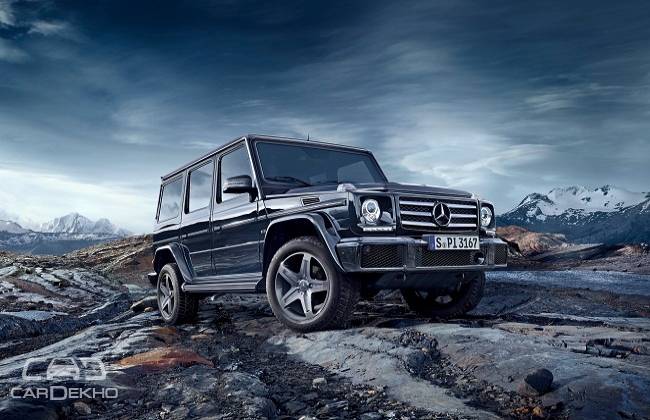 The 35 year old G-Class has had constant improvements throughout its life and became the choicest weapon for the rich and mighty to reflect their exquisite taste and off road driving capabilities, even if they hadn't any. And yes, the new 4.0 litre directly injected V8 bi-turbo engine will be making its way into the range of the new G-Class.

Mercedes-Benz now claims that not just the G-Class, but all their future models will offer up to 16 percent more power output combined with lower fuel consumption, and all engines will comply to the Euro 6 emission reforms. The new mighty V8 power-plant in the top G 500 delivers even better performance along with better efficiency and shares its dynamics with the classic V8 bi-turbo equipped in the earlier models.
Powerful but efficient
The engines powering G-Class models have now been optimised for more usable power without shouting about it, and developed to enhance fuel economy. The base G 350 d version has increased power output from 211bhp to 245bhp.

The torque generation has come up from 540Nm to 600Nm. The roaring AMG G 63 pushes out 571bhp, which is a 27bhp hike from before and peak torque is a monstrous 760Nm. The super massive 12-cylinder unit in the ridiculous AMG G 65 now pushes out 630bhp, the previous version had a modest 612bhp, and an earth spinning torque figure of 1000Nm!

All the models will come with an ECO start/stop function as standard fitment to reduce on fuel consumption and emissions by turning the engine off when the vehicle is stationary, for example in traffic congestion or at traffic signals. For the most interesting use in the G-Class, the new V8 has been worked on to push out 422bhp with torque of 610Nm. Further enhancement to improve tractability, it come with two turbochargers, which instead of being configured on the outside of the cylinder banks are arranged between them in the V – the so-called "hot inside V". The setup ensures a smaller compact design, quick response and lower exhaust emissions. Better efficiency has been achieved by the use of Piezo direct petrol injection with combustion guided by spray.

The new aluminium crankcase of the V8 provides a reduction in weight and also increases strength. The cylinder bore surfaces use something called Daimler's Nanoslide technology, which magically makes them twice as hard as regular cast-iron linings.

This helped engineers minimise on both internal friction through the engine and the fuel demanded by it. Suspension system too is new paired with a quicker and more sensitive stability control system to improve stability, safety and comfort.
Better comfort
As dictated by tradition, the G-Class retains the solid ladder-type frame which does offer ample reserve to handle all that oomph from the huge engines. But the G-Class is most known for its extreme off-road capability, and the new one too will offer unrivalled off-road prowess with permanent all-wheel drive, low-range gearbox and 3 differential locks, that can be engaged or disengaged while on the move.

Engineers have worked on the suspension setup and enhanced them for better body control and even greater on-road ride comfort. The adapted stability program will offer sharper driving dynamics paired with more road safety. Optimisations to ASR and ABS result in improved traction while shortening the stopping distance when braking.

As an option, the G 500 will come with a new adaptive damping system with Sport and Comfort modes in it. This will make the car more agile on tarmac with the Sport mode, with no-compromise off-road capabilities while at the same time reducing the typical SUV roll on corners.
Looks even nicer now
The G-Class has always been a stunning eye-candy wherever it goes. Weather you bash it across an off-beat tough muddy track, or bring it to the smooth roads of any fashion capital.

The new G-Class retains its classic appeal and you will be able to identify G 350 d and G 500 models by their redesigned bumpers and now standard AMG flared wheel arches in body colour. The G 350 d will be coming standard with 18-inch five-spoke lightweight alloy wheels.

Step inside and first thing that you notice is the brilliant instrument cluster in two-tube look with 11.4 cm multifunction display and redesigned pointers and dials. But the two AMG models will get redesigned instrument clusters, to separate them from the normal ones. To attract even more eyeballs, colour packages now include exclusive exterior paint finishes in solar beam, tomato red, alien green, sunset beam and galactic beam.

All the detachable parts, like mirrors, front and rear bumpers, wheel arch extensions, ring around the spare wheel cover and roof, have been done in subtle obsidian black scheme to contrast your choicest candy colours. And the interior stitching will be colour-coded to match the exterior paint finish.
Was this article helpful ?
0 out of 0 found this helpful