MG Metro: The Hot Hatch That Spawned An Iconic Rally Car
Modified On May 15, 2020 06:58 PM By Sponsored
The Metro was one of the best-selling hatchbacks in the UK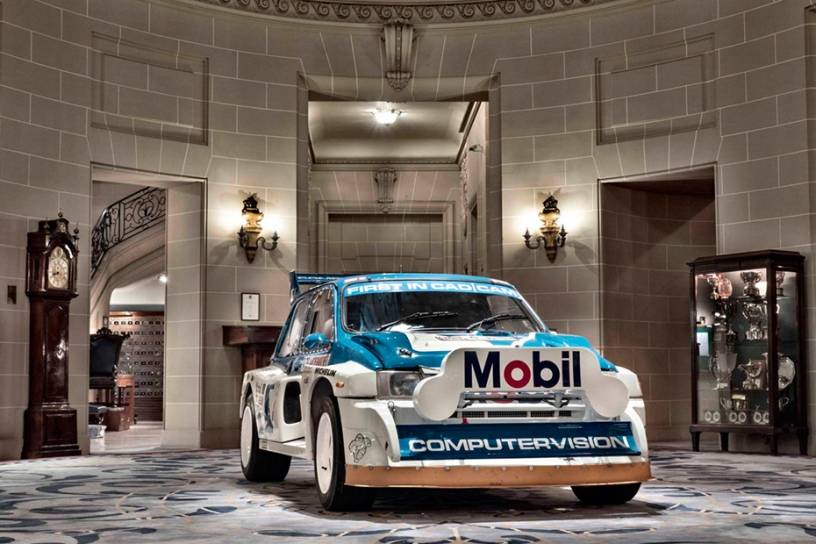 Image source- royalautomobileclub.co.uk
Since its inception in 1924, MG Motor has had a long history in making cars that are aimed at the masses. One of them was the MG Metro hatchback in the early 80s. What's special about this car was that it served as an inspiration for the iconic rally car known as the Metro 6R4. This bucked the trend of motorsport cars being trickled down into road legal production cars. Here's more about it:
The MG Metro, which made its debut in 1982, was known for its spacious body shell, servo-assisted brakes using four pot (piston) calipers up front as well as pushing a decent 72PS of power and decent fuel economy out of a 1.3-litre petrol engine. All this made the MG Metro one of the UK's best-selling cars.

Image source- mgownersclub.co.uk
A Turbo variant was introduced six months after the standard car made its debut. This was MG's attempt at making a hot hatch out of the Metro. The biggest gain of course was in performance, with a Garrett T3 turbo giving the 1.3-litre engine a combined output of 93PS. It also received exterior enhancements such as a front spoiler, rear spoiler as well as larger 13-inch alloy wheels and low profile tyres to complete the hot hatch look.

Image source- royalautomobileclub.co.uk
Fast forward to 1985 and Austin Rover decided to take on the short-lived Group B rally class to rival the likes of the Audi Quattro Sport, Peugeot 205 T16, Lancia Delta S4 and Ford RS200. And thus, the Metro 6R4 was born. However, this car was worlds apart from the standard hatchback with only certain body panels maintaining a resemblance. Built with assistance from Williams Engineering, the Metro 6R4 was a 4WD mid-engined racing hatchback powered by a David Wood designed bespoke 3.0-litre naturally aspirated V6 engine that used some of the engine architecture of the Cosworth DFV.

Image source- royalautomobileclub.co.uk
Due to homologation rules requiring a production run of 200 cars, the Metro 6R4 came in two guises. The first variant was called the Clubman which was a road legal variant that delivered 250PS of power. Around 200 units were built and sold at a price tag of 40,000 GBP (Rs 38.08 lakh). The other one was the spicier International variant that pushed a whopping 410PS of power.

Image source- royalautomobileclub.co.uk
It is interesting to note that the Metro 6R4 was the only car to be a naturally aspirated machine in the Group B class, taking on the likes of turbocharged cars. While it got off to a respectable start with a third place finish at the 1985 Lombard Rally courtesy of Tony Pond, it had a rough journey in the Group B class with unlucky reliability. And by the time the Metro 6R4 was reliable enough, the Group B category was banned due to safety concerns.

Image source- royalautomobileclub.co.uk
Nonetheless, the potential of the Metro 6R4 was well known amongst the motorsport community, with success in other forms of rally competitions such as rallycross. While the standard Metro didn't lend much of its parts to the Metro 6R4, it was enough to carry on the Metro nameplate. MG Motor with its learnings of the past have ensured that its passenger cars of today meet stringent reliability standards, especially with its opening lineup of the Hector SUV and ZS EV in India. The two cars also get nifty tech on top of reliability with the Hector featuring equipment such as mild-hybrid tech, a 10.4-inch touchscreen infotainment system with voice commands, a dual pane sunroof and internet connected tech. The ZS EV, on the other hand, features long-range capabilities and equipment like a panoramic sunroof, an 8-inch infotainment system with connected car technology, drive modes, cruise control, and a PM 2.5 AC air filter.
To know more about MG's glorious legacy please click here.
Was this article helpful ?
0 out of 0 found this helpful