How to plan a budget road trip
Modified On Oct 20, 2015 03:21 PM By Firdaus
Everyone fancies a road trip at some point in their life, especially if you're someone who loves driving and enjoys exploring unchartered territories. As much as it sounds fun, road trips can be expensive especially if you're planning to do a solo trip with no one to share the costs. So how do you manage a fun trip without blowing a bug hole in your savings? We bring to you some tried and tested tricks which will hopefully ensure you have a fun filled trip.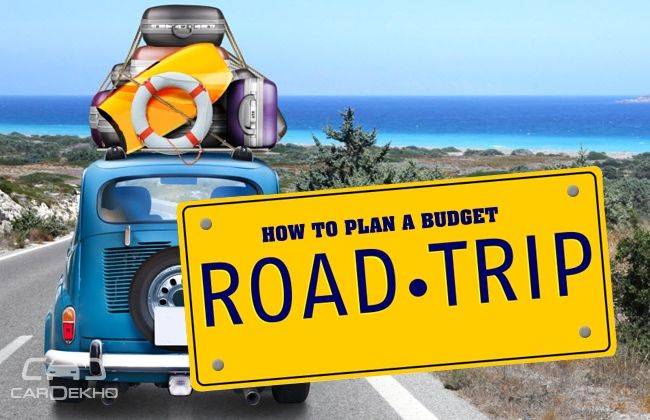 Also Read: Intelligent cars for a safer tomorrow: Mercedes-Benz
Things to do before the trip
1. Make a budget
Having a budget set in mind is imperative for any road trip, after all you don't want to land up broke post the trip. Setting up a budget is also a good idea as it will help you decide on places you want to stay, things you want to do and most importantly if all these are within your financial limits. For instance if you keep an all inclusive budget of Rs 30,000 it will it will give you an idea of the destination you want to choose, fuel required for the trip and the accommodation options available in that area.
2. Pick your destination, finalize the route and calculate the travelling distance
Picking your bags and hitting the road is an adventurous notion which may work at times, but there is also a possibility of it backfiring, which may leave you with a bitter after taste. So to be on the safer side it is always a good idea to plan the road trip. Choose a destination that you'd like to visit depending on the number of days you have. Once the location has been decided, choose the route you want to take. Google maps offer various route options; choose the one best for you. If the map is giving you two routes then you might as well take one route when heading to the place and the other while returning; this way you get to variety in the scenery and explore new areas along the way as well. Once the route has been finalized calculate the distance to the destination and back, this will give you an idea of the driving time required as well as the amount of fuel.
3. Calculate the fuel economy of your car
Knowing the fuel economy of your car will help you zero down on the amount of fuel and the money required. For instance if your car gives you an overall fuel economy of 15kmpl and the distance of the entire road trip is 1500 kms, then divide the distance by the fuel economy
i.e 1500/15= 100. This will be the amount of fuel required in litres.
Once you have this figure, multiply it by the fuel cost (currently Rs 68) i.e. 100 x 68 = Rs 6000. This will be the amount that you will be spending on fuel.
Also Read: All Time Favorite F1 Drivers
4. Check for homestays/ hostels along the way
When you are on a budget road trip it is always a good idea to halt at home stays and hostels, rather than hotels. They're cheap, comfortable and offer a different experience from hotels. Staying at home stays gives you the opportunity to interact with the locals and get to know the culture of the place; something you won't truly experience in a hotel.
There are plenty of hostels also around the country which provide accommodation to road trippers. You can choose between sharing a dormitory with other travelers, or share a room as well. Most hostels around the country offer clean accommodation and also provide lockers for you to keep your valuables.
5. Check weather updates for the destination
Knowing the weather of your destination in advance is a good idea as it will help you pack accordingly. If you're planning to drive down to a cold region then having your warm clothes handy is a good thing and vice versa for warmer regions.
One clothing item that you should have with you at all times is a rain coat because given the erratic climate change across the country you never know when it may rain.
6. Get your car checked from the mechanic
You're confident your machine is ready for the journey ahead, but it wouldn't hurt to get it checked from a professional once. A basic check-up of engine oil, brake fluid, brake pads, engine coolant and tyre pressure should be sufficient. You don't want an unforeseen glitch during your trip, do you?
7. Read up about the place
Reading about a place before you visit it will help you experience the culture better, giving you an opportunity to bond with the locals as well. It will also help you plan your trip around the place in a better fashion as you'd be more aware of the places to visit there and cuisines to try.
8. Pack light
Road trips are supposed to be fun and you can enjoy yourself the most when you have the least amount of baggage. Also, lesser bags you carry when visiting a new place means you can bring back more stuff.
Things to do during the trip
1. Start early; it is always nice to catch the sunrise
Having an early start to your road trip will help you avoid city traffic. It will also help you log in more miles before the sun comes overhead. Trust us when we say this, the feeling of starting early and covered most of your journey by afternoon is an amazing feeling. It gives you a sense of achievement and leaves you with sufficient time to explore the place in the evening. The other added bonus of starting early morning is that you get to catch the sunrise. And as we all know, sunrises during a road trip have a mesmerizing effect on the trippers!
2. Use the AC only when needed
Yes, you're on a road trip, not in a cubicle in your office; turn off the ac, roll down the windows and let the wind come in. Feel the freedom. Switching off the ac will also help you extract more mileage from your car, which means you'll also save up on some money!
3. Carry munchies so you don't have to stop everytime you're hungry
Another trick to having a budget road trip is to save up where you can, in terms of money as well as time. Carry some snacks with you while driving; this will help you avoid small unnecessary stops and you can be sure of what you're eating and not risk an upset stomach. Biscuits, cookies, water bottles, chips etc – these are the best snacks as they fill you up quickly and you can much on them while driving as well. They're also easier to clean in case of a spill.
4. Carry toilet paper and baby wipes
Indian highways aren't really well equipped for travelers to attend nature's call. Though you'll find hotels and dhabas along the way, there are certain patches devoid of any. In such a scenario if you need to answer nature's call, then having baby wipes and toilet paper is as good as it can get. We've been stranded in areas with human population but no toilet, where water was also scarce and had to be used only for drinking; that's when we realized the importance of baby wipes and toilet paper. You'll thank us for this crucial tip if you're ever faced with such a situation.
Hope you have a fantastic road trip and do let us know if our tips were handy.
Also Read:
Was this article helpful ?
0 out of 0 found this helpful