Best driving destinations around Mumbai and Pune
Modified On Oct 20, 2015 03:13 PM By Firdaus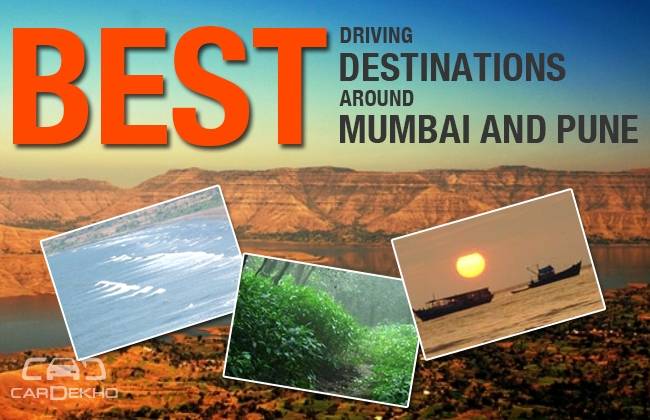 Every now and then one needs a good vacation; a small getaway from the hustle and bustle of urban life to a place quiet, calm and serene. While some may break for the hills, some are drawn to the allure of vast water bodies that co-exist quaintly away from the cities, yet in perfect sync with modern day living. Though some destinations are more popular than others, we bring to you a list of places around Mumbai and Pune which are day's drive away, and will hopefully give you the respite you're seeking.
Also Read: 8 Indian destinations to explore on wheels!
Beaches to the south of Mumbai and Pune: Srivardha, Harihareshwar, Diveghar

Srivardhan, Harihareshwar and Diveghar are three beaches along the Maharashtra coastline that are relatively un-commercialized and not flocked by tourists aplenty. Which simply put means you can drive there alone or with your chosen company, relax by the sands with water flowing between your feet sans any commotion, or human population. These beaches are known for their clean emerald blue waters and pristine white sand, and of course their cuisine. Malvani food is a very popular cuisine on the coasts of Maharashtra and there is no better way to experience authentic food than taste it in its place of origin. Fish lovers will be overjoyed by the variety and the simplicity with which the food is served here. No five star and fine dining show-off; just simple food, served with dollops of ghee to go with your fish – curry or fried.

Also Read: Worth Waiting Cars in 2015 - Might change your decision!
Though the NH4 takes you to these beaches you'll eventually have to move to NH17 to get here. People have a misconception that the NH17 is a bad road but trust us when we say this, the old highways in our country today are as good as expressways. Imagine yourself driving on straight, butter smooth roads and then suddenly turning into mountains with red soil and greenery all around. And just as you're revelling into the beauty of one mountain after the other, you're suddenly welcomed by an ariel view of the sea with fisherman boats floating delicately like foam. Picture perfect, isn't it?
If you start your journey from Mumbai you'll first reach Srivardhan followed by Harihareshwar and Diveghar. Since all three beaches are on the same coast line they're easily accessible and you can cover all three in a weekend trip. There are plenty of home stay options available which won't put a hole in your pocket either. Average driving time will be five to seven hours, but trust us when we say this, it is totally worth it.
Beaches to the north of Mumbai: Bordi and Daman

The immediate state to the north of Maharashtra is Gujarat; while some may say Gujarat doesn't have beaches, it has a vast coastline and the union territories which are blessed with a seashore often frequented by the people of the dry state. While heading out from Mumbai, you'll first come across Bordi beach (before Gujarat border); a small sign on the right side of the highway will indicate the exit route to this beach. This beach is relatively smaller compared to the ones in Maharashtra but none-the-less is clean. It is sparsely inhabited and but has decent accommodations options.

Daman is the most popular beach destination in all of Gujarat. It is a weekend destination for quite a few Gujju's and the place can be packed to the brim over long weekends. Though this beach is not entirely a sandy beach, it has rocky patches too, rather quite a few of them. Accommodation options are plenty in Daman and the drive down though not completely devoid of twists and turns is more enjoyable for those who prefer the straight highways; the roads are an absolute delight the moment you distance yourself hustle bustle areas of Mumbai.
Hill stations around Pune and Mumbai

While some prefer the company of moist air from the sea, some get respite in the cool breeze of the mountains; each has their calling; but the mountains have a certain mesmerizing effect on some. The process of driving up or down the winding roads and encountering one blind turn after the other till the elevation ceases to exist is itself meditative for some. While the hill stations around metros are succumbing to concretization at a rapid rate, there are some places that are striving hard to conserve their old world charm; trying their best to remain de-commercialized.

Matheran for instance is one of the oldest hill station situated between Mumbai and Pune; though it lies much closer to Mumbai than Pune, it is also the smallest hill station in Maharashtra and houses quite a few colonial bungalows that give it that old world charm. The toy train that runs here is famous and this is the only hill station in the state where no automobiles are allowed, except for the ambulance run by the municipality; it has been declared an eco-sensitive region. The local means of transport here are horses and hand-pulled rickshaws. If you're fond of spending you time amidst nature and fresh/non-polluted air, then this is the destination you need to head to.

Mahabaleshwar and Panchgani are two other hill stations nestled away yet close to Pune; they're a bit further away for Mumbaites, yet a day's driving distance. Panchgani is a small town not more than five sq. kms in circumference. Known for its strawberries and elite boarding schools the drive upto this hill station is an absolute delight as the entire path once off the NH4 is lined with the mountain face on one side and the valley on the other. This narrow path has two way traffic and that it what makes it an added challenge. The weather here is pleasant throughout the year and there are plenty of affordable staying options to choose from.

The USP of both Mahabaleshwar and Panchgani is their close proximity to the city. They offer the perfect blend of old world aura with modernism; other tourist attractions are the plethora of sunset and sunrise points and the markets which are flocked with traditional goods and strawberry cream. For those who love to dwell in the pleasure of a long drive the NH4 connects these till Wai, post which one need to heads towards the internal route that will take you to these destinations.
Bandardhara

Bandardhara is another popular getaway located amidst mountains and lakes close to Mumbai and Pune enroute Nashik. It is roughly a 3-4 hour drive depending on traffic conditions is also home to the tallest peak in Maharashtra – Mt. Kalsubai. It offers plenty of attractions in the forms of dams, waterfalls which are prime attraction during monsoons, forts as well as angling. The drive down to Bandhardhara will throw you a mix of straight and plenty of ghats, especially the kasara ghat which is famous for its hair pin bends. There are quite a few accommodation options available and if you fancy camping and trekking then Bandardhara is the perfect destination.

Also Read:
Was this article helpful ?
0 out of 0 found this helpful