All Time Favorite F1 Drivers
Modified On Oct 20, 2015 03:11 PM By Sourabh
Only handful of people risk their life to enter in world where one step corner or one extra mph can end their life. These few chosen one cheated death so as to compete in Formula One to become champions of the racing world. They cross the chequered flag every alternate weekend to win whats supposed to be the most glamorous and highest paid sport in the world. The sport which has a rich heritage also has some legendary name associated with it. Teams like Ferrari and McLaren include drivers such as Juan Manuel Fangio, Niki Lauda, Michael Schumacher, Kimi Raikkonen, Alain Prost and Ayrton Senna. These name need no introduction to an F1 fan, but to choose who's the best is the thought left good for forums and jurists. What I have done is created a list of all time best F1 drivers with no one coming first and no one ending last. Also would like to clear that the all time best Formula One driver list is obviously larger than mere 8, but seeing the space and word constraints, I have restrained my self to 8 best F1 drivers of all time.
Ayrton Senna
God of Wet Track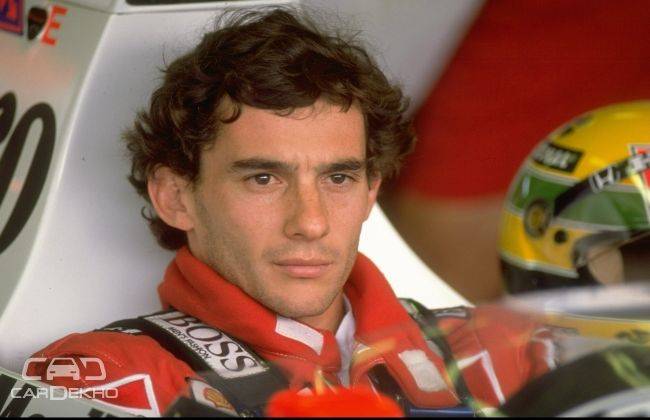 Also Read: BMW 320d GT - A Perfect Weekend Getaway Vehicle
The F1 driver with good looks of romantic hero was immensely fast when it came to racing on a wet track. He had won 41 grand pix races and was the world champion for three times in 1988, 90 and 91. Born in the steel manufacturing state of Sao Paulo, Brazil, Senna first began his Formula One career with Toleman and then later moved to Lotus, McLaren and Williams. Senna has often been voted as the best and most influential Formula One driver of all time in various motor-sport polls. His rivalry with Alain Prost pushed him to perform exceptionally well on step corners and turns. Towards the end of his career, Senna became increasingly preoccupied with the dangers of his profession. In fact, on the morning of his death he initiated the re-formation of the GPDA safety organisation, with which he had intended to work to improve the safety of his sport. The humble driver raced his last race in San Marino Grand Prix at "Autodromo Enzo e Dino Ferrari" circuit located in Imola, Italy which eventually led to his fatal head injuring causing death.
Juan Manuel Fangio
Old is Gold

Oldest of all, Juan Manuel Fangio won his first championship when India became Republic of India. At that time, there were no full faced helmet to protect drivers at a speed more than 150mph, no radio communication from team engineers, it was pure talent, hard work and spirit of wining that allowed drivers to laugh on the face of death. Fangio in his total run competed in 51 Formula One Grand Prix, of which he won 24, set 28 pole positions and 23 fastest laps. In seven full F1 seasons, he won five world championships, a record that stood for more than 46 years and was then broken by Micheal Schumacher in 2003.
Alain Prost
Four Time World Champion

Also Read: Cheaper Diesels: An Urban Threat!
The rivalry of Alain Prost and Ayrton Senna was the most enjoyable and remarkable in the history of Formula One. Both pushed each other to test the limit of human driving, be it the step corners or the control long run on the wet tracks. Prost too a four time Formula One Drivers' Champion, is only leveled and suppressed by Sebastian Vettel (four championships), Juan Manuel Fangio (five championships), and Michael Schumacher (seven championships). From 1987 until 2001 Prost held the record for most Grand Prix victories. Schumacher surpassed Prost's total of 51 victories at the 2001 Belgian Grand Prix.
Jim Clark
Record Holder

Jim Clark, the British driver made his F1 Grand Prix debut at Dutch Grand Prix on 6 June 1960. Bittered by the early accident experiences, Jim in 1963 won seven out of ten races to claim his and Lotus's first Drivers' World Championship. The record of winning seven out of ten races was equalled by Alain Prost in 1984 and broken by Brazilian demi-God Ayrton Senna who won eight races in the 1988 season. In 1963 and 1965, Clark equaled Alberto Ascari's record for highest percentage of possible championship points in a season (100%).
Micheal Schumacher
Seven Times

Five consecutive world championships; 56 victories in seven years (2000-06); a total of seven world championships and 91 Grand Prix wins, that's Schumacher for you in one line. He has pretty much every F1 record to his name including being the only driver in the history of Formula One to claim a podium finish in every race of a season (2002), most consecutive podium finishes (19), most race victories, fastest laps and pole positions (68) and most races won in a single season – 13 in 2004. His talent is even been acknowledged by the official Formula One website, which says he is "statistically the greatest driver the sport has ever seen. The best F1 driver in December 2013, suffered a serious head injury while skiing in the French ski resort of Meribel. The former F1 driver was first admitted to Grenoble University Hospital where he was twice operated to remove haematomas from the brain to reduce swelling and then transferred to the CHUV Hospital in Lausanne nearer to his home. On 9 September 2014, Schumacher left CHUV and was brought back to his home for further rehabilitation In November 2014, it was reported that Schumacher was 'paralysed and in a wheelchair'; he 'cannot speak and has memory problems.'
Sir Stirling Moss
The greatest driver who never won the World Championship

When you have the title of Sir in front of your name, it's obvious that you have done something amazing and challenging in your life. The British racing driver with a winning percentage of 24.24 is also known as 'Mr Motor Racing' the circuit world. In its span of 66 races, he has won 16 races but failed to win the prestigious World Championship and is thus described as "the greatest driver never to win the World Championship". In 1958 he came closest to become the Britain's first world champion but lost to Ferrari's Mike Hawthorn by a single point.
Sir Jackie Stewart
Flying Scot

Born in 1939, Jackie Stewart won 27 Grand Prix titles in a career of 99 races along with three World Championships. His first race was 1965 South African Grand Prix in the same year he managed to win the famous Italian Grand Prix. His famous run in the German Grand Prix at the Nurburgring also known as Green Hell, is still considered to be the one of the best wins in Formula One world as he won by four minutes despite of adverse conditions of rain and fog. In his entire career, Jackie tirelessly campaigned for the safety issues in Formula One and was the first driver to wear seat-belts and insisted on circuits barriers, fire-resistant clothing, pit walls, six-point safety harnesses and crash structures in cars.
Sebastian Vettel
Schumacher in making

The four time Formula One World Champion is among the most successful F1 drivers of all time. He is currently racing for the team Scuderia Ferrari in which he is contracted to remain until 2017. The German racer has won the world championship in 2010, 2011, 2012, and 2013 with Red Bull Racing. Vettel under his belt holds many youngest Formula One records including the youngest driver ever to win the World Drivers' Championship. In his total span of 141 races (as of 2015 Malaysian Grand Prix), Vettel has won 40 races and 68 podium positions.
Also Read:
Was this article helpful ?
0 out of 0 found this helpful