8 Indian destinations to explore on wheels!
Modified On Oct 20, 2015 03:15 PM By Akshit
Sitting in a cubicle and spending the crucial years of your life in front of a screen with your hands constantly banging at the keyboard- Is that how you picture yourself? At least most of us don't. So, for people like us, who love to drive and starve to explore new places on wheels, there are certain places in the country that one absolutely cannot miss out. Here are some of the places in india that you should Visit at least once in your lifetime.
Leh-Ladakh: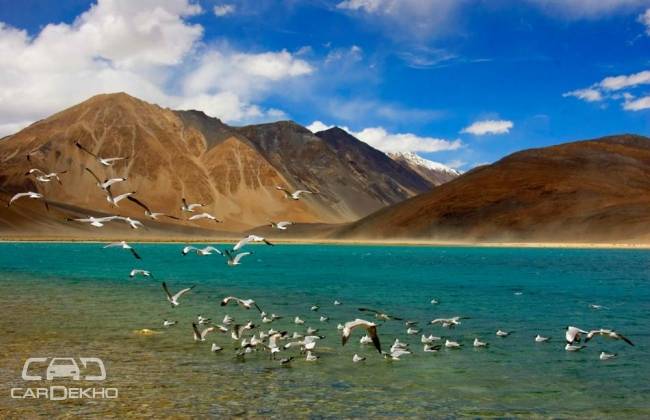 Also Read: Powerful, desirable, ultra rare: Aston Martin Vulcan
You don't get to visit this heaven every day, but make sure you go there at least once. Streams of ice-cold water, snow-capped mountains and glacial melts make Leh a true Mecca of all road trips. While being in Ladhakh, Pangong Lake and experiencing the cotton candy clouds over and unblemished water at your feet will be one of your perks here. Also, try the Yak Safari to navigate your gang through the glacial valleys.
Kasol:

With a massive Israeli population, Hebrew signs and Hummus everywhere, this so called Amsterdam of India, is one of the calmest places you can ever be to. And the jam sessions on the banks of Parvati river will be a lifetime cherishing moment for you.
Malana:

Also Read: #WorldCup2015: Cricketers and their Rides
'Unbelievable' is the word for Malana. Not just because of its picturesque locations, but also for the fascinating history attached to it. Unaffected by modern civilization, this place is situated near Kullu in Himanchal Pradesh and happens to be the oldest democracies of the world. In fact, a lot of the locals believe that they are the descendants of Greek soldiers of Alexander's army and they don't follow Indian governance.
Goa:

Do I really need to tell you why Goa is simply the best destination to visit in India. Ever since you heard about that place as a kid, it has to be on your travel list. Add to all those intentions, the Sunburn Festival and a trek to Dudhsagar waterfalls, this place still retains the vibe of the 60s down to the (highly unkempt) toes.
Kashmir:

Commonly called as the heaven on earth, Kashmir is the most beautiful place you can ever visit, not just in India but in world. Snowy mountains, stunning locations and Kahwah (local tea), these are some of uncountable things to look forward for.
Coorg :

If you are planning to beat the pressures of putting up in a metro city and want some peaceful time for yourself, visit Coorg, Karnataka and do just nothing. Feel the nature, revive the real you and enjoy some locally grown delicious tea and your batteries will be charged like never before.
Dzukou Valley:

Located in the Eastern region, this valley is situated at the border of Manipur and Nagaland. Known for its natural beauty, seasonal flowers and the overall flora and fauna, Dzukou derives its name from the Angami/Mao word which translates to 'Cold Water' referring to the ice cold stream that flows through the valley. In Mao the word dziikou mean like dream because of its mystic charm and beauty.
Pondicherry:

The amazing architecture and aura here reflects the styling of the colonial times of the Portugese, Dutch and French. It's damn quaint and charming and fetches your interest that how seamless transition of Tamil houses to French villas.
Also Read:
Was this article helpful ?
0 out of 0 found this helpful