#WorldCup2015: Cricketers and their Rides
Published On Mar 26, 2015 07:43 PM By Sourabh
With talent comes money and with money comes fun. Cricket players are no different from any other and loves to spend millions when it comes to owning hottest pair of vehicles. Indian cricket players enjoy the perks of being the highest-paid athletes which allow them to spend extravagantly on some of the best looking cars on the planet. For example, the 'God' Sachin Tendulkar owns a red Godzilla known as Nissan GT-R, BMW X5M50d, BMW 7 series 760 Li Individual Package, Audi Q7, Mercedes Benz 600 SL and many more. We have compiled a list of ICC World Cup 2015 playing cricket players who own some gorgeous rides.
MS Dhoni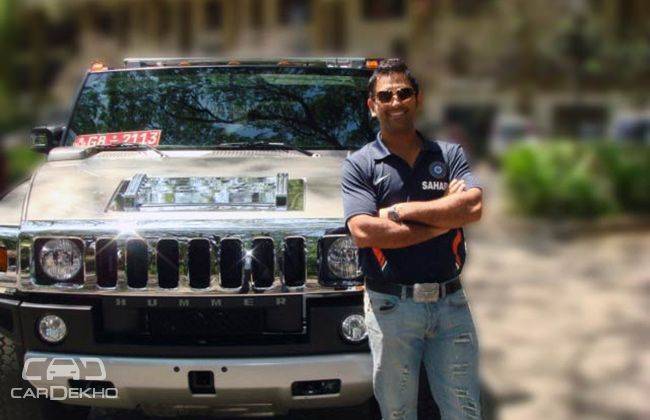 The Indian skipper owns a Hummer H2, Audi Q7, Land Rover Freelander, Mitsubishi Pajero SFX along with some cool bikes which includes Yamaha R600 Thundercat, Yamaha RX,RXZ, Kawasaki ZX14R Ninja and a Ducati 1098. India's most successful captain loves to drive his cars and bikes early in the morning and has tested his Hellcat on the Buddh International Circuit.

Virat Kholi

The hottest bachelor of Indian cricket team owns Audi's most hottest coupe, the R8 V10. The car churns a max power of 541bhp and torque of around 540Nm. With the monstrous mid placed engine, the car clocks 0 to 100 in just 3.6 seconds. His garage also include a Audi Q7, BMW X-6, Renault Duster and Toyota Fortuner.

Suresh Raina

The middle order batsman and all-rounder Suresh Raina drives a Porsche Boxster in the yellow shade matching with his IPL team Chennai Super King. The yellow ride houses a 3.4-litre engine which musters a power of 326bhp and comes with a 7-speed dual-clutch PDK. Extremely fast and one has to admit, that the Boxster is one of the most engaging cars in that Porsche line-up.
Micheal Clark

The Australian captain's first car was 1991 Holden Gemini and he loves to buy a Bentley Continental GT Super Sport. In his garage, you will find a white colored BMW X5, Lexus LS600h & a Black Range Rover. Things might take a notch if the Ozzie captain wins the World Cup for the country. The cricketer also gifted Aston Martin Vanquish to his girlfriend Lara Bingle.

Dale Steyn

The South African fast bowler also known as Steyn Gun (because of his blowing speed) owns a grey matte finish Audi R8 and a white Audi Q7. The team might go for a road trip to sore away the close defeat from New Zealand in World Cup semi final.
Stuart Broad

The 2015 Cricket World Cup was a disappointing one for the England team as they were knocked out in the first round. Though the whole team is under a lot of pressure and scrutiny from media, England's young T20 captain Stuart Broad can find his solitude in his Jaguar XKR and a Range Rover Sport.
Was this article helpful ?
0 out of 0 found this helpful