Powerful, desirable, ultra rare: Aston Martin Vulcan
Published On Mar 27, 2015 06:37 PM By Abhijeet
Aston Martin is on a roll these days. With its entire range getting an update for 2015, the cherry on top is this very exclusive Vulcan for the selected few, just 24 examples, who may be able to afford it of course. The Aston Martin Vulcan is a track-only supercar that develops an outrageous 800 plus bhp and comes with looks to flaunt. The Vulcan sits as the brands most promising example of a technological masterpiece with gorgeous design and high performance.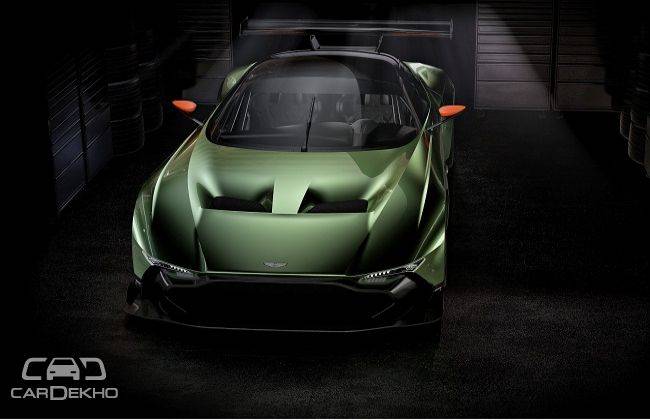 If you happen to be one of those lucky people, buying one will enable you tailor and master your track abilities via a graduating scale of detailed power and dynamic performance adjustments. Dr Andy Palmer, CEO, Aston Martin, says, "Aston Martin Vulcan is, by its very nature, a rare and thrilling supercar. Designed and engineered to deliver a genuinely bespoke driving experience that draws on our rich heritage, this car tailors its power and handling to both the capabilities of the driver and the characteristics of the track". And with a unique ownership program backing up the select few, the Vulcan will set a benchmark in the word of luxury super car class.

Performance
At the heart of the Vulcan sits a 7.0 litre V12 powerhouse that is capable of pushing the power envelop upwards of 800 plus bhp. And there is no turbocharging or supercharging or hybrid electric support, this Aston Martin has a naturally aspirated engine. Power is delivered to the wheels through a race-bred rear mid-mounted Xtrac 6-speed sequential shift transmission. Created completely in-house by Aston engineers, the design will dictate the next generation of the brand's sport cars. Sticking to its heritage and race history, the engine is front mid-mounted and delivers all the power to the rear wheels. Employing extensive use of carbon fibre to keep it as lightweight as possible, the Vulcan has a power-to-weight ratio exceeding the GTE cars competing in FIA's annual World Endurance Championship. So you need to have a strong heart to truly experience its fury.

Painstaking engineering trickling down from the GT racing, the Vulcan has a carbon fibre monocoque chassis and body constructed by Aston Martin's long-term specialist body engineering and manufacturing partner Multimatic. Other weight saving components includes an integral limited-slip differential, magnesium torque tube with carbon fibre propeller shaft. Massive Brembo racing callipers work upon carbon ceramic racing disc brakes on 345mm 19inch tyres. The brake discs measure 380mm in diameter at the front and 360mm at the rear, just highlighting the stopping power required to anchor this monster.

Ohh yes, as proper race cars do, this one gets track-derived pushrod suspension with anti-dive geometry. Suspension system also gets Multimatic's Dynamic Suspension Spool Valve (DSSV) adjustable dampers and anti-roll bars front and rear, driver-adjustable anti-lock braking, and variable traction control. Another parameter very integral to super cars is the level of customisation provided. Customers can infinitely choose in terms of colour and trim options. The Vulcan comes through Aston Martin's VIP sales program for supreme exclusivity.

Training experience
Now to drive and master such an extravagant pantomime special traning will be provided by Aston Martin to the lucky 24. Owners may opt to take part in a detailed and intensive track driver training program before taking delivery of their Vulcan. And what more, owners get to train with experts the likes of Aston Martin Racing's Le Mans-winning Darren Turner. Learners will be offered a chance to hone track driving abilities via a carefully designed series of practical and theoretical driver events.

The graduation progresses through high performance Aston Martins including the V12 Vantage S and One-77 road cars and the Vantage GT4 race car, which will ultimately lead to unlocking the full potential of their Vulcan. These training courses will be initiated either on world famous race circuits, or in a virtual world of Darren Turner's Base Performance Simulators. These accurate simulators, usually for Formula 1 training, can hugely work on driving techniques and help chop down on lap times.

Was this article helpful ?
0 out of 0 found this helpful