Mercedes-Benz Classics: Lost but not forgotten
Modified On Oct 20, 2015 03:16 PM By Abhijeet
Mercedes-Benz has a race history peppered with all-time great racers and their iconic machines battling out on scary tracks, full of adrenaline and bare-chested bravery. And side-by-side went the development of streamlined prototypes extracting maximum aero efficiency to keep cars as slippery as possible.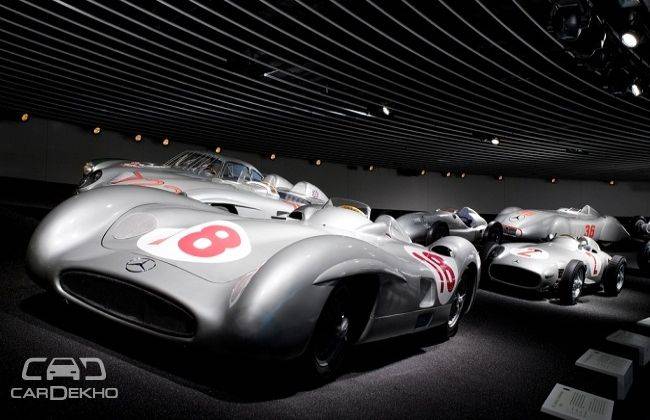 Also Read: Nissan CARnival: Celebrating a decade of success!
Outstanding aerodynamics and excellent sporty attributes are also characteristic features of successful racing cars. Mercedes-Benz as a brand sitting on the top of the research and development tree at the crack of vehicle development had created revolutionary innovations. Listed below are a few of those heroes who drifted away in the pages of history, but not forgotten!
Benz 200 HP "Blitzen-Benz" record-breaking car, 1909
Configuration: 4 cylinder Engine Displacement: 21,504cc Maximum Power Output: 200bhp at 1,600rpm Top speed: 228kmph

The dawn of the 20th century saw car manufacturers and race drivers breaking the magic speed mark of 200kmph. Benz was able to achieve this for the first time with a petrol-powered vehicle, the Mannheim brand's record-breaking 200bhp car that attained an average speed of 202.7kmph on the Brooklands circuit in England in 1909. Then in 1911, Bob Burman clocked a 228.1kmph on the sand track at Daytona Beach, making this the "Blitzen-Benz" the fastest vehicle in the world. This giant feat stood for eight years.
Mercedes-Benz W 25 twelve-cylinder record-breaking car, 1936
Configuration: 12 cylinders aligned in V Engine Displacement: 5,577cc Maximum Power Output: 616bhp Top speed: 372kmph

Also Read: Drivers eye to direct car headlights: Opel
This W 25 record-breaking car of the 1936 season was a one-off special model designed on the basis of a standard chassis, of the W 25 Grand Prix racing car of 1935. As an industry first, the chassis was provided with a fully streamlined body which also included the wheels and the underside of the car. Experts analysed the body's air flow characteristics and optimised its aerodynamics in a wind tunnel. On 26 October, Rudolf Caracciola set three international records with the record-breaking car in the "B" class (5 to 8 litres displacement) over a 1-kilometre run, a 1-mile (1,609.34m) run and a 5-mile run (8,046.72m), each with a flying start. He reached a top speed of 372.1kmph in these runs.
Mercedes-Benz 540 K Streamliner (W 29), 1938
No. Of Cylinders: 8 cylinders arranged in-line Engine Displacement: 5,401cc Maximum Power Output: 115bhp, with supercharger 180bhp Top speed: 185kmph

The Mercedes-Benz 540 K Streamliner paved a way for extensive development of aerodynamically optimised Mercedes-Benz vehicles in the 1930s. This very vehicle spearheaded a trend which was occupying the entire motor car industry at the time. With the flowing lines and the low profile of its aluminium body, the minimised drag sources on its surfaces and the panelled under body, the Streamliner applied the findings of research in exemplary manner – with a sensationally low drag coefficient of cd = 0.36.
Mercedes-Benz 2.5-litre racing car W 196 R, 1954
Configuration: 8 cylinders arranged in-line Engine Displacement: 2,497cc Maximum Power Output: 256bhp to 290bhp Top speed: more than 300kmph

In 1954 Mercedes-Benz returned to Grand Prix with a completely newly developed racing car. The W 196 R was built in accordance with the conditions of the new Grand Prix formula including a displacement limit of 750cc with supercharger or 2,500 cc without a supercharger. In the opening race, the French Grand Prix on 4 July 1954, Juan Manuel Fangio and Karl Kling drove W 196 R streamlined racing cars to a double victory. Fangio finished the season as World Champion.
Mercedes-Benz 300 SLR (W 196 S) racing sports car, 1955
Configuration: 8 cylinders arranged in-line Engine Displacement: 2,982cc Maximum Power Output: 310bhp Top speed: over 300kmph

60 years ago, Stirling Moss won the "Mille Miglia" in Italy at the wheel of the Mercedes-Benz 300 SLR racing sports car with the starting number 722. Stirling Moss and his co-driver Denis Jenkinson (starting number 722) came first with an average speed, unequalled to this day, of 157.65kmph. The vehicle is basically a type W 196 R Formula 1 racing car with a two-seater sports car body.
Mercedes-Benz C 111-III record-breaking car, 1978
Configuration: 5 cylinders arranged in-line Engine Displacement: 2,999cc Maximum Power Output: 230bhp Top speed: over 300kmph

The C 111-III was a thoroughbred vehicle whose body was rigorously designed with a focus on optimising aerodynamics. The aerodynamically optimised body, which was developed in extensive wind tunnel tests, was crucial to the vehicle's success. The enhanced engine now put out 230bhp made the streamlined car cable of pushing top speeds beyond 300kmph. In 1978, the C 111-III was used in record-breaking attempts in Nardo where it clocked up nine absolute world records. The most noticeable includes an average speed of 319kmph over 1,609 kilometres.
Mercedes-Benz E 500 (W 124), 1994
Configuration: 8 cylinders aligned in V Engine Displacement: 4,973cc Maximum Power Output: 320bhp at 5,600rpm Top speed: 250kmph (electronically restricted)

Mercedes-Benz made the 500 E model as an eminently sporty saloon at the Paris Motor Show in October 1990. This car came with a 320bhp 5.0-litre V8 four-valve engine based on the proven M 119 E 50 engine of the 500 SL (R 129). With the standard-fitted four-speed automatic transmission, the 500 E accelerated from 0 to 100kmph in 5.9 seconds, with an electronically restricted top speed of 250kmph. Apart from get-up-and-go guts, the top model was lowered by 23 millimetres, featured discreet wheel arch flaring and came as standard with acceleration skid control (ASR).

Also Read:
Was this article helpful ?
0 out of 0 found this helpful