Tata Nexon 2017-2020
Change car
Rs.6.95 Lakh - 11.80 Lakh*
This Car Model has expired.
Key Specs of Tata Nexon 2017-2020
| | |
| --- | --- |
| Mileage (upto) | 21.5 kmpl |
| Engine (upto) | 1497 cc |
| BHP | 108.5 |
| Transmission | Manual/Automatic |
| Boot Space | 350 |
| Airbags | yes |
Second Hand Tata Nexon 2017-2020 Cars in New Delhi
Explore Price of Nexon 2017-2020 Alternatives

Ex-showroom price in New Delhi
1.2 Revotron XE1198 cc, Manual, Petrol, 17.0 kmplEXPIRED
Rs.6.95 Lakh*
 
1.2 Petrol1198 cc, Manual, PetrolEXPIRED
Rs.7.50 Lakh*
 
1.2 Revotron XM1198 cc, Manual, Petrol, 17.0 kmplEXPIRED
Rs.7.70 Lakh*
 
KRAZ1198 cc, Manual, Petrol, 17.0 kmplEXPIRED
Rs.7.72 Lakh*
 
1.2 Revotron XTA1198 cc, Automatic, Petrol, 17.0 kmplEXPIRED
Rs.7.90 Lakh*
 
KRAZ Plus AMT1198 cc, Automatic, Petrol, 17.0 kmplEXPIRED
Rs.8.17 Lakh*
 
1.2 Revotron XT1198 cc, Manual, Petrol, 17.0 kmplEXPIRED
Rs.8.25 Lakh*
 
1.2 Revotron XMA1198 cc, Automatic, Petrol, 17.0 kmplEXPIRED
Rs.8.30 Lakh*
 
1.2 Revotron XT Plus1198 cc, Manual, Petrol, 17.0 kmplEXPIRED
Rs.8.32 Lakh*
 
KRAZ Plus1198 cc, Manual, Petrol, 17.0 kmplEXPIRED
Rs.8.32 Lakh*
 
1.5 Revotorq XE1497 cc, Manual, Diesel, 21.5 kmplEXPIRED
Rs.8.45 Lakh*
 
1.2 Revotron XZ1198 cc, Manual, Petrol, 17.0 kmplEXPIRED
Rs.8.70 Lakh*
 
KRAZ Diesel1497 cc, Manual, Diesel, 21.5 kmplEXPIRED
Rs.8.78 Lakh*
 
KRAZ Plus AMT Diesel1497 cc, Automatic, Diesel, 21.5 kmplEXPIRED
Rs.9.18 Lakh*
 
1.5 Revotorq XM1497 cc, Manual, Diesel, 21.5 kmplEXPIRED
Rs.9.20 Lakh*
 
1.5 Revotorq XT1497 cc, Manual, Diesel, 21.5 kmplEXPIRED
Rs.9.20 Lakh*
 
1.5 Revotorq XT Plus1497 cc, Manual, Diesel, 21.5 kmplEXPIRED
Rs.9.27 Lakh*
 
KRAZ Plus Diesel1497 cc, Manual, Diesel, 21.5 kmplEXPIRED
Rs.9.48 Lakh*
 
1.5 Diesel1497 cc, Manual, DieselEXPIRED
Rs.9.50 Lakh*
 
1.2 Revotron XZ Plus1198 cc, Manual, Petrol, 17.0 kmplEXPIRED
Rs.9.50 Lakh*
 
1.2 Revotron XZ Plus Dual Tone1198 cc, Manual, Petrol, 17.0 kmplEXPIRED
Rs.9.70 Lakh*
 
1.5 Revotorq XMA1497 cc, Automatic, Diesel, 21.5 kmplEXPIRED
Rs.9.80 Lakh*
 
1.2 Revotron XZA Plus1198 cc, Automatic, Petrol, 17.0 kmplEXPIRED
Rs.10.10 Lakh*
 
1.5 Revotorq XZ1497 cc, Manual, Diesel, 21.5 kmplEXPIRED
Rs.10.20 Lakh*
 
1.2 Revotron XZA Plus DualTone1198 cc, Automatic, Petrol, 17.0 kmplEXPIRED
Rs.10.30 Lakh*
 
1.5 Revotorq XZ Plus1497 cc, Manual, Diesel, 21.5 kmplEXPIRED
Rs.11.00 Lakh*
 
1.5 Revotorq XZ Plus Dual Tone1497 cc, Manual, Diesel, 21.5 kmplEXPIRED
Rs.11.20 Lakh*
 
1.5 Revotorq XZA Plus1497 cc, Automatic, Diesel, 21.5 kmplEXPIRED
Rs.11.60 Lakh*
 
1.5 Revotorq XZA Plus DualTone1497 cc, Automatic, Diesel, 21.5 kmplEXPIRED
Rs.11.80 Lakh*
 
View All Variants
Tata Nexon 2017-2020 Review
The Tata Nexon may be Tata's first attempt to crack the sub-4 metre segment but it's one that's making headlines for all the right reasons. It's the first made-in-India car to score the full 5 stars for safety in Global NCAP's crash tests. The Tata Nexon is also the only sub-4 metre SUV to offer the option of an automatic transmission with both its petrol and diesel engine options.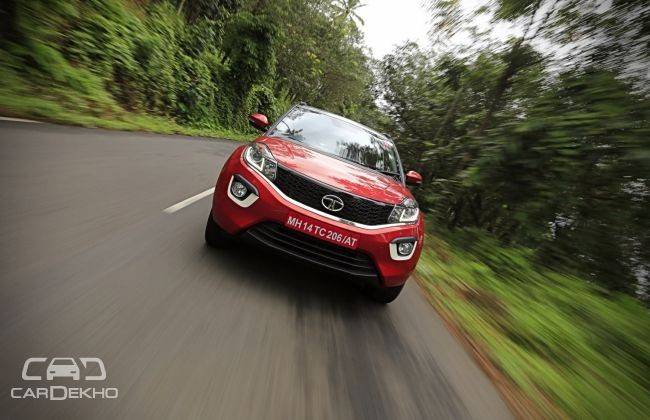 It rivals the Maruti Suzuki Vitara Brezza, Ford EcoSport & Mahindra XUV300. The Tata Nexon brings to the table a funky and daring design, a comfortable, feature-rich cabin, and the option of a 1.2-litre turbo-petrol or a 1.5-litre turbo-diesel engine, both available with a 6-speed manual transmission or 6-speed AMT. Does all of this come together to make for a package that's convincing enough to be chosen over its competition? Time to get the answer!
Exterior
The Tata Nexon is a crossover in the true sense, blending a sub-compact SUV's tall stance with a hatchback like curvy design. It's similar to the Ford EcoSport in this sense, as opposed to the boxier Maruti Suzuki Vitara Brezza or Mahindra XUV300. Some may find the styling a touch too busy but it isn't boring by any stretch of the imagination. The SUV traits of the Nexon are ground clearance, which at 209mm is comparable with the Renault Duster, and large 16-inch wheels. The high-stance is married with a coupe-like sloping roofline that rakes sharply like that of the Range Rover Evoque.

The unconventional design is eye-catchy, which should make it hard to miss when parked beside other hatchbacks and compact SUVs. The top-spec XZ+ variant of the Nexon that we drove sported a contrast-colour roof in steel grey with red, blue and orange exterior colours. The signature element is an off-white plastic trim that runs just under the greenhouse on the side. It continues at the rear too, but that's paint and not plastic. Tata could have done away with it, but then, they could have overdone it too, which they have not. In the orange paint, this strip too is the same colour as the roof.
Apart from the grey roof and off-white sash, there's another contrasting element on the outside – the black plastic cladding. It does its job of making the Nexon look rugged and high-heeled quite well.

Look straight into the Nexon's eyes, and you'll get a hint of Tata's 'Impact' design. The front grille's top line extends into the headlamps, and onto the side. That's the 'humanity line' in Tata lingo. The Nexon's design is, however, more aggressive than its siblings. The elements that add to the bold front look are pulled back projector headlamps with LED daytime running lamps, high-set fog lamps, a large front air intake and flared wheel arches.

While the Nexon looks SUV-ish from the front, the rear is more hatchback-like. The high ground clearance is hard to miss, and the stock tyres (215/60 R16) look wide for a vehicle of the Nexon's size. The faux skid plate on the rear bumper adds some ruggedness. There's an off-white and glossy black element around the clear-lens tail lamps that adds quirkiness to the design. We've seen the Nexon around since 2017 now, but small nuances like these ensure the Nexon looks offbeat.

Interior
Design, Quality, Fit & Finish, Utility & Equipment
The Nexon's interior has three prominent layers. The upper portion is finished in dark grey plastic, and its quality is on par with its peers. The middle layer gets an aluminium finish, and it looks particularly upmarket. The thickness and solidity of this layer throughout the cabin makes you feel like you're sitting inside a more premium car. The third and the lowermost layer is a plastic of greyish shade of beige. This plastic is hard to touch, and the fit and finish levels aren't too high either. For instance, the glovebox requires more than one attempt to shut, and the fit on the lower portion of the doors is questionable, especially around the door pockets. These two are probably the only touch points where fit and finish feels compromised. Otherwise, Tata has managed to do a good job of ensuring satisfactory quality levels at contact points.

Sitting atop the Nexon's dashboard is a 6.5-inch Harman infotainment system that's fixed to the dashboard. There's simply no missing it. More importantly, it feels high quality and well thought out. The display is crisp and readable even under harsh sunlight. It's only the camera display that is a bit grainy. However, that must have more to do with the output of the camera than the screen itself.

The user interface is friendly and easy to use as it gets hot spots at corners for quick access to functions like air con settings, audio source and the mega menu. The touchscreen isn't the most intuitive, and there's a slight delay every time you operate it. However, it doesn't skip inputs much. It's quicker to respond when you use the physical buttons and knobs, which Tata has thoughtfully placed well within reach to operate on the go.
While the touchscreen infotainment system was only available with Android Auto at launch, the system also comes with Apple CarPlay for models sold from August 2018. Owners who bought their car earlier can have their systems updated to offer Apple CarPlay through their service centre. The driver side instrument binnacle is simple in terms of design and gets a multi-info display unit between the speedometer and tachometer. You get two trip meters, average fuel efficiency display, distance to empty and the usual readouts there.

The centre console extends from under the central AC vents and goes all the way to the rear. Apart from the automatic climate control knobs, it houses a USB and an AUX port and the Drive Select knob as well. It also gets a pair of cup holders that can be shut with a Tambour door, which is a roller shutter that you see on some of the higher-end cars. Visually, it leaves you impressed. However, the cubby holes are an ergonomic failure: it's too deep and crammed to be used for keeping and taking out cups. Move further behind, and there's the armrest that opens up a small glove box with enough space to keep your smartphone and your wallet. This should have ideally been the place for having USB and AUX sockets. The centre arm stretches all the way to the rear cabin and houses air con blowers for the rear passengers.
Comfort

The Nexon's cabin is so comfortable that it deserves a special mention. To make things clear up front, the Nexon is a car best suited for four. And when we say that, it doesn't mean that the cabin is not spacious, just that the rear seats are designed such. So, while you get a bench at the rear, the seats are properly contoured buckets for two passengers. There's a central armrest which folds up in case you wish to seat a third passenger. But you wouldn't want to do that unless you're doing short distances.

To seat three at the rear, it's the Maruti Vitara Brezza that does a slightly better job, offering 1400mm of shoulder room vs the Nexon's 1385mm. At 1220mm, the Nexon's seat base is also narrower than the Vitara Brezza's (1300mm). However, when you only have two occupants in the rear row, the Tata Nexon proves to be more comfortable. Not only does it offer 20mm of added headroom over the Vitara Brezza, it also has more knee room - 715mm-905mm vs the Maruti's 625mm-860mm.
Get into the front seat of the Nexon, and you're in the lap of comfort here as well. With 965mm-1020mm of headroom in the driver's seat, it's plenty accommodating even for taller drivers. Yes, the driver's seat is height-adjustable, the steering is adjustable for rake (not reach), and the seats provide excellent lower back support. So, it's easy to get into a good driving position. The seats are big enough to accommodate people of varied shapes and sizes, and the extra under-thigh support just makes things more comfortable. The same goes for the rear seats too. Think of the two seats at the back as captain ones (yes, they're so well defined in terms of their design), and you sit snug into them. The seat back angle is such that it is set into comfort mode by default. The regions around lumbar and under-thigh have been given more cushion in comparison to the other places, and the seats just feel made-to-order.
Performance
The Nexon gets a 1.2-litre turbocharged petrol engine (110PS/170Nm) and a 1.5-litre turbocharged diesel engine (110PS/260Nm). Both engines come paired with a 6-speed manual transmission as standard and are also available with 6-speed automated manual transmissions (AMT). Both engines have been developed by Tata in-house, and while the petrol engine is a turbocharged version of the Tigor's engine, the diesel engine is completely new.

Diesel engine
This has to be Tata's best diesel engine till date, and it can very well be considered one of the better diesel engines in the compact car space. The engine makes 260Nm of peak torque at 1500-2700rpm and 110PS of maximum power at 3750rpm. On paper, it's the torquiest unit in this class, and the fact that it's not completely dead below the max torque range makes it all the more special. Shorter gearing than the petrol offers you the flexibility to drive it in 3rd gear at speeds of around 30-40kmph without the need to downshift. In our performance tests the diesel managed the 0-100 sprint in 13.25 seconds. It's quite efficient too, returning 23.97kmpl on the highway, but in the city, with the lower gearing, it drops down to 16.8kmpl.
Diesel-AMT
If you are a new driver, or just tired of changing gears in bumper to bumper traffic, you can opt for the AMT. Unlike most AMTs, the transmission doesn't change gears too often. This is made possible because of the superior torque of 260Nm available from 1500rpn onwards. It lets the SUV make overtakes in the city without shifting down, which is a good thing as the shifts aren't particularly quick. The engagement of the first gear is a little jerky which does tend to become a little annoying over time, especially in stop-and-go traffic. But, this goes away in slow moving traffic as the shifts from second onwards are smooth. The gearbox logic does tend to get confused at times when you are going over a gradient, as the transmission can't decide whether to downshift or not, but this too happens in limited cases and won't bother you otherwise. Also, all the three drive modes - Eco, City and Sport are available in the AMT as well. Overall, the AMT is a good option to beat traffic blues, but only if you are absolutely tired of shifting gears, as the premium of Rs 70,200 is a little steep.
Petrol engine
The 1.2-litre, 3-cylinder petrol engine of the Tigor gets a 25PS power burst with the turbocharger on it. It makes 110PS of max power at 5000rpm and 170Nm of peak torque at 1750-4000rpm.
It isn't, however, as exciting or refined as the diesel unit. So, while the diesel engine is responsive even at low rpm, the petrol engine feels quite sluggish, and in case you're driving with a full house, the progress gets much slower. The petrol engine hits the meat of its powerband just around 3000rpm and not 1750rpm, where max torque starts to kick in.
The petrol engine with its taller gearing is not free-revving in nature and relies more on torque to pick up pace. The torque band is wide though, and the Nexon continues to build speed even above 4000rpm. It's surprising that this engine too doesn't feel rough or strained around its 5500rpm redline. Despite having taller gearing the petrol is quicker to the 100kmph sprint and takes just 11.64 seconds to get there. It's more down to the fact that there is one less gear change required to reach the ton in the petrol than in the diesel car. When it comes to sipping fuel the petrol manages a very respectable 17.88kmpl on the highway and 14.02kmpl in the city.
Transmission and Drive Modes

Both the petrol and diesel are currently mated to 6-speed gearboxes, with the diesel car getting slightly shorter ratios. This gives the diesel its excellent drivability but also means that there are more gears to shift through to reach the 100kmph sprint. The reason it is slower is that it isn't the fastest-shifting gearbox. The throws are long and the shifts are not positive. In fact, during spirited driving through some twisty roads and also on our performance tests, third gear was the most difficult to slot into in either car and we all had a number of missed shifts.
The Nexon gets three drives modes – Sport, Eco and City, and all the three vary the character of the engine so much so that you can actually make use of them wisely. While the Sport mode lets loose all reins, City mode smoothes out the torque delivery when the turbo kicks in at around 2000rpm and makes it much nicer to drive in the city. In Eco mode the response is dulled even more and this forces you drive in a very restrained manner. To really put this in perspective we completed the 0-100 sprint in each of the modes in the diesel and the difference between Sport (the fastest timings) and Eco mode (the slowest) was as much as 8 seconds.
Ride, Handling and Braking
The Nexon gets McPherson struts up front and a twist beam setup at the rear. The ride is a nice compromise between hard and soft and because there's not much body roll, it feels plush on the inside. It deals with potholes in the manner of bigger SUVs. So all you feel inside is a toned down thud and a little vertical movement that settles down pretty quick. The diesel Nexon is 68kg heavier than the petrol one, and the added weight results in keeping the cabin slightly more stable when going over a rough patch or at high speeds.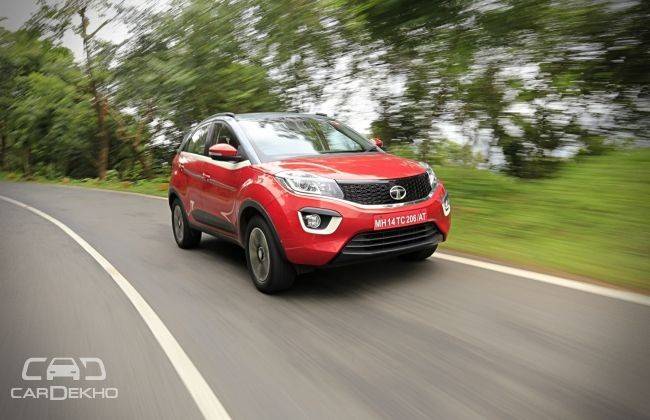 The diesel Nexon pays the price of the added weight when it comes to handling, but not by a big margin. The difference lies in the fact that the diesel Nexon tends to understeer slightly when you get into a turn while the petrol Nexon feels sharper in comparison. Overall, the Nexon feels quite confident on the road, and stability at highway speeds is not a concern either.
With discs at the front and drums at the rear, it feels confident when braking hard. But the brakes don't offer instant bite, thus requiring you to vary the braking pressure according to the situation.
Verdict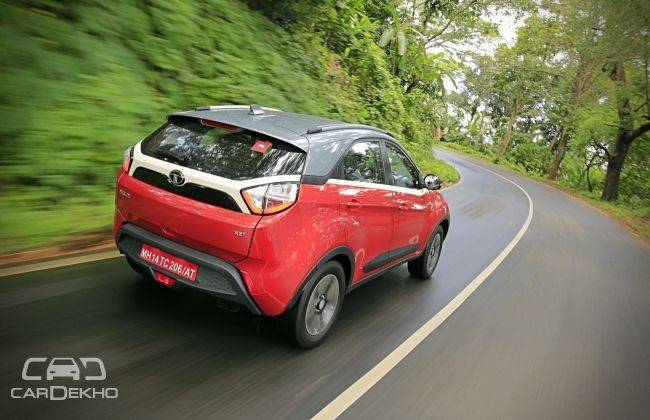 The Nexon is a great value proposition and feels like a step up for the segment. It's a very well-rounded car, offering a good balance of safety, features, style, comfort and practicality. The diesel engine, in particular, is a major draw for the Nexon, as it offers excellent driveability and performance.
While the diesel engine, with the 6-speed manual transmission or AMT is a great drive, we recommend the petrol AMT over the MT. The 3-cylinder petrol engine does have some issues with turbo-lag and the tuning of the automated manual transmission makes it more hassle-free to work around this.
Pros & Cons of Tata Nexon 2017-2020

CarDekho Experts:
The power modes actually make a difference, with city mode actually improving drivability in the city.
Things We Like
Most economically priced sub-4m SUV. In fact, the Tata Nexon is at par with premium hatchbacks in terms of pricing
The Tata Nexon's 209mm ground clearance is not only best in segment, but also second to the Renault Captur/Duster AWD (210mm), both of which are bigger SUVs
The class-leading Harman acoustics offers loud and crisp sound
Looks nothing like on the road, the coupe-like roofline adds a character to its overall appeal
One of the most spacious offerings in the sub-10 lakh bracket, thanks to the Tata Nexon being the widest in the segment
Things We Don't Like
The overall fit and finish feel like there's still scope for improvement
Connectivity for Apple CarPlay is still missing, which is offered by the EcoSport and the Vitara Brezza
The 6.5-inch touchscreen is laggy and nowhere to close to what the EcoSport offers
Missing premium features: auto headlamps, rain-sensing wipers, cruise control, both the Vitara Brezza and Ford EcoSport offer these
Stand Out Features
The Nexon comes with three driving modes - Eco, City and Sport. These modes automatically recaibrate the car's torque and throttle response to offer a better driving experience

The Nexon is the only sub-4m SUV to be equipped with rear air vents. However, they are not connected to the air conditioning system, instead, they suck air through side gills and direct it towards the passengers 

The Nexon's 6.5-inch touchscreen infotainment system supports video and image playback. That means the passenger can watch movies on long journeys 
Tata Nexon 2017-2020 User Reviews
Based on
1726 User reviews
All (1668)
Looks (349)
Comfort (357)
Mileage (286)
Engine (202)
Interior (215)
Space (150)
Price (212)
More ...
LATEST
HELPFUL
VERIFIED
CRITICAL
The car performance was good, but I face some problems with the touchscreen and gearbox issue. The petrol variant XZ Plus mileage was nearly 13.4kmpl.

Nice stylish car. But mileage is not good, as compared to other SUVs like Duster, Eco sports, etc.

Overall the vehicle is good in view, spacious, as I purchased ZMA feels like short of power, all are good. But I faced a problem that my car's front Driveshaft has broken...Read More

Tata Nexon has a beast in styling, safety, and comfort. The only point missing is the engine is a bit noisy with okay okay mileage.

View All Nexon 2017-2020 Reviews
Nexon 2017-2020 Latest Update
Latest Update: Tata will launch the Nexon BS6 facelift on January 22.
Variants and Prices: The Nexon is available in eight variants: XE, XM, XMA, XT, XT+, XZ, XZ+, and XZA+ with some combinations offering a dual-tone roof and automatic transmission. Tata Motors also offers the Nexon in the special edition KRAZ trim. However, the features on offer remain the same. Tata's sub-4m SUV is priced between Rs 6.73 lakh and Rs 11.4 lakh (ex-showroom Delhi).
Powertrain: It is offered with either a 1.2-litre turbocharged petrol engine or a 1.5-litre turbocharged diesel engine. While the petrol engine produces 110PS/170Nm, the output figures of the diesel engine stand at 110PS and 260Nm respectively. Tata offers both these engines with either a 6-speed manual transmission or a 6-speed AMT.
Meanwhile, the Nexon EV will use Tata's new Ziptron technology. It will get a 30.2kWh battery pack and will offer a claimed range of over 300km. The Nexon EV will support fast-charging and will be offered with an 8-year standard warranty. What's more, it will come with an IP67 waterproof battery pack.
Features: It gets a 6.5-inch touchscreen infotainment system by Harman-Kardon with an 8-speaker setup. Projector headlamps and LED DRLs are also a part of the kit. The Tata SUV also gets rear AC vents and multiple drive modes (Eco, City and Sport). Tata offers the Nexon with safety features such as dual front airbags, ISOFIX child seat mounts, ABS with EBD, and corner stability control.
Rivals: The Nexon rivals the likes of Maruti Suzuki Vitara Brezza, Ford EcoSport, Ford Freestyle, Honda WR-V, Mahindra TUV300, and Mahindra XUV300. It will also take on the upcoming Renault HBC and the Kia QYI.
Read More

Tata Nexon 2017-2020 Videos
Tata Nexon 2017-2020 2021 has 15 video of its detailed review, pros & cons, comparison & variant explained,test drive experience, features, specs, interior & exterior details and more. Watch our Latest Hindi video of Tata Nexon 2017-2020 to know price, safety features & more.
7:1

Tata Nexon Variants Explained | Which One To Buy

Sep 24, 2017

5:34

Tata Nexon Hits & Misses

Jan 12, 2018

15:38

Tata Nexon vs Maruti Suzuki Brezza | Comparison | ZigWheels.com

Oct 24, 2017
Tata Nexon 2017-2020 Images


Tata Nexon 2017-2020 News
Tata Nexon 2017-2020 Road Test

Are you Confused?
Ask anything & get answer in 48 hours
Write your Comment on Tata Nexon 2017-2020


×
We need your city to customize your experience