Auto Mania - Maruti Suzuki Ritz Automatic Review
Published On Jul 19, 2013 By Prithvi for Maruti Ritz
Brand value, performance and comfort are three denominations that can be used to easily describe any Maruti product. This scenario becomes even better, when it has an automatic gearbox thrown it to make the vehicle more practical than before. Yes, we are referring to Maruti's very own Ritz automatic which aims to make one's life simpler in those typical traffic snarls, where in changing gears every now and then tends to get on the nerves.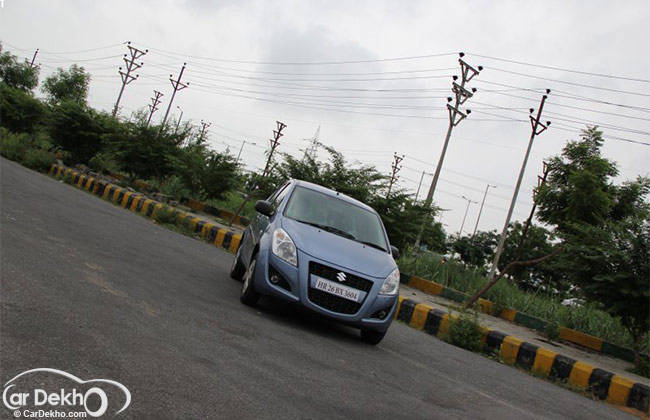 We therefore took this hatch out for a spin round the city to determine its practicality, if or not it would suit the pallet of the Indian consumer?

Design

The Ritz as you all would know is not new to its segment, but was given a refresh last year to attract the imagination of a conscious consumer, who does put in a thought into the looks of the machine which he or she would be driving. Therefore the latest edition brings forward a pointier nose with a one piece grille. Combinations of pulled back head lamps and fog lamps further accentuate the front fascia, while the sides cater to flared wheel arches and elegant looking wheel hubcaps.

While the rear provides an up kept tailgate with an integrated rear spoiler, boomerang shaped tail lights and reflector inserts are placed within the rear bumper. The presence of a small brake light further adds character to the rear end. All in all, with a couple of new enhancements, the refreshed Ritz is better looking machine than before.

Interior

I remember the first time when I had sat in this particular hatch, the quality of plastics and its dual tone interiors had impressed me to quite an extent. On that note, the quality and finish remains the same throughout the vehicle with the upholstery getting a new range of colour choices. The front dash in this case features a tilt steering wheel minus controls, a significantly large instrument cluster bearing an analogue speedometer and a digital fuel gauge meter.

A fairly small circular RPM meter placed toward the centre on top of the dash is one feature that takes a bit of time getting used to. Rest the cabin offers a lot space for storage in the form of a glove box, a bay for keeping paper slips, cup holders and many more. However, the biggest appearance is the availability of an automatic gear shift lever.

Speaking of seats, the front row provides decent space and comfort, while the rear row unlike earlier offers better lumber support which is a good thing for rear passengers.

The lack of leg room at the rear can be a bit of a downer for those, who are slightly taller in height. 236 litres of boot space just about manages to squeeze in a mid size suitcase with a possibility of a duffle bag for those short out station trips. To put it all into perspective, the interior is fairly comforting with a good fit and finish.

Engine and Transmission
Maruti Suzuki Ritz is propelled by a 1.2 litre, 4 cylinder petrol engine, which produces 86bhp with 113Nm of torque. Therefore the 1197cc unit with its 4-speed automatic transmission on board is a fairly attractive package to drive.

Before starting, I would just like to remind you that the auto box fitted on this particular variant is same as the one seen on the Dzire as well as the A-Star. With VVT (Variable Valve Timing) technology on board, the engine is very free revving and comes across very refined despite being taken all the way to the redline.
Driving Dynamics

Thus once the ignition is turned on, the petrol mill is more than eager to make a swift get away from its standstill position. When in motion, this hatch is fairly easy to drive as the engine is relatively responsive, however when the throttle is pressed really hard there is a bit of a delay in regards to the gears being handed out by the automatic transmission.

Being a 4 speed automatic gear box, the gearing ratio is fairly tall, therefore in sheer performance the engine does come out to be a bit noisy in comparison to its manual variant. Since the vehicle was with us for just a couple of days, we weren't able to test its fuel economy, however as per the Maruti it stands at 17.16 kmpl.

A decent suspension setup ensures a hassle free ride over potholes and broken road surfaces, while handling is relatively good making this hatch more than capable to tackle any Indian road condition.

Verdict

Maruti Ritz automatic is a fairly attractive package keeping in mind what all it has to offer. Firstly its brand value, reliability, performance, comfort and an effective pricing (Rs. 6.19 lakh ex-showroom New Delhi) makes this hatch look good against competition within its segment.

However having said that, the elements that really take you by heart is its practicality due to the automatic transmission on board, which is a boon in today's scenario due to growing traffic congestion on our city roads. Its happy revving engine and relative responsive nature contributes to a very peppy machine that would entice you to make swift get away when required.

With all facts stated, the Ritz in our opinion is an ideal city slicker that can be of almost convenience, therefore one should consider it while seeking automatic hatches.