Maruti Ertiga CNG Review - Performance, Comfort, Boot Space, And Running Costs Explained
Published On Jul 13, 2022 By Tarun for Maruti Ertiga
Do you have to make any serious compromises with the Ertiga CNG for a lower running cost?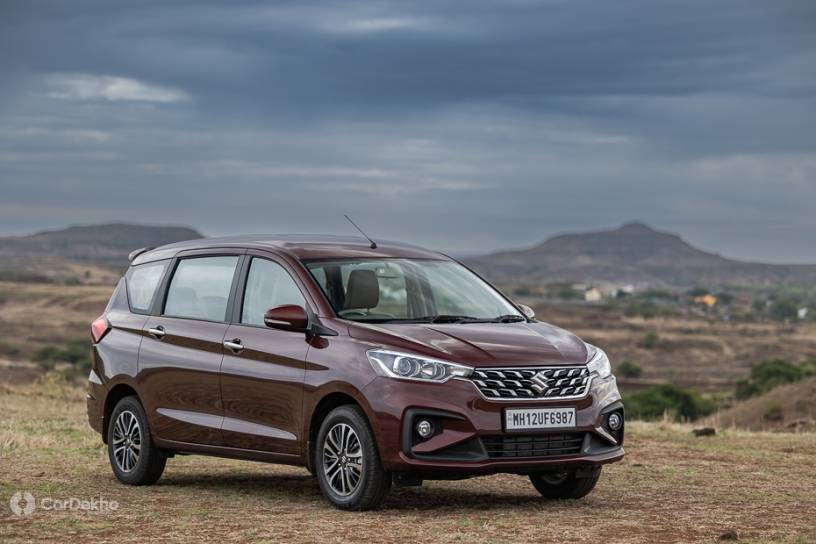 If you're in the market for a 7-seater, which is affordable, practical, and, most important, offers the choice of a factory CNG kit, the Maruti Suzuki Ertiga is your only option. It has been a people-mover without any direct rival for over a decade now.
But, when it comes to CNG, there are some questions that arise - Does the Ertiga CNG match up with the petrol in terms of performance, comfort, boot space, and features? Is it still a practical purchase? and, How much money can I save? We've got answers for all of these.
Looks

The Ertiga has always been a simple and sober-looking MPV. In the facelifted avatar, the chrome grille, 15-inch alloys, a floating roof design, roof spoiler, and the LED headlamps do add to its slightly stylish appearance. The only difference between the petrol and CNG variants is the diamond-shaped 'CNG' sticker on the front and rear windscreen. Otherwise, you really can't tell them apart.
Fit And Finish

The Maruti Ertiga's interior feels plasticky. However, it looks clean and upmarket with the dual-tone interior, the layered dashboard with the metallic teak-wood-finish and a flat-bottom steering wheel. With these highlights, a bright interior and large windows, the cabin feels airy.
Cabin practicality is another highlight of the MPV. You have large bottle holders, two cooled cup holders, a phone storage, 12V socket, a USB charger, and storage space in the centre armrest as well.
Features

The Maruti Ertiga ZXI CNG gets a 7-inch touchscreen infotainment, Android Auto and Apple CarPlay, steering-mounted audio controls, automatic AC and push-button start-stop, which are more than enough to keep the family comfortable and entertained. The instrument cluster gets a dedicated CNG fuel gauge and total CNG mode time. But, there are no feature differences between the CNG and the petrol variants. It misses out on some features that are offered on the top-end ZXI+ variant, including the updated version of the ZXI's 7-inch touchscreen, cruise control, and automatic headlamps.
Second Row Experience

The second row of the Maruti Ertiga CNG is comfortable for three average-sized adults during city runs. While the seat base is flat, the back rest for the middle passenger protrudes a bit due to the presence of the armrest. As a result, the passenger who's seated in-between will feel a bit uncomfortable during long drives.
Besides that, there is ample headroom, knee room, and under thigh support for the second row passengers. The Ertiga also offers the recline and slide function, which can help accommodate passengers of different sizes in comfort.
You have four AC vents with blower speed control, which offer good ventilation for both the second and third rows. For convenience, Ertiga offers large door pockets, a phone docking space and a 12V socket. Overall, you will appreciate spending time in the second row of the Ertiga, as it serves its 'people-mover' purpose.
Third row experience

When we shift to the third row, we can say that it is a true 7-seater MPV. Two average-sized adults can sit at the back, but there will be limited shoulder room. That means, you'll be comfortable in the city, but long distance drives might get a bit tiring. With a recline function for the third row and sliding second row seat, you can make the third row more accommodating should you wish. In terms of amenities, here you get two bottle holders, a 12V socket, and adjustable headrests.
Boot Space

Maruti has done a good job covering the CNG cylinder, which leaves you with some usable boot space. In our boot space tests, with all three rows up, you can easily fit two duffle bags. However, if the third row seats are fully reclined, the space reduces and you can no longer fit these bags. As a 5-seater, the boot can accommodate three suitcases and 2 bags easily - courtesy of the split 50:50 and flat-fold function for the last row.
Safety

On the safety front, the Maruti Ertiga CNG comes with fog lamps, dual front airbags, ISOFIX seat anchorages, and rear parking sensors. That's it. Just the basic stuff. The top-end ZXI+ (not available with CNG) variant additionally features four airbags, a rear parking camera, ESP, and hill-hold assist, which should have been given here as well. The MPV has scored a 3-star safety rating in the global NCAP crash tests.
Engine And Performance

| | | |
| --- | --- | --- |
| Engine | 1.5-litre petrol | 1.5-litre petrol/CNG |
| Power | 103PS | 88PS |
| Torque | 136.8Nm | 121.5Nm |
| Transmission | 5-speed MT / 6-speed AT | 5-speed MT |
| Claimed Fuel Efficiency | 20.51kmpl | 26.11km/kg |
Maruti Ertiga CNG's drive experience has to be one of its standout highlights. You will barely feel any difference between CNG and petrol, even if you're driving in the city or on the highway. The Ertiga CNG picks up speed in a linear fashion, similar to its petrol counterpart. Ample low-end torque and a strong mid-range, both make it very easy to drive around in the city. That, coupled with a slick gearbox and a lightweight clutch, makes city driving a breeze.

Once you're on the highways, you will need to plan your overtakes accordingly, which applies to the petrol-only version as well. Cruising at triple-digit speeds is an easy task for the Ertiga CNG. The engine feels very refined and you can barely hear it, while on idle or during city runs. Just like the petrol, as speeds increase, you will start to hear some engine noise.
| | | |
| --- | --- | --- |
| Tested performance | Ertiga CNG | Ertiga Petrol |
| 0-100kmph | 15.67s | 13.73s |
| Quarter Mile | 19.95s/112.55kmph | 19.24s/118.43kmph |
| 30-80kmph 3rd gear | 11.68s | 11.52s |
| 40-100kmph 4th gear | 20.22s | 19.51s |
As you can see from the table citing our performance tests, there's just a two second gap in the 0-100kmph sprint. The gap reduces to under a second, in the in-gear acceleration tests which is more relevant in daily driving conditions. This shows that there's barely a performance drop between petrol and CNG and that both offer a very similar driving experience within city limits.

Now, if you have your car fully loaded, even then you won't feel the need to switch to petrol. It doesn't feel underpowered when you are travelling with seven people. You can effortlessly drive in CNG mode the entire time and the only time you might need to switch to gasoline is when you've emptied the CNG tank.
Ride And Handling

The Maruti Ertiga offers a comfortable ride during the in-city drives. You will feel comfortable going over speed breakers and small potholes, but there will be slight tossing around in the cabin. As the speed increases, the road harshness and thuds are felt more inside the cabin. Passengers in the third row will feel more discomfort over bumps and potholes. However, even after going over different types of surfaces, the car manages to settle down quickly. And overall, it is a rather comfortable family mover.
Price and Variants

| | | |
| --- | --- | --- |
| Variants | Petrol | CNG |
| VXI | Rs 9.49 lakh | Rs 10.44 lakh |
| ZXI | Rs 10.59 lakh | Rs 11.54 lakh |
The Maruti Ertiga can be had in two CNG variants - mid-spec VXI and second-to-top ZXI. The CNG variants demand Rs 95,000 over their petrol counterparts. The VXI and ZXI variants carry a difference of around Rs 1.10 lakh, which you're basically paying for more features.
Cost Analysis

| | |
| --- | --- |
| Running Cost Calculator | Ertiga |
| CNG Mileage (claimed) | 26.11km/kg |
| Running Cost CNG | Rs 3.17 /km |
| Petrol Mileage (claimed) | 20.51kmpl |
| Running Cost Petrol | Rs 5.40 /Km |
With a claimed fuel economy of 26.11km/kg and current CNG filling rate of 83 km/kg (in Pune), your running cost comes down to Rs 3.17 per kilometre. In comparison to the petrol, you're saving around Rs 2 per kilometre.
To recover that Rs 95,000 premium, you'll basically have to run around 42,600 kilometres. With an average daily running of 50 kilometres, you will recover the premium in around two and a half years.
Verdict

Maruti Ertiga CNG is one of the most practical family cars that you can buy right now. Plus, going for its CNG version can help you save up on your daily running costs as well. Boot space is one place, where obviously, any CNG car falls short, and so does the Ertiga. However in other aspects like acceleration, driving experience, and ride quality, it will keep you impressed. The key is that it has the ability to fit seven people, fulfilling its MPV purpose, and can still drive effortlessly with CNG.