BMW 8 Series Coupe Concept Breaks Cover
Published On May 26, 2017 02:29 PM By Rachit Shad for BMW 8 Series
Although a concept, the resurrected 8 Series is achingly gorgeous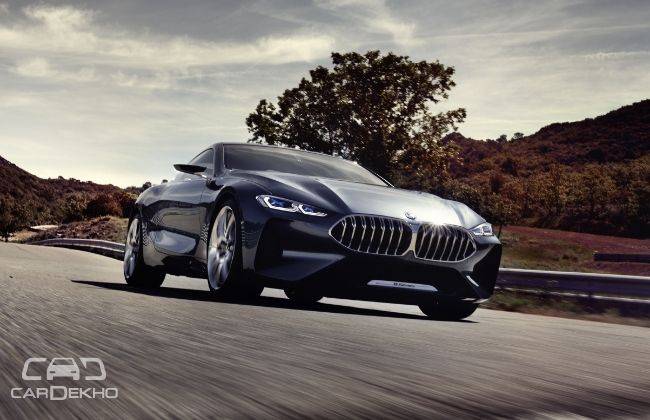 BMW revealed the much-awaited 8 Series Coupe concept at the 2017 Concorso d'Eleganza Villa d'Este, which was stationed close to Lake Como in Italy. While it looks a lot different to the rest of the current BMW range, it also brings back the 8 Series moniker from the 90s. BMW say that it will be launched sometime in 2018 and is the next-in-line model in the luxury car offering. We just hope that the carmaker retains most, if not all, of the design and engineering aesthetics in the production-ready version.

Admit it, the concept is a stunner. What's more, is that it does give us a good idea about what to expect when BMW puts the 8 Series Coupe into production. For a start, it won't carry a boxy body like its predecessor. But that was in that 90s and we liked that kind of thing back then. For a 2018 product, it seems BMW has traveled back in time, designed it with all possible angles out of a maths text book and loaded it with futuristic stuff.

Once you really start to look into the finer details, you'd notice the enormous 21-inch alloy wheels specifically designed for the concept. Protruding wheel-arches hint at it being a rear-wheel-drive sprinter. The entire body, including the integrated trunk lid spoiler, is meticulously covered with a unique 'Barcelona Grey Liquid' paint. While that ticks the subtle side of the concept's dual nature, the massive air vents on both bumpers and front fenders reeks of absolute aggression.

At the front, BMW's larger-than-life version of its iconic chromed-draped kidney grille immediately demands attention. Adding to the character are a pair of squinting headlights and a pointy front end. On the sides, the concept gets relatively small side mirrors and no door handles. I guess that's a normal regime in the concept-designing world. At the rear, the curvy taillamp design, twin trapezoidal exhaust tips and the wide stance of the coupe complete the futuristic theme in the most aesthetically pleasing manner conceivable.

The 8 Series Coupe concept's cabin is just as outrageous as its exterior. BMW has tried to marry the sporty and the luxurious theme with leather-wrapped seats placed in carbon fibre shells. Carbon fibre accents and hand-polished aluminium accentuate the exquisite dual-tone Dark Brown and Fjord White Merino leather upholstery. And just to add a bit more glitter to liven up the interiors, the iDrive controller gets a Swarovski glass treatment.

Unfortunately, BMW hasn't released any info about what will power its flagship coupe. However, we can take away some hints from what Adrian van Hooydonk, senior vice-president, BMW Group Design had to say about the 8 Series Coupe. In his words, "The BMW Concept 8 Series is our take on a full-blooded high-end driving machine. It is a luxurious sports car which embodies both unadulterated dynamics and modern luxury like arguably no other. For me, it's a slice of pure automotive fascination."