Android Auto And Apple CarPlay: What Do They Offer?
Modified On Jun 19, 2017 07:56 PM By akas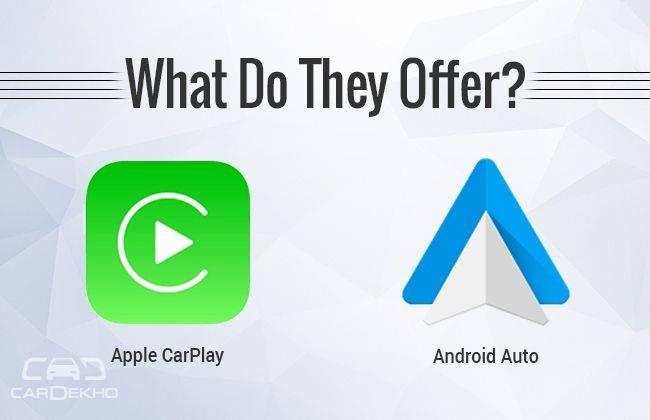 With every passing year, automakers are making their cars more advanced, be it in terms of ride quality, performance, comfort or new features. You would still remember the days when you used to turn the knobs on the car's stereo to tune into your favourite radio station. However, things are completely different now. At a time where we use our smartphones to perform even the most basic tasks, the infotainment systems of our cars are not an exception. Standard applications like Apple CarPlay and Android Auto let you directly connect your smartphone to the dashboard of your vehicle. Both of them run a modified version of your smartphone's software on the car's infotainment system so you can access various features like calls, contacts, messages, music and navigation through it.
So how do they work?

For Android Auto, apart from having a compatible car, your smartphone must be running Android 5.0 or higher and you need to download the 'Android Auto' application from the app store. After that, all you need to do is plug your smartphone into the car's compatible USB port and it should load automatically. In case of CarPlay, you don't need to download any application. You can directly connect your iPhone to the car. However, your phone model needs to be iPhone 5 or higher.
What are their benefits?
Apart from the features offered by a conventional infotainment system like music playback, these applications have several more advantages. Let's have a look.
1) Fewer Distractions
As your smartphone is already connected to the car, the required applications can be accessed through the big infotainment screen. You don't have to check your phone time and again. Also, only limited applications that don't divert you from driving are visible on the big screen.
2) Voice controls

While Android Auto lets you control the smartphone and some in-car features through 'Google Now', CarPlay does it through 'Siri'. Want to turn up the volume? Just, say "Ok Google" or "Hey Siri" followed by the relevant command.
3) Safe access to your smartphone
Want to know who texted you while driving? Well, the message will be displayed on the car's infotainment system. You can even ask your infotainment system to read it for you. Sounds cool, right? Apart from this, you can set reminders, get notifications and give a bunch of other commands without compromising your driving.
4) Navigation
Your car may or may not feature an in-built satellite navigation system and, even if it does, most such systems are complicated to use and operate using old maps. However, one thing is for sure: your smartphone must have the latest navigation application and now that's accessible to your car. See how simple life can be!
So what's better: Android Auto or Apple CarPlay?
Well, firstly it totally depends upon the smartphone you are using and what's supported by your car. Although various comparison reviews suggest that Apple CarPlay runs more smoothly, it lets you access fewer applications compared to Android Auto. And the best part of having Android Auto is the access to Google Maps. We need not tell you how good Google's maps work even in the smaller cities of India. So our take is that both the apps offer similar features but Android Auto is the more versatile of the two.
Which cars offer Android Auto and Apple CarPlay?
Earlier, the apps were offered only in luxury cars. However, thanks to their increasing popularity, they are now being offered in many affordable cars such as the Maruti Ignis and the Baleno. Currently, the cheapest car to offer both Apple CarPlay and Android Auto in the Indian market is the 2017 Hyundai Grand i10. Upcoming cars like the Chevrolet Beat facelift and Honda City facelift are also likely to get this feature. Apart from these, you can also retrofit aftermarket infotainment systems that support Android Auto and Apple CarPlay.
What is your take on the two? Let us know through the comments section.
Was this article helpful ?
0 out of 0 found this helpful