Who Owns What; Major Stakeholders in Big Car Companies Part-2
Modified On Oct 20, 2015 02:05 PM By Sourabh
Do you know LIC of India owns a piece of 3.94% in Tata Motors and 5.94% in Maruti Suzuki? Coz it's just business, nothing personal. In our Part 1 of Who Owns What Series we already covered Owners and Stakeholders of Tata Motors, Maruti Suzuki and Mahindra. But as you know the list doesn't ends here so its time to check who owns the majority of shares in some of the other major foreign automakers.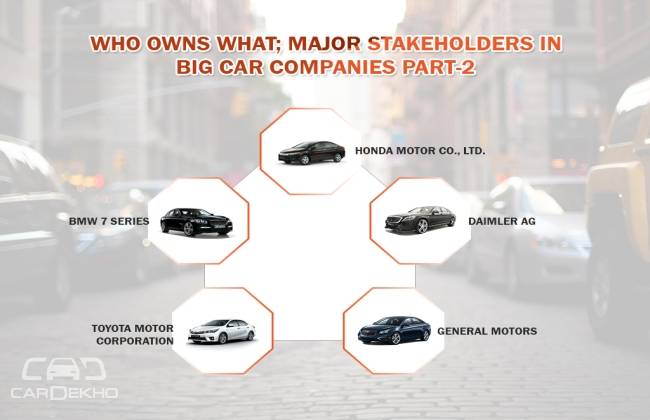 Also Read: The New One - All about the new BMW 1 Series
1) Honda Motor Co., Ltd.

The Japanese car manufacturer which deals majorly in automobiles, motorcycles and power equipment is a public company traded in Tokyo Stock Exchange (TYO) and New York Stock Exchange (NYSE). Its major shareholders are Japan Trustee Services Bank (Trust Account) 6.50%, The Master Trust Bank of Japan (Trust Account) 4.70%, Moxley & CO. LLC 3.1% and Meji Yasuda Life Insurance Company 2.4% among many others.
2) Daimler AG

Daimler AG is thirteenth-largest car manufacturer and second-largest truck manufacturer in the world. Headquartered in Stuttgart, Baden-Württemberg, Germany, the Group is headed by Dieter Zetsche who also made it to our list of Top 10 CEOs of Automotive World. Daimler owns Mercedes-Benz, Mercedes-AMG, Smart Automobile, Freightliner, Western Star, Thomas Built Buses, Setra, BharatBenz, Mitsubishi Fuso and MV Agusta. The company is traded in Frankfurt Stock Exchange with 73.7% stake to Institutional investors while Retail investors hold 16.4%, Kuwait Investment Authority owns 6.8% and Renault-Nissan Alliance 3.1%.
3) General Motors

Also Read: Series 1: How Can You Look So Beautiful at 51 - Ford Mustang
Headquartered in Detroit, Michigan, General Motors has a rich heritage of 107 years. Traded as public in both New York Stock Exchange and Toronto Stock Exchange, the company in 2009 emerged from government-backed Chapter 11 reorganization. In 2010, GM issued its initial public offering which is one of the world's top five largest IPOs to date. Institutional Holders include Harris Associates LP 4.79%, Vanguard Group, Inc 4.18%, Franklin Resources, Inc 3.65%, State Street Corp 3.51%, JP Morgan Chase & Company 3.41%, Berkshire Hathaway, Inc 2.55% among many others.
4) Toyota Motor Corporation

In 2014, Toyota sold 10.23 million vehicles beating its closest rivals Volkswagen and General Motors. The company for the third consecutive year is crowned as world's most selling auto brand. In a span of 50 years, the automaker has sold more than 40 million Corolla sedan which makes it on the top of 10 best selling cars of all time.
Company's major shareholder includes Japan Trustee Services Bank 9.61%, Toyota Industries Corporation 6.48%, The Master Trust Bank of Japan 5.27%, State Street Bank and Trust Company 3.72% and Nippon Life Insurance Company 3.54%.
5) BMW

How can a list be completed without including one of the 'German Big 3'. BMW or Bavarian Motor Works, is a German automobile, motorcycle and engine manufacturing company founded in 1916. Headquartered in Munich, Bavaria, Germany, the company also owns Mini cars, and is the parent company of Rolls-Royce Motor Cars. BMW is mainly controlled by Quandt family which owns about 46% of the stock while the rest is in public float. Stefan Quandt holds a share of 17.4%, Johanna Quandt 16.7% and Susanne Klatten 12.6%.
Also Read:
Was this article helpful ?
0 out of 0 found this helpful