Top 5 tyre Concepts Expected to Change the Automotive World
Modified On Oct 20, 2015 02:02 PM By Abhijeet
Every time we switch to Auto Expos that are taking place in and around the country, there are considerable amount of car concepts that we come across. But with the advancement of automobile industry there is a good amount of work that tyre manufacturer have put in to develop better and more efficient tyres. They have been showcasing newer technologies and even some outstanding concepts every now and then. Apart from the current technologies like low rolling resistance tyres, green tyre, winter tyres, there is a lot coming our way. We have selected top five tyre concept, with a few already under production while other are yet to be worked upon.
:: Basically, these tyres will eliminate the "shoot-the-tyres" shot from Hollywood, Bollywood or any-other-wood, if it exits. ::
Airless Wheel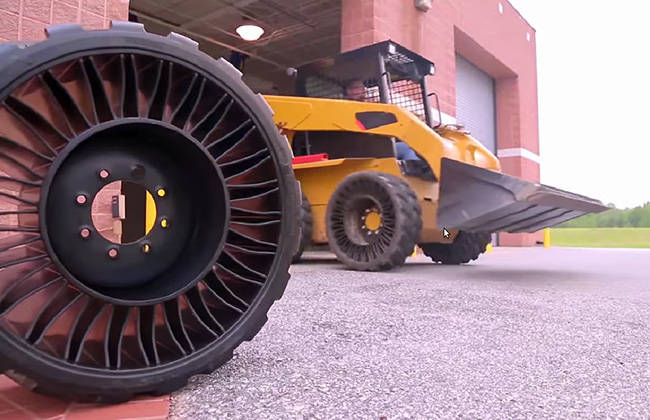 Also Read: Top 8 Famous Japanese Cars
This wheel is now been showcased a lot of time by manufacturers and the chief among them is Mechelin. The french tyre manufacturer has brought it to production and it is offering it in several construction vehicle. Such tyres don't have a bladder, instead they have polyurethane flexible spokes between the central hub and the tyre tread. Its chief advantages are a stiffer tyre that doesn't deflect when under lateral acceleration, no more puncture or flat tyre, eco-friendly as the tread is replaceable and the tyre lasts 3 times more than the radials.
Basically, these tyres will eliminate the "shoot-the-tyres" shot from Hollywood, Bollywood or any-other-wood, if it exits.
Electricity Producing Tyre

Yes, you heard me right, Goodyear in the by gone Geneva Motor Show showcased a concept tyre that if brought to reality, will produce electricity. To do so, it will be using a thermo/ piezoelectric material, that will convert heat absorbed from the road and the friction produced by the moving tyre. Since the tread material is a great heat absorber, it gets hot and to keep it cool, the outer walls will get cooling system.
If Goodyear puts it the way they want, it will be charging car battery, running its lights, fans and can even eliminate the need of an alternator.
Smart tyres

Also Read: Volvo defines what lounge seating is all about
Hankook, a tyre manufacturer from South Korea, is also working on a few concept that, of course, aren't even closer to production. There are three tyre concepts namely; Boostrac, Alpike and Hyblade. The first one is capable of running on ice, the second will slash snow and the third is more of an hovercraft as it can race over roads and glide over water.
Moreover, all three of these, if developed, can change the shape of tread to their advantage. To maneuver over different sort of terrain and surfaces.
Adaptive Tyres

Along with the electricity producing tyre, Goodyear also presented an adaptive tyre technology or simply a triple tube tyre. As the name suggest, it has something related to adaption of driving condition such as the adaptive suspension that independently modulate ride height according to the requirement. And this system can work in conjunction with adaptive suspension or even without them. The tyre consists of three parallel tubes, running along the inner periphery of the tread.
All the three tubes will be controlled differently using actuators. In other words, if the vehicle is turning left, the leftmost tube will inflate to provide a suitable bank, these tyre will also reduce the effect of hydroplaning.
iFlex

It is another tyre concept from Hankook and is an airless tyre like the Michelin Tweel. Though there is lot that differentiates it with the Tweel, the construction comprises of three components, an outer layer which is durable and strong enough to withstand the road. Second, the inner blocks that will be made of eco-friendly and flexible material to absorb road shocks and undulation and lastly, the third member the the frame that hold these two together.
The chief characteristics of such tyre will be the customization that you can do, it will allow you to choose from different types of color combinations on the frame and inner blocks.
Also Read:
Was this article helpful ?
0 out of 0 found this helpful