Top 10 CEOs of Automotive World
Modified On Oct 20, 2015 02:55 PM By Sourabh
A CEO or Chief Executive Officer is someone who is responsible for maximizing the value of the company. In automotive companies too, CEOs have to play a vital role and here, growth in a nutshell means 'selling more cars'. Below is the list of top 10 CEOs who stirred the commercial business in tough times to make sure that the entity remains on the growth trajectory.
1. Mary Barra- CEO General Motors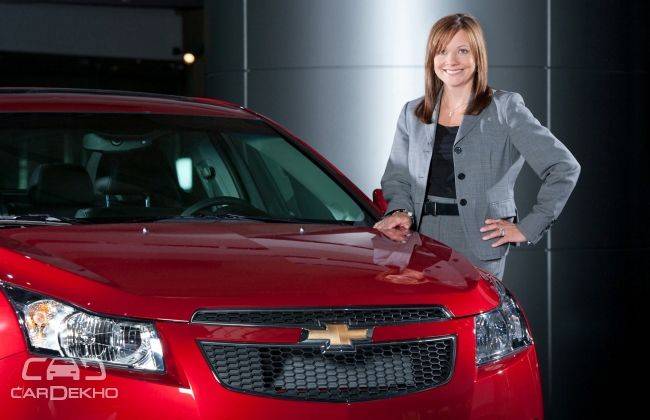 Also Read: Top 5 Indigenous Cars, That Define Indian Engineering
Born on 24th December, 1961, Mary Barra is the first female CEO of General Motors, a company which has a history of 107 years. After completing her graduation, she attended Stanford University to receive a masters degree in Businesses Administration. Her big promotion of being a CEO at GM comes when she added a purchasing and supply chain to her responsibilities. Her favorite car is Chevrolet Camaro and with the straight vision of "No more crappy cars" has made the company to achieve the all time highest profitable figures. Mary currently lives in Detroit and apart from managing a billion dollar multinational company she loves to cook for her two kids. In India, General Motors sells its product under the brand name of Chevrolet.
2. Elon Musk- CEO Tesla Motors

Tony Stark of reality, Elon Musk is the CEO and CTO of SpaceX, CEO and Chief Product Architect of Tesla Motors, and chairman of SolarCity. A car fanatic who owns Tesla Model S and McLaren F1 sportscar has also made it to our list of Top 10 Famous CEOs and their Cars. He is also the co-founder of Paypal, Inc and envisioned a conceptual high-speed transportation system known as the Hyperloop. In Tesla Motors he is also the chief product architect and is responsible for production of Tesla Roadster, Model S and Model X. Tesla Motor's S P85D is an AWD vehicle with zero emissions, achieves 0-100kmph in 3.2 sec. On his blog, the billionaire CEO, said that the company is open to share its technology for the betterment of auto industry.
3. Carlos Ghosn- Chairman, President & CEO Renault–Nissan Alliance

Also Read: First Indian to race the Prancing Horse across the world at the Ferrari Challenge European Championship
In automotive world, Carlos Ghosn is known by different names-"Mr. Fix It" or "Le Cost Killer". The man behind the booming success of Renault-Nissan joint venture is currently Chairman and CEO of Renault, Chairman and CEO of Nissan, Chairman of Russian automobile manufacturer AvtoVAZ and Chairman and CEO of the Renault-Nissan Alliance. Recently he is re-elected as Chairman and CEO of Renault till 2017 and as the President of European Automobile Manufacturers' Association (ACEA) for the year 2015. In India, Mr Ghosn has unveiled the first Datsun Go model in July 2013 and is also expected to unveil Renault small car codenamed XBA in May 2015.
4. Mark Fields- President & CEO Ford

Mark Fields is the President & CEO of another century old company, 112 years to be exact. He replaced Alan Mulally in July last year, prior to which he was the Chief Operating Officer at Ford and has worked for more than 25 years in Ford Motor Company. His area of expertise lies in the product development, manufacturing, purchasing, marketing, sales and service. Before becoming COO, Mark worked as the executive vice president and president of the The Americas since October 2005 where he managed the Ford North American business. He helped the company to earn profit from the record loss of several years.
5. Sergio Marchionne- CEO FCA

Sergio Marchionne is best known for heading the merger of Fiat with Chrysler to form Fiat Chrysler Automobiles. He is the CEO of Fiat Chrysler Automobiles and FCA Italy S.p.A, Chairman and CEO of Chrysler Group LLC, Chairman of Fiat Industrial S.p.A. and CNH, Chairman of Swiss-based SGS and lastly Chairman of Ferrari. He loves driving supercars and frequently takes Ferrari, Maserati to the racetracks.
6. Bernie Ecclestone- F1 CEO

Bernie Ecclestone is the Chief Executive of Formula One Group which manages Formula One and controls the commercial rights to the sport. He is man behind the commercial success of this racing sport for four decades. Bernie often called as F1 Supremo recently settled his bribery trial in exchange for a $100m payment. In the Munich court, all the parties agreed to drop Bernie's case after he agreed to pay $100million (£60million) payment, which is actually the costliest trial buyout of its kind till date. He was allegedly charged for bribing Gerhard Gribkowsky, a banker who worked as a Chief Risk Officer for Bayern Landesbank.
7. Akio Toyoda- President & CEO Toyota Motor Corporation

Akio Toyoda is the President and CEO of Toyota Motor Corporation which is the largest automobile manufacturer (by production and sale) ahead of the Volkswagen Group and General Motors. The grandson of Toyota Motor's founder, Kiichiro Toyoda, has led the company through global recession, recalls and the 2011 earthquake and tsunami. He recently delivered keys of world's first mass-produced fuel cell car Mirai to Japanese Prime Minister Shinzo Abe. Under his leadership, Toyota has been public about favoring hydrogen fuel cell technology in its next generation of vehicles over battery-powered cars.
8. Martin Winterkorn- CEO Volkswagen Group

Martin Winterkorn replaces Bernd Pischetsrieder in 2007 to become the CEO of Volkswagen AG in 2007. Prior to that, he was the Chairman of the Board of Management of Audi AG, a Volkswagen Group subsidiary. After completing graduation from University of Stuttgart, he received doctorate from Max-Planck-Institute for Metal Research and Metal Physics in 1977. In 1993 Winterkorn became head of "Group Quality Assurance" at Volkswagen AG and later moved up to become General Manager of Volkswagen AG in 1995. In 2002, he was appointed as the Chairman of the Board of Management of Audi AG and headed the Audi brand group such as SEAT and Lamborghini.
9. Dieter Zetsche- CEO and Chairman Daimler AG

Dieter Zetsche is the Chairman of Daimler AG and Head of Mercedes-Benz Cars since 2006. As a part of company's 'Ask Dr. Z' marketing strategy, Dieter Zetsche himself played Dr. Z in ad campaign which included promotions on television, radio, print, online, in-dealership, in which he provides answers to customers questions.
10. Larry Page- CEO Google

Technically Larry Page should not be on the list, but going by the work Google is doing in the field of autonomous and driverless cars, he can surely revolutionize the auto industry in upcoming years. The company has started its test run with a fleet of 100 experimental electric-powered prototypes without any conventional and standard controls found in any modern vehicle now-a-days. The prototype more-or-less looks like a toy concept vehicle which has a seating capacity of two and is loaded with uncountable sensors to determine its location and surroundings up to several metres. Speed of the car is limited to just 25 mph (40 kmhr) and the only duty human perform is to press 'Start-Stop' and a red "e-stop" button in case of a panic stop.
Also Read:
Was this article helpful ?
0 out of 0 found this helpful