Top 8 Famous Japanese Cars
Modified On Oct 20, 2015 10:14 AM By Raunak
When automobiles started gaining pace from opulent elites to plebeians in the starting of the 20th century - American and European automakers were the rulers. But a couple of decades after the World War II, Japanese auto industry started to rise globally and in 80s and 90s, Japanese manufacturers set others asses on fire with unprecedented sales volumes across the globe. Indeed, it's the same scenario now also. We bring you the top-8 cars of all times that Japan offered the world and each and every car in the list have revolutionized the industry at some point or the other! Let us roll to see who they are: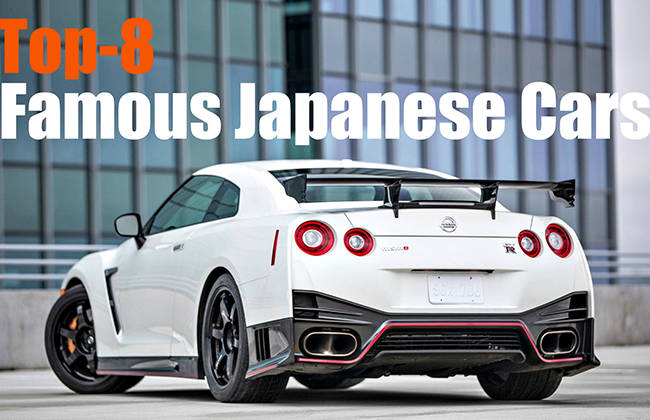 Toyota Prius
We can see Prius' Hybrid revolution, as the second big revolution after Henry Ford's Model T!

When American and European were running for gas guzzler to extract more and more power, Toyota acquainted the world in 2000 with 'Prius' (launched in Japan in 1997). And the rest we all know - till date, Prius is the highest selling hybrid vehicle on this planet. In over a decade and a half, Prius defeated its arch rival Honda Insight (launch in 1999) and countless hybrids that followed the path of it! To your knowledge, Toyota also retails the vehicle in India since 2010. Prius is Latin for 'to go before' and it started the hybrid revolution in the world.

Toyota Mirai
Toyota introduced Prius before the world went gaga over environmental issues, so does the world's first mass-produced Hydrogen vehicle - Mirai is bringing in the Hydrogen revolution?

You only do better from what you have done - after the Prius, Toyota introduced Mirai to the world last year. Mirai in Japanese stands for 'future' and we don't really contradict with its name, do you? Toyota Mirai can travel up to 300 miles on a single tank of hydrogen, and you don't have to wait for hours to juice-it-up - refueling is done in less than five minutes and it emits only water vapor. Isn't it amazing? People in eastern America will soon be driving it while it is running on the streets of Japan!

Mitsubishi Lancer Evolution
Lancer EVO is dying in 2015, breathing its last but the legacy it left will be cherished forever and it reminds me of a saying - "The Essence of heroism is to die, so that others can live!"

The first EVO came in 1992 and currently Mitsubishi is rolling the 10th version of the Lance EVO. Sadly, the Japanese automaker rolled out the Final Edition of the EVO range and only handful of these will be made :(.

What Mitsubishi had done with the stock Lancer that created the history - they plonked in a bigger turbo motor in an all-wheel-drive setup - all this in a sedan! The interesting fact about the Lancer EVO is that, all the ten versions featured a 2-liter turbocharged 4-banger motor and an AWD setup. For the numerical badging, they all go by Roman numbers. Moreover, Mitsubishi also used to sell the Evolution X in India for a brief time.
PS: How many of you remember it from Paul Walker's ride in 2 Fast 2 Furious?

Nissan GTR Godzilla
Some say - the GT-R could not be fitted with adaptive headlight. Reason? They couldn't catch-up with the speed, Godzilla changes direction*

Now, when Nissan made the GT-R in 2007 they were very specific about the car they wanted to offer. So specific that there are only four master craftsmen, known as 'Takumi' in Japan, who assembles the engine of this epic AWD Coupé (seats 2+2). And since, each GT-R engine is assembled by only one craftsman, every motor has a different character. And you get the best of Japanese trickery as this supercar can perform like a hot-headed track-ster to a rough runner rally car and yet it will allow you to fetch your kids from school like a caring family saloon.
PS: The earliest of GT-Rs were known as Skyline GT-R, AKA Godzilla.

*Though, in 2013 Nissan figured out a way and gave AFS (Adaptive Front Lighting System) in 2014 model year GT-R!
Honda Civic Type-R
First generation Civic Type R was epic with Honda's super-revy i-VTEC motor, with the recent one, they have packed a turbo with i-VTEC - Now keep imagining!

Honda Says the 2015 Civic Type R is the most brutal Type R vehicle Japanese automaker ever produced in the 22-year history of the red 'H' badge (see the red-Honda badge in pictures). From cruel styling to the pool of power, Honda left no area unanswered. It packs a 2.0-liter VTEC turbo 4-banger - expelling 310 PS at 6500 rpm with the peak torque of 400 Nm extracted at 2500 rpm. The 2015 Civic Type R is also gloating for its 7m:50s:63 lap timing of the 'Green Hell' - Nürburgring Nordschleife (Northern loop). Making it the fastest front wheel drive hatchback on the globe your money can buy! If it wasn't enough, just recently, Honda has also announced Type R version of the 10th Generation Civic in America at the New York Auto Show, where the world previewed the stock version of it.

Mazda Miata/MX5
Quarter of a century past since its launch - Mazda Miata is the world's highest selling roadster

In 1989, Mazda redefined the world of roadsters – the Japanese giant introduced a modern, affordable roadster with classic cues from the British quintessential roadsters - triumph spitfire, MGB and Austin-Healey Sprite. It is unquestionably the world's best-selling sports car with a whopping 940,000 units (July 2014) sold and the count still goes on! Mazda revealed the fourth generation of the Miata/MX-5 last year in September and it went on to sale this year. And did I tell you that, the current gen is totally mind boggling - treat your eyes

PS: Though I haven't driven it yet, but I was totally drooled over its handling in the Need For Speed Underground - and FYI I kept it till the end of the game!

Subaru Impreza WRX STi
Another rally legend from Japan, still running strong - famous for its horizontally opposed boxer engines and Symmetrical AWD setup!

Subaru's performance arm - STi did something amazing in late 90s in Japan - they introduced rally spec Impreza WRX STi for mass production. And street racers across the globe have the penchant for this go-fast four-door sedan ever since!

The STi version had turbo feeding the extra punch in the horizontally opposed boxers engines of the Impreza WRX and featured standard symmetrical all-wheel drive setup. Apart from the sedan version, Impreza badging offers a 5-door hatchback too. Speaking of its global availability, Subaru started exporting Impreza WRX STi to Europe in 2001 while its American debut was in year 2003. Below is the 2016 model!


Toyota Corolla
World's best selling car of all times and indeed the best selling in its segment in India too!

Very often we see a vehicle establishes a brand in a foreign country, Corolla is one of those vehicle and it helped in strengthen Toyota's roots in rest of the world. First generation Corolla was introduced in 1966 and currently Toyota is rolling out 11th generation sedan, don't worry, we are getting the same car (although the American version looks sportier than the rest of the world - see the red car). Speaking of the stats - Toyota has sold more than 40 million Corollas!

Also Read
Was this article helpful ?
1 out of 1 found this helpful