5 must watch documentaries for any petrolhead
Modified On Oct 20, 2015 02:09 PM By Firdaus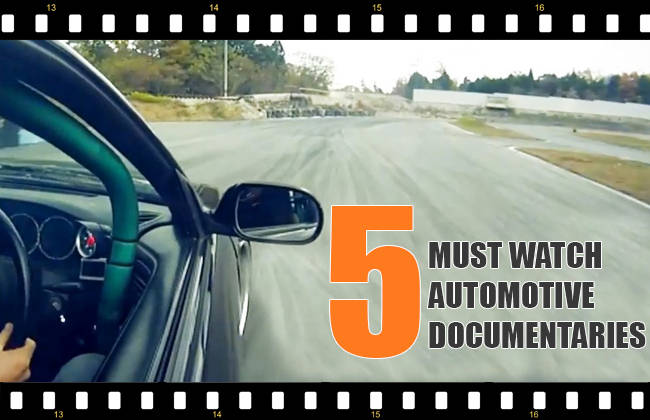 If you're a petrolhead it means you obviously have an affinity for all things automotive, be it gadgets, apparel and most definitely movies. Yes, auto aficionados love to watch automotive documentaries. They have a sort of calming and inspiring effect on the viewer, motivating them to take the leap and head out for that trip one has been planning for a while. As much as automotive films and documentaries are inspiring, they are engaging as well, giving one the insight on the lives of people for whom cars and motorcycles were their life; people who went out of their way, overcoming hurdles to pursue their passion; at times struggling to make ends meet, but never giving up on their passion. We bring to you a list of must watch automotive documentaries that will either inspire you to ride/drive out, and gleam with pride that you belong to an unusual breed. And if you're just budding into the automotive arena, then there's no better way to get inducted into the motoring lifestyle than watch these documentaries.
Also Read: What's so special about the Honda City?
1. Senna

Regarded as one of the best documentary of all time, Senna is a movie which documents the life and career of Formula One racer Aryton Senna, who is still considered the best Formula One driver to have ever lived. It is the story of the monumental life and tragic death of a legendary motor-racing Champion spanning the decade from his arrival in Formula One in the mid 80's. The film follows Senna's struggles both on track against his nemesis, French World Champion Alain Prost, and off it, against the politics which infest the sport. Sublime, spiritual yet, on occasion, ruthless - Senna conquers and transcends Formula One to become a global superstar.
2. On any Sunday

On any Sunday is one of the most popular documentaries to have ever been produced. The movie came out in the year 1971 and since then has had a cult following. This documentary follows the lives of motorcycle racers and racing enthusiasts, including including actor Steve McQueen. First asking the question "Why do they do it?" this film looks at the people who devote (and sometimes risk) their lives to racing on tracks and off-road courses around the world. Now if you're wondering what the hype about the husqverna's and what MSR really is? You have to watch this documentary which was way ahead of it times when it was released.
Also Read: Received Your Big Appraisal, Now Pursue Your Dream of Owning a Car
There is a contemporary version of 'On any Sunday' which has released recently called "On any Sunday, the Next Chapter" This one is a must watch too. We suggest you watch the first movie and then its sequel.
3. The speed merchants

The Speed Merchants is the story of the 1972 manufacturer's Championship Series as told by drivers Mario Andretti (Ferrari 312P) and Vic Elford (Alfa Romeo T33TT/3). The film takes you behind the scenes at Daytona, Sebring, the Targa Florio, the Nurburgring, Le Mans and Watkins Glen, focusing on Mario and Vic, as well as Jacky Ickx, Helmut Marko, and Brian Redman. You visit with the drivers at their homes in France, Belgium, Austria and England where they relax with their families between races. Woven into the film is rare footage of both the Ferrari and Alfa Romeo factories where the cars are prepared before each race. This movie may appeal more to F1 fanatics.
4. Why we ride

Why we ride is a 2013 documentary which answers the questions non-auto people/ people who don't ride motorcycles ask motorcyclists - Why do they ride? Beautifully documenting the passion of people who have been riding since the past 50 plus years for pleasure and also covering the other forms of motorcycling such as motorcross, flat track etc, MotoGP, dirt etc. It has inputs from people who have formed some of the oldest motorcycling clubs in America and what riding truly means to them, and how it bonds them as a family. Extremely touching, this is one documentary that you have to watch if you truly love motorcycling.
5. Love the beast

Love the beast follows the story of Hollywood star Eric Bana, who is known for his love of machines. Eric an avid racer owned a Ford GT Falcon Coupe (The Best) which he raced in one of the most grueling races in the world - The Targa Tasmanai Rally. The film documents his passion for motorsport, and how after years of restoring his machine, Eric and his three close friends decide to enter the rally. This rally would have been a personal best for Eric and the Falcon, until on the fourth day 'The Beast' gets destroyed. This is a real life drama that follows Eric's progression as a car lover, and as a person conflicted by what he has done. The personal and social pressures mount up in the face of re building a car that means so much to him. Along the way Eric seeks guidance and wisdom from not only the inner sanctum of his 3 lifelong friends but also Jay Leno, Jeremy Clarkson, and Dr Phil.
Also Read:
Was this article helpful ?
0 out of 0 found this helpful