Top 10 Most Expensive Cars in the World
Modified On Oct 20, 2015 03:08 PM By Sourabh
7034 Views

Write a comment
When you got billions and millions stacked in your offshore accounts, you can surely buy some of the world's most expensive cars available for the "blessed" brats of mankind. We have compiled a list of top 10 expensive cars and trust me it's very confusing as we have some iconic vintage cars, some one-of-a-kind cars, road illegal and some gold & diamond studded cars, but we have refrain ourselves to only road legal cars available for normal people with hell lot of money. Also some honorable mentions includes 52 million dollar 1963 Ferrari 250 GTO, 3.3 million dollar McLaren P1 GTR and Ralph Lauren's 40 million dollar Bugatti Atlantic. But for now, enjoy the list with the dream of owning a one!
1) Lamborghini Veneno Roadster-4.5 Million Dollar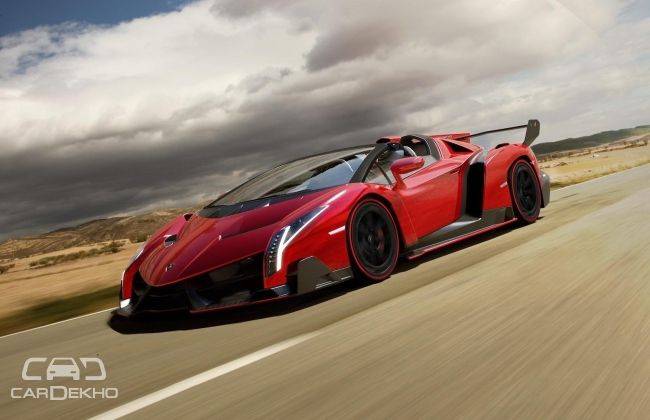 Also Read: 8 Car company logos and their meanings!
With a price tag of 4.5 million dollars, Veneno Roadster tops our list of most expensive cars. The car houses a 6.5-litre, naturally aspirated V12 engine which enables it to achieve 0 to 100 in mere 2.9 seconds. The car with a power output of 750bhp churns a max speed of 355 kmph. Among many other innovations, the car features lightweight body design with the extensive use of carbon fiber-reinforced polymer.
2) W Motors Lykan Hypersport-3.41 Million Dollar

Lebanon based W Motor's Lykan Hypersport gets a price tag of 3.41 million dollars. The first supercar produced in middle east is recently seen in Fast & Furious 7 movie with Dom (Vin Diesel ) driving through three tall buildings. Lykan Hypersport puts an impressive top speed of 394kmph with 0 to 60 in 2.7 seconds. It's the first car that has diamonds in the headlights and the front lights are made of titanium LED blades.
3) Bugatti Veyron Mansory Vivere Edition- 3.4 Million Dollar

Slipped to number three spot, the Bugatti Veyron Mansory Vivere Edition can be yours for 3.4 million dollars. The car is built to commemorate Legend Meo Constantini, friend of Bugatti founder, and two-time winner of the Targa Folorio, in a Bugatti 35. Under the hood, the car holds an enormous W16 engine giving an output of 1,200 hp good enough for a top speed of 254 mph.
4) Ferrari F60 America- 3.2 Million Dollar

Also Read: Your car can go to Ladakh!
These Italians! They build a 3.2 Million Dollars machine to celebrate 60 years of Ferrari in America. The car is based on Ferrari F12 Berlinetta and is perhaps the most insane Ferrari Roadster ever. The F60's 740-hp V12 propels the car to 100kmph from standstill in 3.1 seconds and on to a top speed of around 321kmph.
5) Koenigsegg One:1- 2 Million Dollar

Well most of us have heard about the insanely build Koenigsegg Agera R and Koenigsegg Regera, but what the good lord is Koenigsegg One:1. Well its the world's first mega car with the power output of 1 megawatt. Let me explain this, the car weighs 1,340 kilograms and puts out 1,340 horsepower making one-to-one power-to-weight ratio which also defines the name. The car has a claimed top speed of 439kmph.
6) Pagani Huayra-1.31 Million Dollar

After Zonda, the Pagani build the Huayra which with its ex-showroom price of 1.3 million dollars gets the sixth position. The car uses AMG's 6.0-liter V12 with two turbochargers good enough for the top speed of 370kmph. Huayra's (Pronunciation: Why-Rah) is the name of Incan "God of Winds," and with 1003 Nm of peak torque, it surely makes up for its name.
7) Ferrari La Ferrari- 1.3 Million Dollar

Another Ferrari on the list and its the latest from the Maranello based carmaker. Packed by the V12 engine, the car musters an output of 789 horses. The car is so rare (only 499 units produced) that some of the interested buyers even paid double to get their hand on this beauty.
8) Zenvo ST1- 1.2 Million Dollar

Kitni cars thi, sarkar teen! Well its actually true. Up until now, Zenvo has only manufactured three ST1. The car houses a 7.0-liter V8, which enable it to achive a top speed of 374kmph and a 0-60 time in 3 seconds.
9) Hennessey Venom GT- 1.1 Million Dollar

The Hennessey Venom GT gets a price tag of 1.1 million dollar and is on the number 9. God Bless the Richness! The car draws its power of 1,244 bhp from 7.0-litre twin-turbo V8 engine which enable it to achieve 0 to 100kmph in mere 2.7 seconds. The company plans to build a total of only 29 all told. The Hennessey Venom GT design is based on the Lotus Elise roadster and Exige coupe model.
10) McLaren P1- 1.1 Million Dollar

Last but certainly not the least is McLaren P1 from the house of McLaren. The car with its carbon fiber body is the first production car to reach the speed of 370kmph (230mph). Powered by 3.8 liter twin-turbo V8 engine, the sportscar gives an output of 903bhp and can reach 0 to 100 in less than 3 seconds.
Also Read:
Was this article helpful ?
0 out of 1 found this helpful