Feature: Top 5 Fastest cars in the world
Modified On Oct 20, 2015 01:11 PM By Sourabh
We all admire fast cruising cars, though most of us can't really afford! By fast we are not talking about stupid 100 or 120kmph running cars, we meant serious business. Fast car that will easily touch 350 to 400kmph mark. Now obviously you can't legally drive above 80kmph or let me extent the figure to 100kmph, but there are places where you can test the performance of these beasts, but if only you can actually spare the price of. Here's the list of top 5 fastest street legal cars in the world.
Hennessey Venom GT:
Top Speed: 435 km/h (270 mph)
0-100kmph: 2.5 seconds
Engine: 7.0 liter LS7 Turbocharged V8 Twin Turbo
Power Development: 1244hp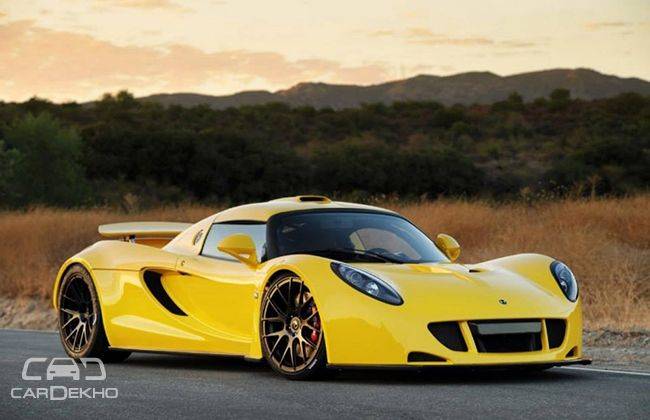 Also Read : BMW 320d GT - A Perfect Weekend Getaway Vehicle
Talking about the fastest of them all, this baby clocks 435kmph in speedo with 0 to 100 figures in less than 2.5 seconds. Backed by the mammoth 7.0-litre, Twin Turbo V8 engine, the car on Feb 14, 2014 was tested as the world's fastest car on NASA runway in Florida.
Bugatti Veyron Super Sport:
Top Speed: 431 km/h (268 mph)
0-100kmph: 2.4 seconds
Engine: 8.0 liter W16 Engine
Power Development: 1200 hp

Bugatti Veyron always remained a synonym of being the fastest car and with the Super Sport model, they achieved the 431 kmph mark which is recently broken by Hennessey Venom GT. Bugatti Veyron Super Sport houses an aluminum, narrow angle 8.0-liter, W16 engine which churns a max output of 1200 hp.
Koenigsegg Agera R:
Top Speed: 418 km/h (260mph)
0-100kmph: 2.8 seconds
Engine: 5.0-liter twin turbo V8
Power Development: 1140 hp

Also Read: Intelligent cars for a safer tomorrow: Mercedes-Benz
Most of us have not heard the automaker Koenigsegg but they are not to be taken lightly in the list of fastest cars on the planet. Packed by the 5.0-liter V8 Engine with twin turbo's, the car can accelerate from 0 to 100kmph mark in 2.9 seconds. The engine gives an impressive output of 1099 hp. The car also works fine in snow with small fitment in the form of Ski Box and winter tires.
SSC Ultimate Aero:
Top Speed: 413 km/h (257mph)
0-100kmph: 2.7 seconds
Engine: Twin-Turbo V8 Engine
Power Development: 1183 hp

Been there done that! That's what SSC Ultimate Aero is for you. The car tested by the Guinness World Record as the fastest car in the world from March 2007 to July 2010. The Ultimate Aero gets Twin Turbo V8 engine which gives an output of 1183 hp making it to touch 413kmph.
9FF GT9
Top Speed: 413 km/h (257mph)
0-100kmph: 2.9 seconds
Engine: 4.0 Liter flat-6 Twin-Turbo
Power Development: 1120 hp

Though the max speed is same with the SSC Ultimate Aero, but the 0 to 100 mark is where it falls short. Based on Porsche 911, the 9FF GT9-R 1120 hp version is limited to 20 units and the exterior may be modified to suit the owner.
Also Read
Was this article helpful ?
0 out of 0 found this helpful