Less-explored hilly getaways around Delhi
Published On Apr 03, 2015 10:52 AM By Akshit
To be true, travelling becomes way more exciting and almost a discovery when we head to some offbeat and less traveled places. We all love Delhi, but sometimes a break to such place can provide the very much required relaxation and refreshment, leaving behind the monotonous schedule and regular hustle-bustle for a while. So, get behind the wheel and drive down to any of these places to experience Nirvana.
Kangojodi: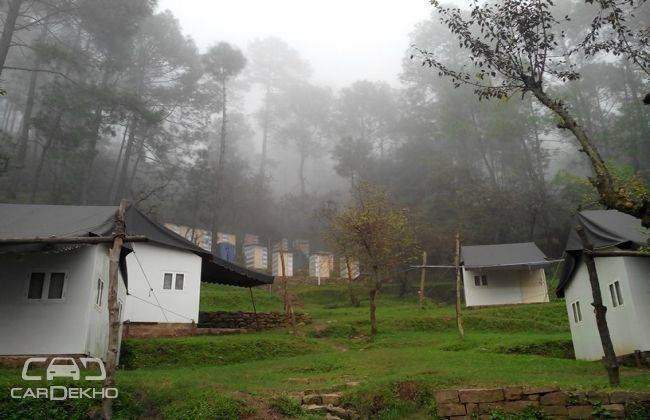 Less than 300 kms from Delhi, this isolated place is a 7 kms long pine forest area, located on the Nahan-Shimla highway. Except a camping resort, you wouldn't find anything there. A true nature's delight with dense green area, rare species of flora and fauna, natural spring water stream at the ridge of valley and an amazing weather all year round, these together makes perfect Kangojodi a natural setting you have always longed for.
Prashar Lake:

I am sure, many of you haven't even have heard of this place. About 500 kms from Delhi, this unexplored place comes under the Mandi district of Himachal Pradesh, and is a perfect escapade for those seeking serenity and peace; with deep blue waters, the lake has a floating island and has been held sacred to the sage Prashar as it is believed that he meditated there.
Landsdowne:

Just over 250 kms from Delhi, Landsdowne's dense oak and blue pine forests lend it the air of a remote hill station, despite it being well connected to the rest of the state by road. Originally known as Kaludanda after Kalu (Black) and Danda (Hill) in the local Garwhali language, Lansdowne was founded and named after the then Viceroy of India- Lord Lansdowne in the year 1887. It offers the most amazing sights in front of you with mists as dreamy as fairy tales. You can stroll through the beautiful forests with just the right amount of sunlight streaming in, or head down to the river for a boat ride; or even occupy a quiet spot in the forest to feel the essence of nature; the place will leave you with a feeling like never before.
Chaukori:

This is a small hill station situated in Pithoragarh district, around 500 kms from Delhi. Set among the lofty peaks of the western Himalayan Range in the Kumaon region, this amazing place has Tibet to its north and Terai to its south. With the Mahakali river running along its eastern boundary and a spectacular panoramic view of the snowy peaks of Nanda Devi, Nanda Kot and the Panchchuli grouped together, this extremely calm place will allow you to rejuvenate and relax and to do a little soul seeking as well.
Kausani:

Located in the Bageshwar district of Uttarakhand, this tiny village is just above 400 kms away from the capital. Perched high on a forest-covered ridge, this rarely explored place has breathtaking panoramic views of distant snowcapped Himalayan ranges like Trisul, Nanda Devi and Panchchuli peaks all around. The place is so relaxing that even Mahatma Gandhi's inspirational to write his Bhagavad Gita treatise Anasakti Yoga in 1929 came from this place. There is an ashram devoted to him there.
Trithan Valley:

Just over 500 kms from Delhi, this place is a perfect getaway for relaxation in the wild. The non-concrete paths and the forests around the valley make it one of the most scenic wonders. Bon-fires, music, and the homestay next to the river are some the factors which will want you to stay here and not leave. This is a place to forget the rest of the world - long walks through the rugged woods, the whispering river along with the meddling fog, is what makes this place so magical.
Was this article helpful ?
0 out of 0 found this helpful