Your car can go to Ladakh!
Modified On Apr 20, 2015 01:31 PM By Firdaus
Another month and a half and the mountain passes of Ladakh will be opened for tourists and pilgrims alike. Ladakh – a land of passes, harsh terrains, breathtaking beauty and mesmerizing views which in the recent years has become extremely popular amongst Indian and foreign nationals alike. Though Ladakh is more synonymous with bikers, car enthusiasts especially SUV owners aren't quite behind either when it comes to exploring this terrain. After all it offers the perfect mix of adventure and adrenaline giving them ample opportunity to test the mettle of their beasts. While it's a given that if you own an SUV you can tackle the terrain in Ladakh, there are some who own sedans and hatchbacks and yet want to drive down to this land. These are the people who are often faced with apprehensions about will their vehicle make it? And what route should they opt for? We help you sort this confusion, so that if you're planning to hit the Himalayan range this season, you can be well prepared.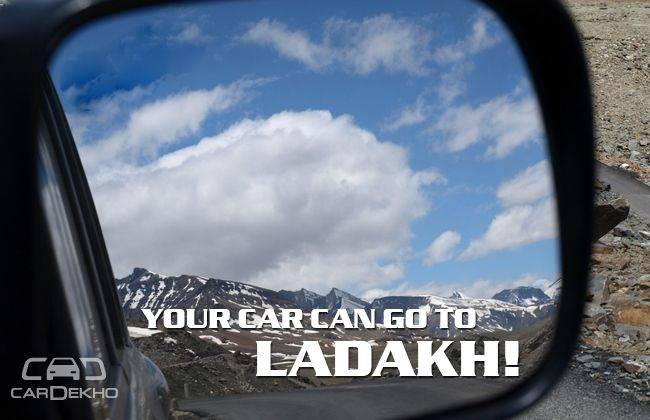 First things first, there are two routes that will take you to Ladakh and Leh
1. Via Spiti Valley 2. Via Manali
If you own and SUV especially one with a 4x4 function, then you don't really need to rethink route, as 4x4 can easily tackle both routes and the challenges they throw at travelers. However if you like to test your limits and believe in challenging yourself and your machine, then Spiti is the route to opt for. Imagine yourself driving through dirt roads through stone quarries, with the river flowing with all its might on one side and a landslide prone mountain face on the other. Interesting? Now add to this the uncertainty of the road ahead or beside you caving, thanks to the ill tempered river flowing alongside. Fun? Still not satiated? Then picture yourself driving uphill, with the river flowing down, through the path the water is creating. Baffling, isn't it? Yes, these are the experience that you can come across when you choose to drive though Spiti Valley. Water crossings that will leave you thinking twice to attempt or not; it's not for the weak hearted; but definitely for those who seek adventure and solace amongst the mountains.

One can enter here via the Shimla- Narkanda route crossing Reckong Peo, Pooh and the towns of Nako and Tabo which also have monasteries. Once you leave Narkanda you will be welcomed by roads which are a mix of beautifully surfaced mettle roads which slither like snakes though the mountains, and off road paths through stone quarries and deserted patches with not a soul in sight. The views via this route will transport you straight into the Harry Potter series of mystical waterfall and fog engulfed paths. The route this Kaza is fairly good, since it experience traffic from both sides of the town. It's post Kaza that the real challenge begins. Spiti Valley is also revered because it is home to Komik, the world's highest village and the world's highest petrol pump in Kaza. While crossing the Spiti Valley you'll also cross Kunzum pass which was of significant importance for the silk route trade. This is also the route that will take you to the famed Moon Lake or Chandra tal lake as it is know.

Now if you think just because you have a sedan, and not a 4x4 you cannot do the Spiti route, you're wrong! During my visit there, I saw on numerous occassions hatchbacks and sedans as popular modes of commute than SUVs. Yes, cars as small, with low ground clearances as the Maruti Alto were being used by the local to get from Kaza to Keylong – the next big town. So yes, sedan and hatchbacks can also explore the beauty of this region, though not as brashly as an SUV, but nonetheless it will be an enriching and adventurous experience. Just be careful while tackling those water crossings, they may seem shallow, but some of them run deep, so it's best to get out of the car once and gauge the dept.

If you love you sedan and hatchback way more than you love your wife, and don't wish to experiment with it much, then the Manali- Leh route is your best choice. This route is also the most popular route passing via the infamous Rohtang La pass which is known for its temperamental nature and its mercurial weather changes including blizzards. The pass is also famous because this is the only route that connects the Ladakh region and Leh to the rest of the country by road; at least till the 8 km long Manali-Leh tunnel is built, which as we've heard will be the longest tunnel, at the highest altitude – a marvelous engineering.
Once you've crossed over from Keylong, the road to Leh will pretty much be the same; even if you come via the Spiti Valley, as this route also confluences at Keylong. Via this route you'll cross three passes and a few small villages with sparse inhabitation. On this route you will come across the lake Suraj Tal. It is small in comparison to Chandra tal and on the left of the road just before Baralachla pass.

Whether you're driving an SUV or sedan or a hatchback, ensure you carry basic spares with you, as Keylong will be the last town till Leh where you can stock up on supplies – mechanical and otherwise. After this God forbid if something goes wrong, then you'll be on the mercy of 1. God; 2. Passerbys and 3. The army guys. Yes, these will be your saviors in time of need, so try being nice of fellow commuters while in the land of the Lamas.
Was this article helpful ?
0 out of 0 found this helpful