Find Out What Makes Elite i20, Creta, YRA Stand Out of the Rest!
Modified On Oct 20, 2015 01:25 PM By Abhijeet
5036 Views

Write a comment
Hyundai's Elite i20, Creta, Maruti Swift or the upcoming YRA, all are appealing in their looks and are largely popular, at least the ones that are up for sale. But have you ever wondered what is that one design element that make them look this good. The 'floating roof' design is something that is common across these cars and makes them stand out of the rest of their peers. Let's put some light on the floating roof design concept that is pretty popular among manufacturers and how it projects a better image of the car that wears it.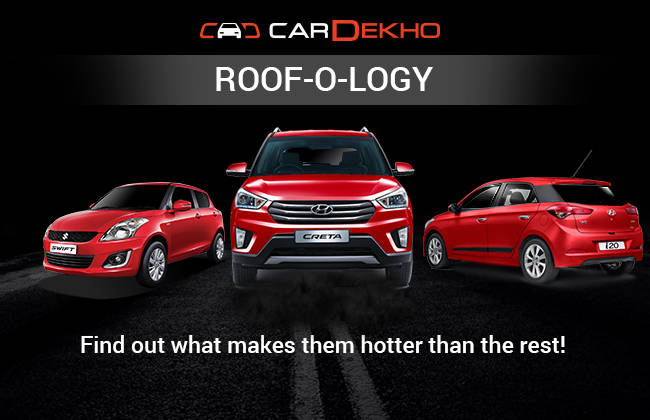 What is a Floating Roof?
Cars these days come with the blacked-out A or B or C-Pillar, or even D if it is an SUV. Manufacturers flip the blacking out of these pillars according to the design plot of a car like in Elite i20 you will find a partially floating roof towards the back-side profile, whereas, in Swift or say YRA, it is in the front side profile. To simply put, a floating roof design is incorporated to give an illusion that there is no member present to hold down the roof. And a blacked out pillar is the best way to project this. As black color blends into dark surroundings and the rest of the car, which is not black or dark, pops out. I think the following could better explain the whole concept.

Also Read: Hot Wheels: Driving The Dream
History and Evolution: This design plan has come a long way!
In the mid-nineties, hardtop cars were getting very popular in the United States, these were vehicles with a detachable or retractable hardtop or simply cars that had a fixed hardtop without any B-pillar. This design follow-up was adopted by many American manufacturers both in their two door cars and four doors cars. They made these vehicles more coupe-like and omitted the B-Pillar to make the car look more sporty. Now, these cars were based on body on ladder frame construction, so it was easier for these manufacturers to get rid of the middle most pillar as the body didn't play an extensive role in overall strength. But as time passed, safety regulation changed and these questions were raised on the structural integrity of these vehicles. Also, with the advent of monocoque chassis, it became a necessity to make the central member in big sized cars as it was an integral component of the chassis structure.

Also Read: The Tesla Model S Went 'Ludicrous' after 'Insane'
But, people still wanted that hardtop look and the problem was solved by the Blacked out pillar and hence, the concept of a floating roof gradually emerged. Though, initially only the central pillar was blacked-out so as to fade it a bit than the rest of the car and lead people into a delusion that there wasn't any B-Pillar. This is still prevalent in many car like the Honda City, Maruti Ciaz, Volkswagen Jetta and many more.
GT cars also have influenced the whole floating roof concept to some extent. As their short overall length, a usual 2 door and 2 seat setup allowed them to omit the B-Pillar without compromising the structural integrity of the car. A Toyota 2000GT gives an idea of how things were back in the days. And the Lotus Exige or the Nissan GTR, yes, the Godzilla, are great examples of that same setup that has been infused into them.

Mini Cooper too is a great example of a floating roof and it is something that the designers have kept intact from its very advent in 1959. Though initially there were no blacked-out pillars introduced, the later generation received them and they depict one of the best execution of craftsmanship. As the B-Pillar is beautifully placed inside the windscreen, it allows the glass run seamless and form a band like structure around the car.

This is 2015 Baby!
As time passed, manufacturers around the globe came up with more stunning examples of floating-roof setup. Land Rover has been incorporating this floating roof lately and it's cars like Evoque and Discovery Sport portray these things elegantly. While Toyota's next-gen Fortuner shows its swag in its latest type of hanging roof concept, Nissan has gone a step further with the 2016 Maxima that is rather radical to be called a sedan, its futuristic roof setup will get you drooling.

Floating roof concept has come a long way and while some of us like Elite i20, others might like Swift or Creta, but we know that this design element will stay common among them and will always make them look different from the rest. So next time you see rolling them down a street or if you own one of these, you know one reason of their good looks. Cheers.

PS: A car like this limited edition Pagani Zonda the whole roof is black, so will only see that white band of paint in the dark.
Also Read
Was this article helpful ?
0 out of 0 found this helpful