Life of a Legend: Hindustan Ambassador
Modified On Oct 20, 2015 01:39 PM By Manish
India has always used its diversity to integrate its prosperity and the same was stated time and time again in our social studies books. But taking a look around us, we do see glimpses of the same being true. The country features English and Hindi as co-official languages, exercises secularism in terms of religion and the list goes on and on. One of the most dear examples of foreign influence becoming a part of Indian society is the Hindustan Ambassador.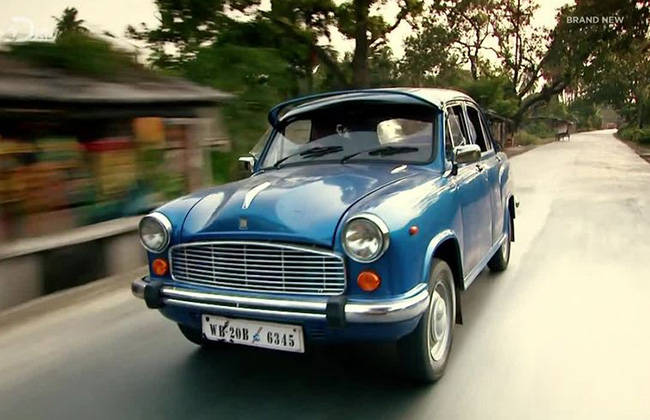 Also Read: The Best Superhero Cars of Our Time
Originally based on the Morris Oxford III Series, the car was brought to India when Birlas wanted a replacement to their Hindustan Landmaster, which was based on Morris Oxford Series II. One of the most innovative features of this particular car back then was, a fully enclosed monocoque, which made it rather spacious inside. Hindustan Motors limited was the flagship company of the C.K. Birla Group, which was established 5 years before the Indian independence in 1942.
During 1958- 1960, a 1478 cc side valve engine was incorporated in the Mark 1 Ambassadors. There have been instances which document the fact that, the waiting list for an Ambassador was five years in 1962. Ambassador was the first car to be made in India and was coveted as a symbol of high status and style.

The Ambassador was issued as standard to senior civil servants and government officials. It was also the vehicle of choice for bureaucrats and politicians. Production of Amby, as it is affectionately called, started in 1958 at the Uttarpara plant in West Bengal's Hooghly district. The plant also engaged in manufacturing Contessa and other utility vehicles like the Trekker, Porter and Pushpak because of which the plant has been credited with many innovations and improvements in the automobile industry of the country. Over the years the car grew with us and the Indian automotive industry. Here is a look at its glorious journey.
First Generation
In 1958, the first Mark-I Ambassador rolled out. It featured deep headlamp cowls and small rear wing "tail fins". The dashboard was completely redesigned and incorporated a new three spoke steering wheel. Each spoke was made-up of four wires. In addition to that, a dimpled hood was also featured, which covered a 1476 cc side-valve petrol engine. This particular engine was later replaced with an overhead-valve 1489 cc BMC B-series engine.
Second Generation

Also Read: Highways To Thrill: Top 5 Roads For The Indian Supercars
Mark- II Ambassador featured a wood grain coated plywood and aluminum bezel instrument cluster, which replaced the early mica sheet ones. A closely checkered grill was also incorporated in the Mark II giving the Ambassador a frontal face-lift. Further updates such as a chrome-metal bumper stopper, integrated lens for indicator and danger lamps were also included.
Third Generation
Another frontal face-lift was executed for the Mark 3, the front grill was redesigned with horizontal louvers and the round profile indicator lamp was now isolated from the grill. Other features such as a modern number plate bezel, a new dashboard with 3 standard instruments mounted on a black recessed mesh were also provided. In 1978, Mark 3 was introduced with a standard version and a deluxe version, which featured 5 gauges, including a speedometer.
Fourth Generation

Discarding the flatter design of the 50's, a new face-lift was introduced in 1979, which was later retained till the demise of the Ambassador. The new grill was much smaller in height and had a checkered grill and square park lamps. A separate amber indicator lamp was incorporated on the semi front-lip spoiler below the bumper. The introduction of Mark 4 was a very significant moment in the Indian automotive history, as the first diesel car to be introduced in India was a diesel variant of the Mark 4 Hindustan Motors Ambassador. It was powered by a 1489 cc, 37 bhp BMC B-series diesel engine.
Fifth Generation
The Ambassador only saw minor changes in the 90's, with an exception to Ambassador 1800 ISZ which featured a 1800 cc, 75bhp Isuzu inline-four engine, 5-speed manual gearbox and an option of bucket seats with mandatory seat belts. Ambassador was re-engineered and renamed to Ambassador Classic after the millennium renovation project at the Uttarpara plant culminated. A redesigned dashboard, polyurethane seats, pull type door handles, tweaked suspensions and floor shift gears were offered as standard, whereas features like servo assisted disc brakes and power assisted TRW steering were offered in the higher models.

The decline in demand for Ambassadors was fueled in no small portion by the introduction of Maruti Suzuki Alto 800, which was underpowered but competitively low-priced. This helped bring the ownership back to the masses and made the monopoly that Hindustan Motors enjoyed for decades, the reason of its downfall. A short-sighted and innovation-lacking approach was taken by the company and the product improvement was gravely hampered by a lack of motivational factors and technological stagnation.
Even with an essence as British as a bowler hat and fish and chips, this particular car still however remains to be an Indian icon. Over the years as a taxi, we have been made familiar with our beloved Amby but the Ambassador was not just a mode of commute it was a reflection of simpler times and simpler India.
Also Read:
Was this article helpful ?
0 out of 0 found this helpful