The Best Superhero Cars of Our Time
Modified On Jan 22, 2016 06:12 PM By Manish
Mighty they might be, but superheroes were not always as lucky. Most of them spent their childhood in torture and torment before they inherited millions of dollars, or got bitten by a radioactive spider. This is probably the reason why the desire to overcome fate and restrictions imposed by destiny are so deeply inculcated in them. They are plagued with a need to save the day, be it a building on fire, a derailed train or even preventing a world war. Heroes have never shied away from a challenge and it truly has been challenging. Creators always managed to impose restrictions in terms of abilities and introduced new weaknesses, however creators were just as generous when it came to donating equipment and transportation to our beloved supers.
There have been some amazing examples of automotive ingenuity demonstrated by comic creators, which made short-listing these chosen few all the more difficult, but we still gave it a shot: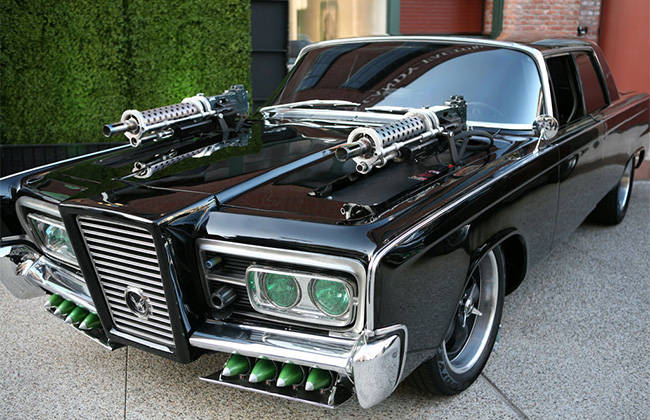 5) The Black Beauty – The Green Hornet
Black Beauty is a 1964-66 Chrysler Imperial, re-designed by Kato to feature a GM performance ZZ454 500 hp crate motor and race Trans Turbo 400 manual valve body transmission. Safe to say this car is a leading character in itself. The car features suicide doors with 12 Gauge AR-15 machine guns. In addition to the mini-guns that pop out of the hood, another mini-gun is installed in the boot and the front grill incorporate a m2 flamethrower. If that kind of firepower wasn't enough already, the car also has giant spikes that come out of the wheels, 12 front and rear stinger missiles, and a lot of armor plating.

4) Otto-Mobile – The League of Extraordinary Gentlemen
Of all the things that Naseeruddin Shah is credited for, which includes some of his finest performances, we thank him most for introducing us to the Otto-Mobile. If you want to know what the ultimate "Maharaja Car" should look like, then you don't have to look any further. The car rides on six wheels and is covered in ivory and silver. Nemo can also track the car remotely, which makes it a beacon that helps him track his enemy more accurately and strategize his attack. All and all it is a flattering representation .

3) 32 Ford- Iron-Man
Yes, we are quite aware of the fact that Audi R8 has been promoted as the official ride of Iron-Man, quite fanatically at that, if we may say so. Peeling apart the veil of consumerism, if one looks back at the first Iron-man film, he would see a band of cars, which manage to capture the essence of Tony Stark a lot better. One of such cars happens to be the 1932 Ford Flathead Roadster. As much as Tony surrounds himself with advance technology, in essence he is a tinkerer, a mechanic and a builder, who takes what might seem like a dead-end project and turns it into something truly cool. The Hotrod also helps its case by being the inspiration for the color scheme of Iron-Man suits.
2) Optimus Prime- Transformers

Not exactly a vehicle for superheroes, it's more of a vehicle which is also a Superhero. Optimus Prime, the leader of the Autobots, transforms into a Peterbilt 379. The truck incorporates fuel tanks, which are disguised ion blasters. If alien weaponry doesn't tickle your fancy, then check out the specs in which the 379 power-plant is available in. Peterbilt features engines like Caterpillar C-11, C-12,C-13,C-14,C-15,C-16, Detroit 60 series and 90 series amongst others. This particular ride packs a punch, be it with or without the Energon blades.

1) Batmobile – Batman vs Superman
Ever since 1939, when it was first introduced, we have been in sheer awe of the Batmobile. Every boy growing up, dreams of owning his own secret lair. A place where he can find solitude and if needed, embark on a quest and to do the same, every boy requires a ride. A ride that features rocket thrusters and can leap into a ramp-less jumps by the push of a button. Over the years we have had many incarnation of the Batmobile, from the iconic George Barris version, which was based on the Lincoln Futura concept car to the rather confusing tank-like interpretation of Nolan's Dark Knight trilogy. Recently, we were introduced to the glimpses of Snyder's version from the upcoming Batman vs. Superman movie and we are glad to see that the Batmobile is back to its original 4-wheel configuration, instead of 6.
Recommended: 5 Expensive Car Replicas in India that are Unbelievably Cheap€‹
Was this article helpful ?
0 out of 0 found this helpful