Hot Wheels: Driving The Dream
Modified On Jul 31, 2015 06:57 PM By Nabeel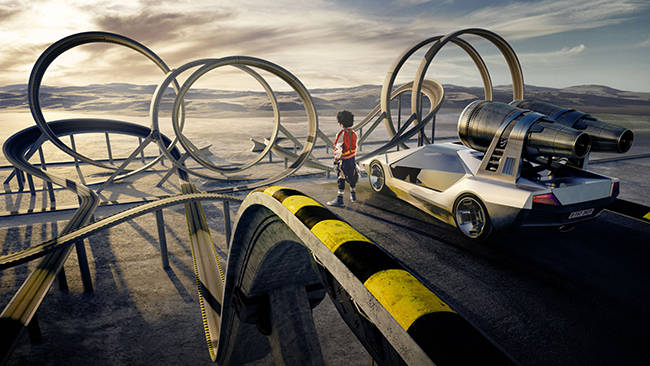 Many auto-enthusiasts trace back their passion of automobiles to when they were young and played with toy cars, and no set of toy cars was complete without a set Hot Wheels. We have all seen and wanted those 1:64 metallic marvels which shined in their glossy paint job and even with a slight push, kept on going forward for a long distance. We all hoped and dreamt that maybe one day, these cars would magically grow and become drivable. Many automobile designers have made attempts to replicate these cars in reality, and what they achieved is simply astonishing.
Here is a list of 10 best Hot Wheels cars which became a reality.
1. Bone Shaker


The Bone Shaker was designed by Hot Wheels designer Larry Wood in 2000. He threw away his initial sketches of the Bone Shaker but later found them and submitted them to the designers. Bone Shaker became a huge success and was re-released in many different paint schemes. The Bone Shaker was brought to reality by Picture Car Warehouse. It is an aggressively styled Hot Rod with the front having a giant skull and hands of the skull holding the headlights. The chassis is acquired from a custom AC Cobra replica and the engine is a 402 HP Short-Block Chevy 350 C.I with 350 Lb/ft torque.
2. Deora



Hot Wheels Deora is built on a 1965 Dodge A100 pickup truck. It was brought to reality by Mike and Larry Alexander in Detroit in the Detroit Autorama (1967). It has since then won many awards including the Ridler in 1967.
3. Deora II


Mattel Hot Wheels Director of Design, Nathan Proch created the Deora II in 2000. The vehicle features a rear-mounted V8 Northstar engine, custom 22-inch Foose wheels, BF Goodrich tyres, a gull wing style front entry door and 2 carbon fiber surfboards on the back. The build was led by Chip Foose, the legendary automotive designer and fabricator with support of Mothers Polish Inc. The vehicle was constructed at 5 Axis Prototypes in Lake Forest, California by Troy Sumitomo and his staff.
4. Twin Mill



The Twin Mill was the first life-size car to be made into a full size replica by Hot Wheels. Designed by Ira Gilford in 1968, the twin big-block engines became the selling point of the car. The full-sized Twin Mill was made for the 30th anniversary of Hot Wheels cars in 1998 and was unveiled at Specialty Equipment Market Association (SEMA) trade show in 2001. The twin Chevrolet motors produce more than 1400 horsepower. The Twin Mill recently changed colors from Spectraflame Red to Spectraflame Green.
5. Chevrolet Camaro 2013



This Chevrolet Camaro 2013 had a Hot Wheels inspired body kit, 21 inch alloy wheels, new floor mats and Hot Wheels logos on the car. The car was available in a 3.6L V6 (323 HP) or a 6.2L V8 (426 HP) engine in both manual and automatic transmission.
6. No Nomad



The Hot Wheels No Nomad was based on the 1955 Chevrolet Nomad which came loaded with interior carpet, chrome spears on front fenders, chrome window moldings, full wheel covers and has a Chevrolet V8 Engine.
7. 1966 Pontiac GTO


Also called the Goat, the 1966 Pontiac GTO features Hot Wheels PPG paint and Hot Wheels KMC Wheels. This car was introduced in Las Vegas SEMA Show 2006 in the Hot Wheels booth.
8. Hot Wheels World Record Jump Car

On May 29th 2011, the Yellow Driver of Team Hot Wheels broke the world record for highest distance jump in this vehicle at the Indianapolis 500. The Yellow Driver, Tanner Foust, first dropped 10 stories down on 90 feet of orange track and flew 332 feet through the air.
9. Rip Rod


The Hot Wheels Rip Rod, has the Ford's 1.0L EcoBoost engine. It was first displayed in SEMA. It was designed and built by Mattel and Bandito Brothers. The Ford Racing of United States and Europe worked with Bandito Brothers on the 1.0L EcoBoost engine.
10. Loop Record Cars


Tanner Foust and Hollywood stuntman Greg Tracy reached 85km/h and upto 7Gs: seven times the force of gravity during their insane stunt. The drivers had to train a full year to withstand the G-force. The huge 18.2 metre high spiral track broke the previous record set by Chinese driver Li Yatao, who managed to negotiate a 12.8m loop in Shanghai while driving a Youngman Lotus L5 Sportback.
Was this article helpful ?
0 out of 0 found this helpful