Drive to Discover 5 with Honda Mobilio: Solace in Nilgiri Hills
Modified On Apr 08, 2015 07:35 PM By Rajpal for Honda Mobilio
According to Google, the word 'Solace' means 'comfort or consolation in a time of great distress or sadness'. Therefore, solace should be the most important thing one need to seek in his extremely hectic life. But, sadly we are busy in clearing out traffic on our way to the office, replying emails, and earning livelihoods. Amidst all of these, we have forgotten the joy of living life in peace. As one can't leave this kind of a life, he still can rediscover the true means of 'Solace' by visiting a hill station once in a year. These places are nature's best creations and have a virtue of exoticness.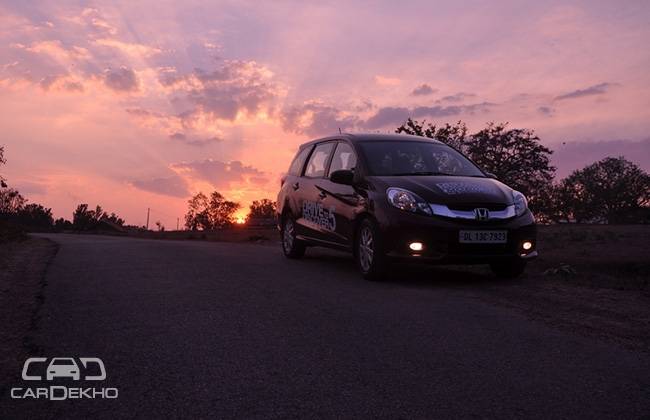 And, if you want to add some thrill to this peace-seeking exercise, I would suggest you to drive down. Yes, apart from being nature's spa, these places are also one of the best places to enjoy a drive. If you love to drive that too with your windows down, nothing can beat a hill station. I sincerely thank Honda Cars India for giving us an opportunity to find that solace and thrill together in the hills of Nilgiri. The 4 days expedition allowed me to put all my worries aside and enjoy one of the best creations of nature, the beautiful Nilgiri Hills in Honda's stylish seven seater Mobilio.
Day-1 Delhi to Bandipur Via Coimbatore and Ooty

A 6.40 flight is the last thing, I would like to board, but as I was heading towards a beautiful destination, I woke up early with a smile on my face. By 10.00, we were at Taj, Coimbatore, from where our journey was flagged off by Anita Sharma, AVP, Marketing, Honda Cars India. A convoy of 5 Mobilios headed towards Bandipur National Park.


The good roads in Karnataka allowed us to reach Coonoor in just 2 hours. As soon as we entered Coonoor, the scenic Nilgiri hills started to allure us. The lush green tea estates on both side of the road and women working in them reminded a lot of Bollywood songs, which have been filmed here. On the day 1, I was driving Mobilio diesel, which comes equipped with 1.5-litre i-DTEC engine. The all-aluminum engine is capable of churning out a power of 98.6 bhp and torque of 200Nm. On these hilly terrains, I was able to feel the sheer torque of the motor and by working out the gearbox correctly, one can easily tackle these tricky hills with loads of hairpin bends.


In no time, we reached the beautiful town of Ooty. The hill station is famous for its tea estates, pine trees, and carrots. It was 2 in the afternoon and we all decided to have our lunch at Nahar restaurants, it is a large complex comprising of South Indian, Chinese, Veg and Non-veg restaurants. After the lunch, it was time to hit the famous or rather infamous 36 hairpin bends of Masingudi, Ooty. The 36 continuous hairpin bends are enough to check any driver's skills and any car's handling. Honda Mobilio proved to be a great car on these twisty roads, there was a body roll to some extent, but it was not annoying at all and the car never left its composure. These turns have also witnessed a lot of accidents, which justifies the usage of the word infamous earlier in this article. However, now every turn has been installed with Convex mirrors, so you can be aware of the incoming traffic.

Right after the hairpin bends, we got straighter roads, which allowed us to reach Bandipur National Park in flat 2 hours. Our stay at Bandipur was planned at The Serai, Bandipur, which is 36 acre property owned by Coffee Day Hotel and Resorts. The property includes a wildlife cultivation zone and you can also get a guided tour of the area. So, after a good drive on day 1, we called it a day as an early morning safari was planned for us.
Day-2 Safari at Bandipur National Park, and Bandipur to Coorg


Bandipur National Park is a part of one of the biggest biospheres called as 'Nilgiri Biosphere Reserve'. The other adjoining sanctuaries include Mudumalai Wildlife Sanctuary in Tamil Nadu, Wayanad Wildlife Sanctuary in Kerala and Nagarhole National Park. The 874 square kilometer national park is a home to Tigers, Leopards, Elephants, Gaurs, Sambar, Chital, Barking Deer, Mouse Deer, Black Napped Hare, Sloth Beer, Wild dog (Dhole), Langur, Bonnet Macaque, Indian Giant Red Squirrel, 4 Horned Antelope (Chausingha), Porcupines, Slender Loris, Jungle Cat, 4 varieties of Mongoose, and Flying Squirrels. The park is currently a home to around 100 tigers and 4000 elephants.


So, we were quite enthusiastic about spotting a tiger, however, this particular season is not that great for spotting as water resources start to shrink forcing wildlife deep in the core area. So, we ended up spotting a pair of mangoos, a few groups of wild elephants, herds of deers, a giant Indian flying squirrel and lots of peacocks and gray langurs.



After the disappointing safari, we headed towards our final destination Coorg. We choose the way via Nagarhole National Park, as it is more scenic and allows you to experience Nilgiri Biosphere closely. In our way, we passed by Kabini river lodge, which definitely looks beautiful and with the lush green grassland, it resemble Scotland a lot.

Unlike, Bandipur National Park, which is more of bushes and bamboos, Nagarhole has more of timber and rosewood trees, which makes the forest look more tempting. We saw a wild male elephant in our way, which was quite close to the road. We also spotted herds of deers, peacocks, and other wildlife as well. The roads were a mixed badge of good and average roads, and in the middle of the sanctuary you have to deal with quite a bad patch also. However, Honda Mobilio with a ground clearance of 185mm and good suspension setup sail over these bad patches with ease. On day 2, we were driving the 1.5-litre i-VTEC petrol engine and it also impressed us. The refinement levels are quite good and even though it was a petrol the car has impressive power and torque.

By evening, we reached Madikeri, Coorg, where our stay was arranged at Viavanta by Taj. The 188 acre property consists several cottages, 4 pools including 2 temperature controlled ones, organic fields to cultivate herbs, vegetation and fruits and rain forest. As it was getting dark, we were unable to take a tour, so decided to head towards our cottages.
Day-3 at Vivanta by Taj, Coorg

We started our day early, to take a tour of the property followed by an early morning shoot around the beautiful town of Madikeri. In typical, hill station manner, you can witness fog in early hours and the view is heavenly due to this wonderful combination of misty clouds with the backdrops of lush green hills.


After the breakfast, we enjoyed our day mostly at the poolside. In evening, we decided to visit a coffee estate as Coorg is famous for its coffee plantation. The life at these coffee estates is totally different, as the atmosphere is so natural, heavy plantation, beautiful flowers and natural springs make these places look mesmerising.


Day-4 Coorg to Delhi via Bangalore

Our extremely busy lives and responsibilities were calling us again and it was time to say goodbye to these few moments of solace. However, we yet to achieve a next level of this short spanned peace as on our way to Bangalore, visited famous Golden Temple Monastery at Bylekuppe. It is situated in the Tibetan Settlement of Bylekuppe. The beautifully built monastery has been painted in golden colour and there are also gold plated doms, that's how it has earned its name. Like all the other monasteries, one can feel peace in the atmosphere. The scene gets more soothing with the presence of monks and chantings. After this experience, we continued our journey via Mysore.

As we had to catch the flight, we bypassed Mysore, else we could also visit this magnificent site. However, we didn't miss to taste the famous Mysore pak in our lunch.

By 3.00, we entered the IT capital of India, and as always Bangalore welcomed us with its infamous traffic and we got to taste another ability of Mobilio. The stylish seven-seater is the perfect combination of interior space and compact dimensions. While, it doesn't compromise with cabin space, it's not bulky as well and one can get passed traffic without much effort.

In short, the Nilgiri Hills has abilities to rejuvenate you, which is quite important. The whole experience was simply great and we got a good dose of peace and thrill. The Mobilio impressed me, especially with kind of space it offers at both front and middle row, you get plenty of knee and shoulder space. The rear bench is also quite good, but it is best suited for children. Both diesel and petrol engines are refined and produces enough power to tackle any sort of terrain. However, while the diesel is more fuel efficient, the petrol one is more refined and feels better to drive.
Was this article helpful ?
0 out of 0 found this helpful