Nissan CARnival: Celebrating a decade of success!
Modified On Mar 26, 2015 10:39 AM By Akshit
Nissan has completed a decade of successful operations in India. This obviously called for a celebration, and Nissan in its true style organised a 4-day mega 'CARnival' of sorts, in which the company had set up experiential tracks in the Buddh International Circuit premises and invited journalists and selected customers to join the party.
Each one of us were greeted with hands-on driving experience of the entire Nissan range with two surprise vehicles- the Leaf electric vehicle and the mighty Patrol SUV, that were brought in to the country all the way from Dubai just for this event.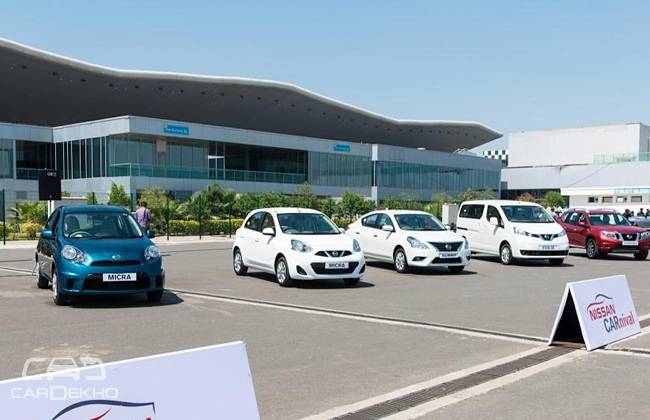 Announcing the Nissan CARnival, Guillaume Sicard, President, Nissan India Operations said, "Nissan stands for innovation and excitement - this isn't just a slogan but our promise to all our customers everywhere. At the Carnival we want everyone to experience this first-hand through revolutionary products like LEAF and the technological innovation that we are known for around the world."
"The event also marks and celebrates our arrival in India a decade ago. Within this relatively short period Nissan has become one of the fastest growing automobile manufacturers in the country with a strong portfolio of seven locally manufactured products across seven different market segments. The Nissan Carnival highlights our growing presence within the market and underlines our long-term commitment to India", he added.

Nissan had set a couple of slalom courses mentored by rally legend- Hari Singh, in a bid to demonstrate the abilities of its Sunny and Micra (Manual and Automatic both) in different zones. A special zone next to it, the Zero-Emission zone, made especially for 'Leaf' to check the maneuverability of the electric car. This was led by the well-known young racer- Armaan Ebrahim. Last but not the least, we moved out to explore the 'Off-Roading' zone, which provided us an opportunity to cherish the capabilities of the potent Patrol SUV and Terrano as well. Here we were guided by very experienced Sunny Sandhu.

With 107bhp and 254Nm of torque available right from zero rpm, the Leaf felt better than any other conventionally-fueled car would. It just glides over tarmac and is ultra-quiet and smooth. The low center of gravity made it fun to drive around the cones, though the high positioning of the dash was a bit annoying. But overall it was a fantastic experience and with the improving infrastructure, hope Leaf makes its way to India soon.

The Patrol was massive from outside, roomy from inside and had 400bhp and 560Nm from a 5.8-litre V8 to hit the tarmac. A pure bliss it was to be with it. For this mammoth, the company had set up two off-road tracks- a mild track which it shared with the Terrano, and a hardcore track, exclusively made to display its prowess.

The Terrano was decent on the off-road track despite its front-wheel drive boundation and road-focused tyres, but we expect soon-to-arrive AWD (all-wheel drive) will do far better in such conditions. While Patrol's all-Mode 4×4 drivetrain with multi surface selection and hydraulic body motion control suspension system, glided over the first track and even made the difficult off-road track look like a cakewalk.
Was this article helpful ?
0 out of 0 found this helpful