Maruti Baleno 2015-2022
Change car
Rs.5.90 Lakh - 9.66 Lakh*
Compare with Maruti Baleno
Maruti Baleno 2015-2022 is Discontinued and no longer Produced.
Key Specs of Maruti Baleno 2015-2022
| | |
| --- | --- |
| Mileage (upto) | 27.39 kmpl |
| Engine (upto) | 1248 cc |
| BHP | 100.0 |
| Transmission | Manual/Automatic |
| Boot Space | 339-litres |
| Airbags | yes |
Explore Price of Baleno 2015-2022 Alternatives

Maruti Baleno 2015-2022 price list (Variants)
Baleno 2015-2022 1.2 Sigma1197 cc, Manual, Petrol, 21.4 kmplEXPIRED
Rs.5.90 Lakh*
 
Baleno 2015-2022 Sigma1197 cc, Manual, Petrol, 21.01 kmplEXPIRED
Rs.6.14 Lakh*
 
Baleno 2015-2022 1.3 Sigma1248 cc, Manual, Diesel, 27.39 kmplEXPIRED
Rs.6.34 Lakh*
 
Baleno 2015-2022 1.2 Delta1197 cc, Manual, Petrol, 21.4 kmplEXPIRED
Rs.6.50 Lakh*
 
Baleno 2015-2022 Sigma Diesel1248 cc, Manual, Diesel, 27.39 kmplEXPIRED
Rs.6.69 Lakh*
 
Baleno 2015-2022 1.2 CVT Delta1197 cc, Automatic, Petrol, 21.4 kmplEXPIRED
Rs.6.87 Lakh*
 
Baleno 2015-2022 1.3 Delta1248 cc, Manual, Diesel, 27.39 kmplEXPIRED
Rs.7.00 Lakh*
 
Baleno 2015-2022 Delta1197 cc, Manual, Petrol, 21.01 kmplEXPIRED
Rs.7.01 Lakh*
 
Baleno 2015-2022 1.2 Alpha1197 cc, Manual, Petrol, 21.4 kmplEXPIRED
Rs.7.12 Lakh*
 
Baleno 2015-2022 Delta Diesel1248 cc, Manual, Diesel, 27.39 kmplEXPIRED
Rs.7.47 Lakh*
 
Baleno 2015-2022 1.2 CVT Zeta1197 cc, Automatic, Petrol, 21.4 kmplEXPIRED
Rs.7.47 Lakh*
 
Baleno 2015-2022 1.2 Zeta1197 cc, Manual, Petrol, 21.4 kmplEXPIRED
Rs.7.50 Lakh*
 
Baleno 2015-2022 1.3 Zeta1248 cc, Manual, Diesel, 27.39 kmplEXPIRED
Rs.7.61 Lakh*
 
Baleno 2015-2022 Zeta1197 cc, Manual, Petrol, 21.01 kmplEXPIRED
Rs.7.70 Lakh*
 
Baleno 2015-2022 DualJet Delta1197 cc, Manual, Petrol, 23.87 kmplEXPIRED
Rs.7.90 Lakh*
 
Baleno 2015-2022 Zeta Diesel1248 cc, Manual, Diesel, 27.39 kmplEXPIRED
Rs.8.08 Lakh*
 
Baleno 2015-2022 Delta CVT1197 cc, Automatic, Petrol, 19.56 kmplEXPIRED
Rs.8.21 Lakh*
 
Baleno 2015-2022 1.3 Alpha1248 cc, Manual, Diesel, 27.39 kmplEXPIRED
Rs.8.33 Lakh*
 
Baleno 2015-2022 1.2 CVT Alpha1197 cc, Automatic, Petrol, 21.4 kmplEXPIRED
Rs.8.34 Lakh*
 
Baleno 2015-2022 Alpha1197 cc, Manual, Petrol, 21.01 kmplEXPIRED
Rs.8.46 Lakh*
 
Baleno 2015-2022 DualJet Zeta1197 cc, Manual, Petrol, 23.87 kmplEXPIRED
Rs.8.59 Lakh*
 
Baleno 2015-2022 Alpha Diesel1248 cc, Manual, Diesel, 27.39 kmplEXPIRED
Rs.8.68 Lakh*
 
Baleno 2015-2022 RS998 cc, Manual, Petrol, 21.1 kmplEXPIRED
Rs.8.69 Lakh*
 
Baleno 2015-2022 Zeta CVT1197 cc, Automatic, Petrol, 19.56 kmplEXPIRED
Rs.8.90 Lakh*
 
Baleno 2015-2022 Alpha CVT1197 cc, Automatic, Petrol, 19.56 kmplEXPIRED
Rs.9.66 Lakh*
 
View All Variants
Maruti Suzuki Baleno 2015-2022 Review
The Baleno is the 2nd car being sold through Maruti's Nexa dealership network, after the S-Cross. The Baleno has made its world debut in India and is being placed in the sub 4-metre segment. It competes with the front runners of the segment such as the Hyundai Elite i20, VW's Polo and Honda's Jazz. The Baleno is on offer with two engine options, a 1.3-litre diesel and a 1.2-litre petrol. The petrol is offered with the choice of a manual or an automatic transmission.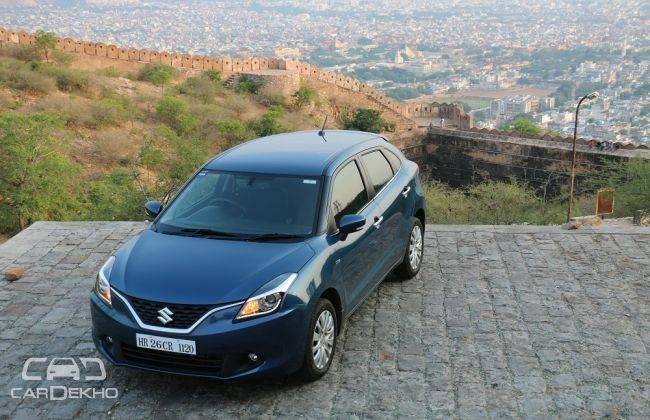 Also, on offer are a host of premium features like start/stop button with smart key and keyless entry, electrically foldable ORVMs and a 7-inch infotainment system supporting Android Auto and Apple CarPlay. There are a few good moves by Maruti, in terms of safety, by making ABS, EBD & dual front airbags as standard across all variants.
The Baleno is a premium offering by Maruti Suzuki. While it looks very attractive on paper, we met the car in the flesh to find out more.
Exterior
The Baleno is based on an all-new 'Liquid Flow' design philosophy which takes its inspiration from 'energetic mass of water in motion'. This has defined the curvaceous body and dynamic styling cues. We first saw the Baleno at the Frankfurt Motor show in October 2015 and as of 2019, the Baleno has received a facelift.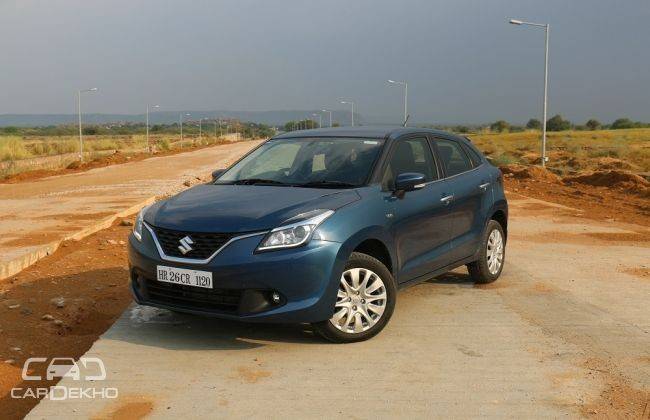 With the facelift, the Baleno doesn't look drastically different from the version it replaces, but it has made some noticeable improvements. Up front, you get a new and more aggressive grille. The headlights may not look all that different vs the original model, but in place of the bi-xenon projector headlights, it now sports LED projectors like the Swift, Ignis, Dzire, Ciaz and S-Cross.
While LED projectors with light guides are offered in the Baleno Delta & Baleno Zeta, the top-spec Baleno Alpha gets them with DRLS. A design distinction for the 2019 Baleno is the new front bumper. It now has a larger air-dam/lower grille, while the fog lamps now sit higher up, closer to the headlights.

At the side, the profile of the Baleno does look a tad unusual. It's quite bulbous, especially at the rear and doesn't look at sharp as the Hyundai i20. We wouldn't call it a polarising design trait, but what was a turn off was the old alloy wheel design, that looked too much like plain Jane wheel caps. Thankfully, that's changed with the facelift and it now sports two-tone 16-inch alloys on the Zeta and Alpha variants.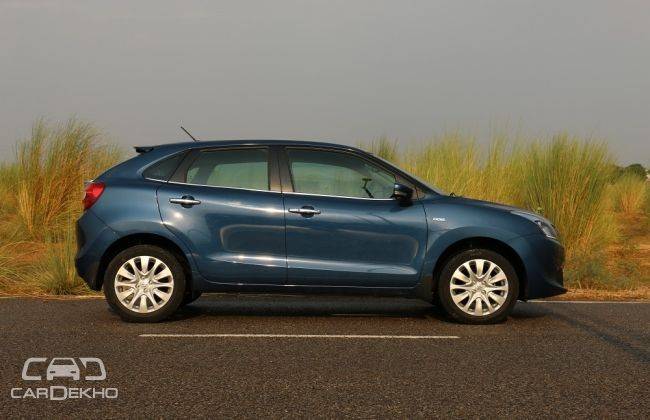 Move to the back, though, and there are no notable changes with the facelift. The hatch door feels small compared to the large balloon-like rear bumper. The hatch has a large contour that runs in tandem with the end of the tail lamps. The tail lamps feature LEDs which look classy. The badging is minimalistic with a Suzuki 'S' badge in the centre and 'Baleno' logo on the left. There is a roof spoiler with an integrated brake light.

No mention of the variant or engine option here. You can differentiate the petrol from the diesel with a small badge on the front passenger side fender.
The wing mirrors are mounted on the door and are body coloured with integrated turn lamps. The length of the car is 3995 mm which is a tad under 4 metres. The width stands at 1745mm which is over 100mm larger than the Jazz. The height is 1510mm which is tall but the Jazz leads the pack with a height of 1544mm because of its MPV-like design. With a wheelbase of 2520mm, it lies in the middle of the pack.
%exteriorComparision%

The boot is simply huge and is illuminated. At 339 litres, this stands just below the Jazz. The boot just gobbles up large suitcases with ease. The only drawback, the loading lip is too high. %bootComparision%
Interior
We'd describe the interior in one simple word - minimal. The Baleno's dashboard looks clean and sports a classy combination of all-black with silver highlights. The quality is also noticeably better than many other Maruti cars like the Swift or Dzire, though, the difference isn't night and day. It still doesn't feel as upmarket as an Elite i20.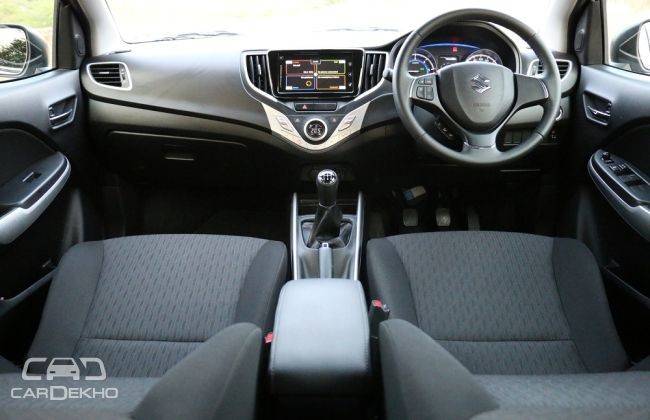 The whole dash carries a V design similar to the front grille.



The three spoke steering wheel gets small chrome inserts at the end of each spoke. The steering mounted music controls are large chunky buttons on the left. The phone controls are behind which is a bit uncomfortable but we got used to it over time. You get both reach & rake adjustment on the steering wheel which has now become a standard in the segment. The instrument cluster is a huge step up from what Maruti usually offers. At first glance, it appears to have been lifted off the S-Cross, but look closely and it is not the case. It runs a sporty blue theme and the MID has a host of readouts and charts that kept us, a geeky bunch, happy. You get two identically sized dials for the speedo & rev-counter. At the bottom of each dial is an integrated dial for fuel level and temperature.

There is a 4.2" digital screen between the both with shows you a host of things. It gives you instructions on how to start the vehicle and an analogue-cum-digital clock. A small Baleno model shows up when you leave a certain door open showing which door is open and it also pops up when the reverse parking sensors are engaged. We had the most fun while using the power & torque charts. It shows you what portion of the total available power & torque you are using.
With the 2019 update, the Baleno's cabin does go from all-black to a combination of blue and black. This change is mainly seen in the seat upholstery, wherein the headrests and side bolsters are still black, but the rest is draped in blue. A similar blue fabric insert is also added to the doorpads and door armrests.

That is not the end of it. You get graphical displays on fuel economy along with a distance to empty read out. You also have the option to check fuel economy or average speed over a period of time. All the settings can be adjusted from the same MID. With consumers now wanting to be in the know about everything, we love the MID. We spent way too much time exploring the MID. It was just that intriguing. The wiper, indicator and light stalks are chubby little units. Other premium features you get on the Baleno include rain sensing rain wipers & auto headlamps.

Another major highlight of the 2019 Baleno is the new infotainment system. It's still a 7-inch touchscreen, but is a new unit made by Harman instead of the old one that debuted in the Ciaz, developed by Bosch. This is the same touchscreen seen in the 2019 Wagon R and has a slightly more polished user-interface.

Below the infotainment system, nestled at the bottom of the 'V', is the climate control system. It houses a round and crisp display. Surrounding the display are a host of chunky buttons for various air-con controls.

The bottom of the dash houses the power outlet and the USB & Aux ports. They are covered by a flimsy tab and we wonder how long it would last on constant use. There is an adjustable cup holder here. There is a single illuminated glove box at the bottom. We felt the plastic used here could be better.
The front seats are comfortable. The driver seat is adjustable for height as well. The front seats travel a healthy amount and it is easy to get into the seat. The fabric is dull and we feel better materials could have been used for the upholstery.

You do get a centre arm rest, but its position is a little awkward. The only purpose it serves is to act as the storage cover. The door houses the front speakers and a tweeter. It has the console with buttons for the power windows and the wing mirror controls. They could have done with more premium switches here by providing illumination.

You also get two reading lights at the front and the cluster has the mic integrated into it. Both sun visors get illuminated vanity mirrors.

Move to the back, and you will be impressed by the amount of space available. The 4 of us, a bunch of large people, were comfortable. All thanks to the huge wheelbase. You get large adjustable headrests. The rear doors have a large pocket for 1L bottles. The bottle holder's design is well integrated into the door. There is a nice touch of cushioning on the door to accommodate your arm. You do not get a centre arm rest! While the competitors don't have it too, it would have been a nice touch.

Another thing that's missing is the rear air con vent. Something that's available on the Elite i20. You get a single charging power outlet which is integrated at the back of the centre arm rest. You can access the boot with your keys in the pocket (thanks to the request button) and this is handy when your hands are busy carrying all the shopping bags.
We find the interior really spacious which is a huge plus. At the same time, interiors look and feel premium. Maruti has clearly chosen function over form here.
Safety
All versions of the Maruti Suzuki Baleno get dual front airbags, ABS with EBD, rear parking sensors, high speed warning and ISOFIX child seat mounts as standard. Higher variants add features like a rear camera, auto-dimming IRVM and front fog lamps.
Performance
1.2l - Petrol
The petrol motor is the 1.2 litre K12 found on a host of Maruti cars. It does duty in the Swift, Dzire and also the much smaller Ritz. On paper, the engine puts down 84PS @ 6000rpm and 115Nm of torque @ 4000 rpm. The leader of the pack, by a small margin, is the i-VTEC in the Honda Jazz which churns out 90PS. But what matters is the power-to-weight ratio. Here the Baleno has an advantage as it is over 150kg lighter than the Jazz.
There is nothing new about the engine as it has been used by Maruti since a long time. While the engine feels refined and linear in its power delivery it feels just like a Swift when it comes to performance.
This petrol variant is offered with two gearbox options. A 5-speed manual and a CVT automatic. We are happy Maruti didn't go down the AMT route here because the gearbox tends to be jerky. The manual gearbox is smooth and the CVT performs as expected.
The NVH (Noise, Vibration & Harshness) levels could be much better. Our guess is that insulation materials were neglected to save on weight as well as costs.

In typical Maruti fashion, the Baleno boasts of excellent fuel economy figures.



The ARAI fuel economy stands at 21.4kmpl. This is almost 3kmpl ahead of the claims by the Elite i20 and the Jazz. The Polo's 16.5kmpl is way behind the competition. In terms of the automatics, the Elite i20 still doesn't have an auto option and the Baleno's 17.8kmpl lies a good 3kmpl ahead of the Jazz.
%performanceComparision-Petrol%
1.2L DualJet Smart Hybrid Petrol
The new 4-cylinder, 1.2-litre DualJet Smart Hybrid engine complies with BS6 emission norms and is essentially a replacement for the 1.3-litre diesel motor, which will eventually be discontinued. The engine feels super refined and barely makes any sound or vibrations in the sensible half of the rev band. In fact, it's the AC compressor which is loud and audible on the outside.
Engine Capacity - 1.2-litre | Power - 89.7PS | Torque - 113Nm | Transmission - 5-speed Manual
Get going and there is no sudden burst of power in the range. It manages to pick up speed in a very linear manner. It's only below the 1000rpm mark where it takes some effort to get going. Rev past that and you get clean acceleration. This engine makes 7PS more than the standard 1.2-litre engine and coupled with torque assist, it makes picking up the pace more effortless. It even becomes fun at the top end of the rev range, but you won't be using that space in your daily commute.
It is also happy being in 3-4th gear inside the city and this reduces the number of times you have to shift gears. The gearing is quite tall, which further helps it pick speed smoothly from a higher gear. The clutch is light as well, which results in a worry-free commute, even if it involves long hours or traffic jams.
1.3l - Diesel
The Baleno's 1.3-litre diesel mill again needs no introduction. The same engine in various states of tune is used in a host of cars by Maruti and Tata. The engine produces 75PS @ 4000rpm and puts down 190Nm of torque @ 2000rpm. This is a bit limp compared to the 100PS put out by the i-DTEC on the Jazz and 90PS by the CRDi on the i20. Maruti Suzuki will be introducing a slightly more powerful 1.5-litre diesel engine in the Ciaz and Ertiga soon. However, it remains to be seen if/when this engine is offered in the Baleno too.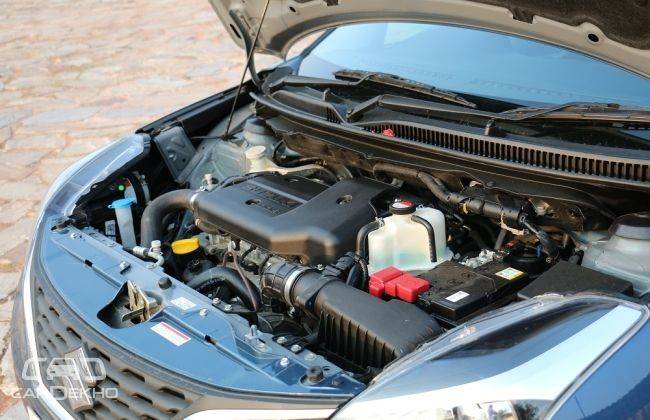 The let down here continues to be the noise levels. The engine certainly feels better, than on the Swift, due to the lower weight of the Baleno. It has a typical diesel turbo-lag at the lower RPMs, but has decent punch on the move.
While the diesel offers slightly more punch compared to the petrol, it feels noisier with the diesel clatter filtering into the cabin.
Ride & Handling
Clearly, the Baleno's suspension has been tuned as a city run-about. It takes potholes and slightly rough roads really well. The higher wheelbase makes it less agile but that is the price you will have to pay for larger cabin space. Having said that, we found the handling really predictable. Another thing that impressed us is the steering unit. It's light at low speeds and well weighted at higher speeds. They really have us impressed here as when we compare it to the Elite i20 and the Jazz, their steering continues to be light at high speeds.
The car has ventilated discs at the front and drums at the rear. A pretty standard affair in the segment. While the i20 was originally offered with discs all around, they got rid of them in the latest Elite avatar to save on costs. The standard ABS & EBD (Anti-Lock Brakes and Electronic Brake-Force Distribution) aids braking to a great extent.
A huge thumbs up to the suspension and steering departments at Maruti for what they've pulled off with the Baleno. The ride & handling is spot on for city driving conditions and the occasional highway jaunts.
Variants
The Baleno is offered in 4 different variants for both the petrol & diesel.
The base variant (Sigma) misses out on rear power windows and an entertainment system. These are the features that most people would look for in a premium hatch so we suggest you steer clear. The next variant (Delta) is our pick of the lot. It offers great value and has features such as LED projector headlights, steering mounted controls for the audio system, keyless entry, and power windows.
The next variant (Zeta) features things such as the colour TFT MID, alloy wheels, Smartplay touchscreen infotainment system, fog lamps and start-stop button. This variant is all about adding the "plus one" experience to the Baleno and is mainly about adding want-based features. If your budget permits it, this is a good variant to get if you want the feel good factor.
The top end (Alpha) gets a reversing camera and LED projector headlamps with DRLs among other features, but the price premium is a bit much for what's added.
Verdict
The Baleno offers good fit and finish compared to any other car in the Maruti portfolio. The car looks beautiful from the outside and isn't too bad on the inside either. While the diesel may seem underpowered, it makes up with a lightweight body and splendid fuel economy. Something that Maruti has always been synonymous with. In terms of performance, it falls in the middle of the segment and the car is easy to drive in city conditions.
One of the biggest advantages of having the Baleno over the completion is the access to Maruti's unmatched after sales and service network.
The Baleno is a step up from the Swift in terms of what it offers. It's perfect for someone who is looking for something more than the Swift and at the same time wants to retain the peace of mind of owning a Maruti Suzuki.
Pros & Cons of Maruti Baleno 2015-2022

CarDekho Experts:
The Baleno offers the perfect balance of performance, features & quality.
Performance84

Comfort & Convenience85

Safety & Security81

Mileage97
Things We Like
LED projector headlamps from Delta variant onwards. LEDs usually offer better visibility than halogens or bi-xenon units.
Automatic climate control from Delta variant onwards. unlike a manual AC, automatic climate control allows the user to maintain a set temperature inside the cabin as per their needs.
ISOFIX child seat anchors are standard across the range. This lets you attach a child seat on the back seat of the hatchback to offer kids below the age of 10 better safety.
Things We Don't Like
Could have been more rear passenger-centric: Misses out on side and curtain airbags, rear AC vents and rear armrest.
Stand Out Features
Projector LED headlamps: The only car in its class to get these. Offers better night visibility. 

UV Cut Glass: As the name suggest, UV cut glass restricts the amount of UV rays that enter the cabin; keeps the cabin relatively cooler as well. 

Speed Alert System: Only car in its class to get this passive safety feature. A speed alert system gives audible warnings when the car goes over 80kmph. 
Specification of Maruti Baleno 2015-2022
| | |
| --- | --- |
| ARAI Mileage | 21.4 kmpl |
| Fuel Type | Petrol |
| Engine Displacement (cc) | 1197 |
| No. of cylinder | 4 |
| Max Power (bhp@rpm) | 83.1bhp@6000rpm |
| Max Torque (nm@rpm) | 115Nm@4000rpm |
| Seating Capacity | 5 |
| TransmissionType | Manual |
| Boot Space (Litres) | 339 |
| Fuel Tank Capacity | 37.0 |
| Body Type | Hatchback |
| Ground Clearance Unladen | 170mm |
Maruti Baleno 2015-2022 User Reviews
Based on
3081 User reviews
All (3082)
Looks (947)
Comfort (915)
Mileage (854)
Engine (379)
Interior (453)
Space (574)
Price (394)
More ...
LATEST
HELPFUL
VERIFIED
CRITICAL
I have an alpha model with nice accessories fitted, happy to have this car, everything is working in excellent condition.

Maruti Baleno is very awesome its mileage its spacious cabinets power and torque it's safety features are class-leading features its technology is specialised and I love ...Read More

The mileage is much low than what the company is claiming, it only gives around 8-10kmpl, please consider that before buying, although Baleno's driving experience is...Read More

Nice car with good features, style, and comfort. It gives good mileage with awesome handling. Negative points are missing AC vents, rear arm rest.

Baleno ek best car hai, recently li hai. Overall, bahut achi hai chalne mein aur comfortable bhi. Pick up aur looks bhi best hai, iske alawa build quality improve ho sakt...Read More

View All Baleno 2015-2022 Reviews
Baleno 2015-2022 Latest Update
Latest Update: The 2022 Baleno will be launched on February 23. Its variants-wise images have leaked online ahead of its launch.
Maruti Baleno Price: Maruti's premium hatchback is priced from Rs 6.14 lakh to Rs 9.66 lakh (ex-showroom, Delhi).
Maruti Baleno Variants: It is available in four trims: Sigma, Delta, Zeta, and Alpha.
Maruti Baleno Engine and Transmission: It comes with a 1.2-litre petrol engine (83PS/113Nm), paired with a standard 5-speed MT and an optional CVT. The hatchback also gets a 1.2-litre Dualjet petrol engine with mild-hybrid tech (90PS/113Nm), coupled with a 5-speed MT. Maruti claims a mileage of 21.01kmpl for the petrol-manual variants, while those with the CVT return 19.56kmpl. On the other hand, the mild-hybrid powertrain offers a claimed fuel efficiency of 23.87kmpl.
Maruti Baleno Features: Equipment list on the Baleno includes LED projector headlights, a rearview camera, 16-inch alloy wheels, and a 7-inch touchscreen infotainment system with Apple CarPlay and Android Auto. It also gets auto climate control, push-button stop/start, and keyless entry.
Maruti Baleno Safety: Standard safety features include rear parking sensors, ABS with EBD, ISOFIX child seat anchors, and dual front airbags.
Maruti Baleno Rivals: It goes up against the Toyota Glanza, Volkswagen Polo, Honda Jazz, Hyundai i20, Tata Altroz, and Citroen C3. Its petrol-hybrid variant has no direct rival in the country.
Read More

Maruti Baleno 2015-2022 Videos
Maruti Baleno 2015-2022 2022 has 14 video of its detailed review, pros & cons, comparison & variant explained,test drive experience, features, specs, interior & exterior details and more. Watch our Latest Hindi video of Maruti Baleno 2015-2022 to know price, safety features & more.
7:37

Maruti Suzuki Baleno - Which Variant To Buy?

Apr 03, 2018

4:54

Maruti Suzuki Baleno Hits and Misses

Sep 18, 2017

Maruti Baleno vs Maruti Vitara Brezza | Comparison Review | CarDekho.com

Mar 28, 2016

9:28

Maruti Baleno | First Drive | Cardekho.com

Oct 17, 2015

1:54

Maruti Baleno 2019 Facelift Price -Rs 5.45 lakh | New looks, interior, features and more! | #In2Mins

Jan 29, 2019
Maruti Suzuki Baleno 2015-2022 Images


Maruti Baleno 2015-2022 News
Maruti Baleno 2015-2022 Road Test

Are you Confused?
Ask anything & get answer in 48 hours
*Ex-showroom price in New Delhi
×
We need your city to customize your experience