Skoda Kodiaq 2018-2020
Change car
Rs.33.00 - 36.79 Lakh*
This car model has expired
Key Specs of Skoda Kodiaq 2018-2020
| | |
| --- | --- |
| Engine | 1968 cc |
| BHP | 148.0 Bhp |
| Seating Capacity | 7 |
| Drive Type | 4WD |
| Mileage | 16.25 kmpl |
| Fuel | Diesel |
Explore Price of Kodiaq 2018-2020 Alternatives

Skoda Kodiaq 2018-2020 price list (Variants)
Skoda Kodiaq 2018-2020 Review
We spend a few days with the Skoda Kodiaq and put it through a series of tests to check for compromises. And yes, we found some.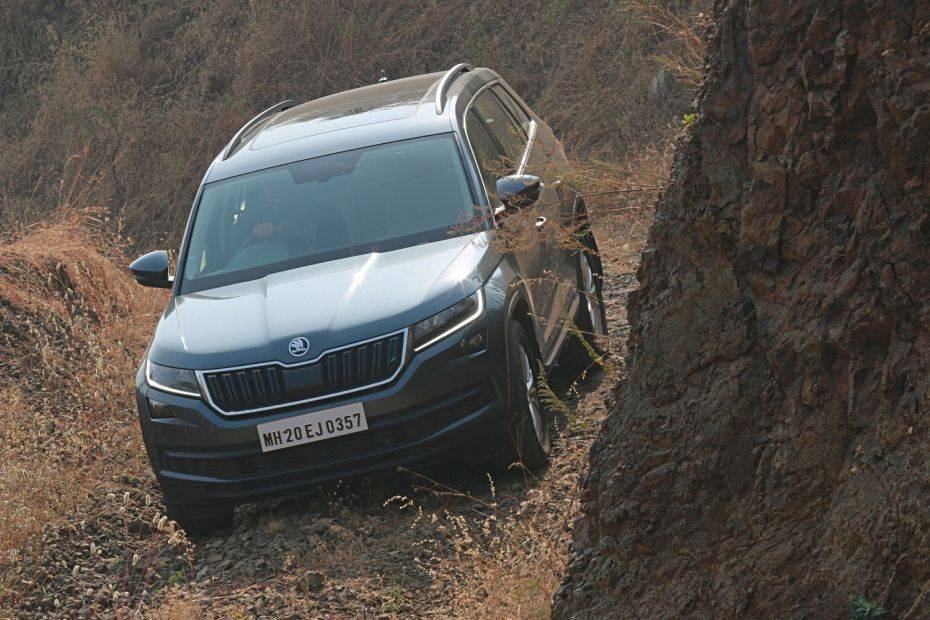 The Skoda Kodiaq falls into a tricky territory. It isn't aggressively priced when compared to its better established rivals, nor is it as rugged as them. However, as we discovered in our first drive, it certainly is more premium. But is it still an SUV?
Exterior

Imposing, intimidating and threatening - words you would not use to describe the Skoda Kodiaq. It's typical euro-car fare which means it's understated and has a similar vibe as the current Audi Q7. That, of course, divides the audience because while a small faction prefers low-key design, the vast majority prefers SUVs that give them a sense of authority on the road. This isn't to say that people won't recognise this SUV.

In fact, a group of school kids in a semi-urban part of Pune immediately recognised the Kodiaq and mouthed its name as we drove by. However, it isn't a particularly muscly looking thing nor does it have the l-o-u-d Japanese styling of the segment leader, the Toyota Fortuner.

The Kodiaq is classy, though, and with 188mm of ground clearance (140mm laden) it comes across quite low slung. The 18-inch alloy wheels look elegant too and the full LED exterior lighting brings a good dose of modernity into the mix.
What's different if I get the Kodiaq L&K?
Given that the Kodiaq L&K is the new top-spec variant, it gets certain details to make it more distinctive. The front grille, for example, gets chrome detailing on the vertical slats. Thankfully, the chrome isn't of a very shiny variety, so the Kodiaq's subdued styling isn't interrupted. The front bumper gets a redesigned lower half too. Unlike the Style variant, the lower half of the bumper is body-coloured and features aero inserts, making it look sharper.
The top-spec Kodiaq also gets silver roof rails, instead of the Style's black and there are 'Laurin & Klement' logos on the front fenders. Like the front, the rear bumper has been restyled and features a body-coloured lower section. There's also a chrome applique running across the entire width of the SUV. Finally, along with the existing colours - blue, white, black and grey - the Kodiaq L&K is available in brown as well.
Exterior Comparison
Volkswagen Tiguan 2017-2020
Length (mm)
4486mm
Width (mm)
1839mm
Height (mm)
1672mm
Ground Clearance (mm)
149mm
Wheel Base (mm)
2677mm
Kerb Weight (kg)
1720kg
Boot Space Comparison
Volkswagen Tiguan 2017-2020
Volume
615
Interior

The first thing you notice here is how easy the Skoda Kodiaq is to get into. Since it doesn't sit too high up off the ground, even senior citizens can get in (the first or second row) with ease. Don't forget the door protectors that guard the door edges, should you have to step in or out in a tight spot.

Inside, the cabin's layout is pleasing and premium but like the outside, it is quite sombre. The design puts functionality first, so the controls are laid out in an easy to understand manner, which is good because there are so many features to fiddle about with. For starters, the 8.0-inch touchscreen infotainment system gets SmartLink connectivity that includes Android Auto, Apple CarPlay and MirrorLink. The same display also gives you a wide range of information including your driving analytics to tell you how economically you're driving (Greenscore) and even gives you control of the climate control system, in addition to the central dials. Even the MID is super-detailed, relaying everything from trip and efficiency information, to the oil temperature, turn-by-turn navigation feed and audio source chosen.

The steering doesn't get motorised adjustment but it does move for rake and reach, and like all VW cars, every power window gets the one-touch up down function. The front seats are electrically adjustable too and get the memory function but ventilated seats, for reasons best known to Skoda, have been skipped!

The 2nd row seat is quite comfortable with enough room for two 6 footers to sit one behind the other. It's also wide enough for three people of an average build but the central tunnel and climate control console do foul with the middle passenger's feet. Pillar/roof mounted vents like in the Endeavour would've been nice too, since the rear vents are placed quite low and your knees can block the air-flow quite easily. Rear occupants also get the power nap pack which includes a few pillows, a blanket and the lateral headrest supports.

Now, the 3rd row in a monocoque SUV is rarely something to brag about and it's no different here. The Kodiaq's last row, though, usable, is best suited to kids or short adults but they can sit here even for 150-200km inter-city trips. The seat sits directly on the boot floor so your knees point skyward. But the backrest is well-sized and you don't feel claustrophobic here, courtesy the large glass area a plus-sized sunroof.

However, a major flaw is the lack of AC vents here which we guarantee will be a problem in Indian summers. The best solution here would be to have the AC running on full-blast before the rear occupants get in, so at least they won't break into a sweat.

The real redeeming quality for the Kodiaq is, well, its quality. Everything around you is premium to the touch with soft-feel elements like those of the door pads elevating the in-cabin experience.

Boot space is 270 litres with all rows up. With the split rear seat folded flat, boot space rises to 630 litres. With the middle and rear seats dropped down, boot space is a cavernous 2005 litres, enough to swallow a refrigerator.
Technology:

The infotainment system has a large 8-inch screen with a very intuitive capacitive touch feature. It plays music via Aux-in, USB, Bluetooth and microSD card. The infotainment system supports Apple CarPlay, Android Auto and Mirrorlink. The system plays music via a high-end Canton 10-speaker audio system with a subwoofer in the boot. This 485-watt system offers a deep and immersive music experience.. You can also download the Skoda OneApp or Skoda Boss Connect app that has your phone act as a remote for the infotainment system and also allows you to control AC settings from your phone. The Kodiaq gets a voice enhancer feature, which has a mic near the driver side which is relayed through speakers in the second and third rows so you do not have to shout to have conversations while driving.

For the environment conscious, the Kodiaq shows your carbon footprint in graph and data and suggests ways to drive more efficiently.
What's different if I get the Kodiaq L&K?
The biggest change inside is the addition of the virtual instrument cluster that debuted in the Skoda Octavia. This new 12.3-inch high-definition instrument cluster looks very futuristic and is a trickle-down technology from Audi. The unit gets a quad-core Nvidia Tegra 30 chipset and Skoda promises swift actions through menus. Since it is a digital display, it is customisable and the driver can choose from five different basic layouts: Classic, Modern, Extended, Basic and Sports. It also relays the navigation maps from the infotainment system along with plenty of other functions, including music. It is also flanked by LED bars for fuel level and engine temperature on either side. As detailed as the Style variant's multi-information display (MID) is, this cluster does take things up a notch.
There are some other distinctive touches too. The L&K features black or beige leather upholstery and a 'black piano lacquer' finish on the dashboard. The Style variant, on the other hand, gets the 'Dark Brushed' decor. 'Laurin & Klement' logos can be found on the seats as well as on the digital instrument cluster, dashboard panel and on the home screen of the infotainment system.
Safety

The Skoda Kodiaq comes in a single, fully-loaded 'Style' variant which comes as standard with 9 airbags, ABS with EBD, anti-skid regulation (ASR), multi-collision brake, ESP, all round parking sensors and a reversing camera.

What's different if I get the Kodiaq L&K?
The standard safety package of the Kodiaq is already very impressive, but with the L&K variant, Skoda has managed to take things a step further. If the crisp rearview camera with dynamic guidelines and multiple view options wasn't enough, the L&K gets a 360-degree camera like the VW Passat, giving you a bird's eye view while parking this plus-sized SUV.
Safety Comparison
Volkswagen Tiguan 2017-2020
Anti-Lock Braking System
Standard
Central Locking
Standard
Power Door Locks
Standard
Child Safety Locks
Standard
Anti-Theft Alarm
Not Available
No of Airbags
6
Day & Night Rear View Mirror
Standard
Performance
Engine and transmission:

The Kodiaq is an example of why cars cannot be defined by their on paper numbers alone. 150PS certainly seems too low when compared to Herculean rivals like the Fortuner and Endeavour which make around 180-200PS. However, we managed the 0-100kmph sprint in 10.31 seconds - half a second quicker than the Endeavour and nearly 2 seconds better than the Fortuner. There are two reasons for this. 1. The Kodiaq is considerably lighter than its ladder-frame rivals 1,799kg vs the 2,140kg Fortuner and nearly 2.4 ton heavy Endeavour - that's a whole passenger load's worth of difference! That aside, the 7-speed DSG transmission is miles quicker and smoother than any other 7-seater in the segment, which makes it that much sprightlier.

This also translates to easy driveability, as the Kodiaq feels quite car like to drive. The diesel engine has a strong 340Nm torque reserve from as low as 1,700rpm and light throttle inputs are enough to work your way up the gears and hit cruising speeds. You do have paddle-shifters but unless you're driving hard, you won't feel the need to use them. It's also fairly efficient, managing 13.29kmpl in the city and 16.18kmpl on the highway. We can safely vouch for the Kodiaq's abilities as a cruiser as the engine enjoys relaxed motoring with even 120kmph seeing the engine spinning over at under 2,000rpm.

However, that isn't to say that we didn't find the need for more power. The fact is, when you're paying this kind of money, the performance shouldn't stop at adequate. The Kodiaq fails to deliver the punch you want at high speeds and revving it hard just makes the engine sound strained. Anything beyond 3,500rpm is futile and that's where you find yourself wanting for more. Highway overtakes do need some planning and if you find yourself stuck in a flood of truckers on the ghats, that lack of extra muscle shows. 20-80kmph (with kickdown) takes nearly 7 seconds and on the strong chance that you're running with a full passenger load, that'll only take longer!

The Kodiaq makes for an easy daily drive and offers good touring capabilities too but while the performance will match your needs, a more powerful tune would help make this a considerably better drive on the highway and importantly, a better machine to use with a full passenger load.
Performance Comparison (Diesel)
Volkswagen Tiguan 2017-2020
Power
141bhp@4000rpm
Torque (Nm)
340Nm@1750-2750rpm
Engine Displacement (cc)
1968 cc
Transmission
Automatic
Top Speed (kmph)
0-100 Acceleration (sec)
Kerb Weight (kg)
1720kg
Fuel Efficiency (ARAI)
16.65kmpl
Power Weight Ratio
81.97bhp/ton
Ride and Handling:

It's not that the Kodiaq just drives like a sedan, it also rides quite similarly. A primary difference between it and its ladder-frame rivals is the fact that there's no noticeable vertical bobbing while driving, something which is apparent particularly in the rear rows of its rivals. The ride quality is quite stable and akin to something with a smaller footprint. However, on the flip side, the suspension has a limited travel range. So while that makes the ride less bouncy, it also leaves very little give when the roads turn ugly.

You cannot laugh your way through bad roads as sharp bumps will be heard and felt in the cabin. To put it simply, on bad roads, it's best to treat it like an Octavia rather than an Endeavour. Even undulations see the Kodiaq toss a lot from side-to-side, reminding you that as sedan-like as this may feel, it still is a very much a tall boy SUV. In fact, if you come across light broken patches, it's better to speed up. You will still hear the thuds from the suspension but won't get tossed about too much laterally as the suspension settles itself down.

The handling package throws no unexpected surprises. There isn't any notable feedback from the steering but it is responsive. Setting the drive mode selector to Sport adds a good dose of weight to the steering so it gets more engaging to drive, while throttle response sharpens too. Just be aware that cornering will be accompanied with a good dose of body-roll but that's to be expected in a car of this size.
Verdict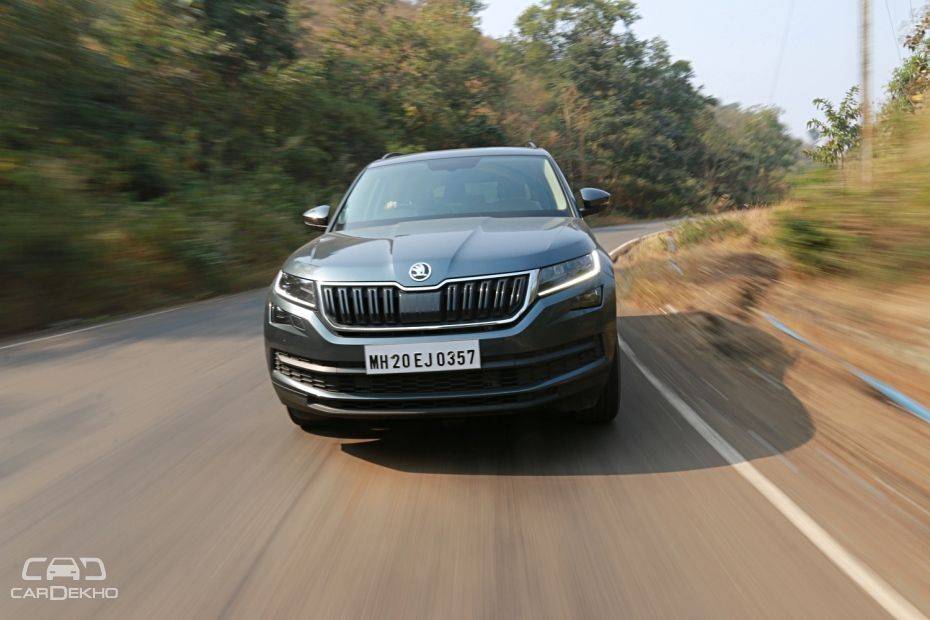 The Skoda Kodiaq is not an SUV without compromises. It hasn't been designed to be as tough as its more rugged stablemates but its on-road mannerisms are better and more predictable.
There are primarily two compromises. One, we do feel it needs more power especially since buyers picking this will want to travel with the SUV loaded up. Two, the suspension offers great on-road mannerisms but isn't rugged enough to handle more than some muck/slush or gravel.
Overall, if you're in the market for a butch, go-anywhere SUV that'll seat 7, there are better options. But if you want a premium, feature-loaded SUV with good road manners that delivers better value and practicality than a luxury brand 5-seater, the Skoda Kodiaq hits the spot.
Pros & Cons of Skoda Kodiaq 2018-2020
CarDekho Experts:
Even though it is plus-sized, it's a very easy daily drive and does so while cocooning you in a luxurious interior.
Things We Like
Classy design. Looks like a scaled-down Audi Q7 and feels very well-built too.
Quirky, yet, useful features like the mechanical door protector, drainage-equipped umbrella holders, detachable boot light and power nap package.
Top-notch safety kit includes 9 airbags, ABS with EBD, brake assist, multi-collision brake, all-round parking sensors and more!
Features loaded! 3-zone climate control, full LED lighting, touchscreen infotainment system, panoramic sunroof and electrically-adjustable front seats make the Kodiaq a great package.
Big on the inside-out. Cabin space is super-generous. Adequate room in 1st and 2nd row even for tall occupants.
Versatile seating. Allows you to swap between more passengers or more cargo as per your needs. Upto 2005-litres of storage space available!
Things We Don't Like
Third-row ingress is tricky. 2nd row doesn't tumble forward. No AC vents in the last row either.
Diesel engine offers good enough performance but could be punchier.
Doesn't have the imposing SUV presence or off-roading ability of rivals like the Toyota Fortuner or Ford Endeavour.
Stand Out Features
Power nap package (2nd row sunblinds, lateral support extensions on 2nd row headrests, blanket+holder and pillows).

Plastic door edge protector on 1st and 2nd row doors

Touchscreen infotainment with Android Auto, Apple CarPlay and MirrorLink.

Versatile seating

Panoramic sunroof in Skoda Kodiaq

Skoda Kodiaq has detachable boot-light
Specification of Skoda Kodiaq 2018-2020
| | |
| --- | --- |
| ARAI Mileage | 16.25 kmpl |
| City Mileage | 13.29 kmpl |
| Fuel Type | Diesel |
| Engine Displacement (cc) | 1968 |
| No. of cylinder | 4 |
| Max Power (bhp@rpm) | 148bhp@3500-4000rpm |
| Max Torque (nm@rpm) | 340nm@1750-3000rpm |
| Seating Capacity | 7 |
| TransmissionType | Automatic |
| Boot Space (Litres) | 270 |
| Fuel Tank Capacity | 63.0 |
| Body Type | SUV |
| Ground Clearance Unladen | 188mm |
Skoda Kodiaq 2018-2020 User Reviews
All (34)
Looks (7)
Comfort (9)
Engine (4)
Interior (3)
Space (6)
Price (7)
Power (5)
More ...
LATEST
HELPFUL
VERIFIED
CRITICAL
Most powerful compact SUV car with full loaded features with family safety, enough space at third-row best sound system and premium seats.

Skoda kodiaq is my first European car. I always had only Japanese cars. I was never a big fan of Skoda until I met this car. Been searching for an SUV for ten month...Read More

A perfect combination of power and safety with 9 airbags. Luxury feels inside the cabin with loads of useful features. Perfect sound with Canton speakers and a subwoofer.

Safety and servicing very poor at every service you need to change brake shoes. Your tire will get burst without any alert, they claim it to be off-road car but will say ...Read More

View All Kodiaq 2018-2020 Reviews
Skoda Kodiaq 2018-2020 Latest Update
Latest Update: Skoda unveiled the Kodiaq petrol at Auto Expo 2020.
Skoda Kodiaq Variants and Price: Skoda's flagship SUV is offered in three variants: Scout, Style, Laurent & Klement (L&K). While the Style variant is priced at Rs 32.99 lakh, the L&K variant goes for Rs 36.78 lakh, ex-showroom. Skoda has priced the Scout variant at Rs 33.99 lakh (ex-showroom).
Skoda Kodiaq Powertrain: The Kodiaq is powered by a 2.0-litre TDi engine that produces 150PS and 340Nm of torque. All four wheels are driven through a 7-speed dual-clutch transmission (DSG).
Skoda Kodiaq Features: Prominent features include a panoramic sunroof, Virtual Cockpit, 360-degree camera, front parking sensors, a 10-speaker Canton sound system and 3-zone climate control.
Skoda Kodiaq Colours: The Kodiaq is available in five exteriors shades: Lava Blue, Magnetic Brown, Magic Black, Quartz Grey and Moon White.
Skoda Kodiaq Rivals: In its class, the Kodiaq rivals the likes of the Ford Endeavour, Toyota Fortuner, Isuzu mu-X and its German cousin, the Volkswagen Tiguan.
Read More
Must read articles before buying Skoda Kodiaq 2018-2020
Skoda Kodiaq 2018-2020 Videos
Skoda Kodiaq 2018-2020 2023 has 1 video of its detailed review, pros & cons, comparison & variant explained,test drive experience, features, specs, interior & exterior details and more. Watch our Latest Hindi video of Skoda Kodiaq 2018-2020 to know price, safety features & more.
4:58

2019 Kodiaq L&K Review in Hindi | Loaded and Luxurious | CarDekho.com

Feb 06, 2019
Skoda Kodiaq 2018-2020 Mileage
The claimed ARAI mileage for the automatic variants: Skoda Kodiaq 2018-2020 Diesel is 16.25 kmpl.
| Fuel Type | Transmission | ARAI Mileage |
| --- | --- | --- |
| Diesel | Automatic | 16.25 kmpl |
Skoda Kodiaq 2018-2020 News
Skoda Kodiaq 2018-2020 Road Test

Are you Confused?
Ask anything & get answer in 48 hours
*Ex-showroom price in New Delhi
×
We need your city to customize your experience