Skoda Kodiaq: First Drive Review
Published On Oct 01, 2017 By CarDekho for Skoda Kodiaq 2018-2020
Skoda has done well for itself offering German build quality with Indian sensibilities for Japanese money. Can it replicate this success with its first 7-seater SUV?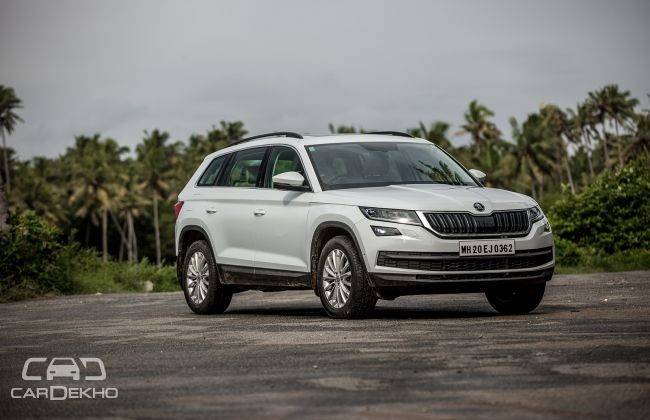 Skoda India seems to have cracked the code when it comes to entry-level luxury sedans. The Octavia and Superb have done well for themselves in their respective segments. This was achieved through a combination of modern technology, best-in-class features, best-in-class space, rich interiors, and powerful and frugal engines, all served up at a price that would send other manufacturers scurrying back to the drawing board. This time round, Skoda is trying out a completely new product, one which has seen wider acceptance among Indians: a seven-seater SUV. The Skoda Kodiaq is a global product that was revealed at the 2016 Paris Auto Show. We got an opportunity to drive this new SUV here in India and here's what we thought of it.

Exterior: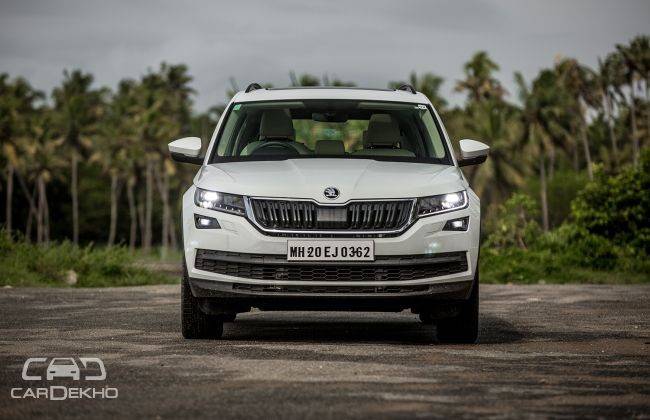 Skoda has always been on the money with their timeless designs. The Kodiaq follows down that path as well, and is about clean lines and cuts. While we have been fed a steady diet of brawny and flashy SUVs like the Toyota Fortuner and Ford Endeavour, the Kodiaq feels suave and understated. In fact, it feels more like an overgrown estate on stilts, but in a way that is pleasing to the eyes. The Kodiaq has to be the best beneficiary of Skoda's new 'crystalline design' theme, which covers almost all of their current lineup in India.

When viewed from the front, Skoda's large 'butterfly' grille takes centrestage. It is flanked by a pair of headlamps that look similar to the Superb's crystalline ones but are sleeker in profile. And those DRLs streaking across the length of the headlamps are bound to get noticed before the rest of the car. The tail lamps too are similar to the Superb but feature a more aggressive shape. Indian sensibilities come in the form of a unique plastic sleeve that wraps around the edge of the doors when the door is opened. This saves the doors from dings and scratches when they're opened in tight spots. There are also two compact umbrellas that slide into a hole in the front doors. It is a fantastic addition considering the unseasonal monsoons we Indians have to contend with nowadays. Yes, the umbrella slots have drainage channels too, that evacuate water from a wet umbrella.
Overall, the Kodiaq brings a sophisticated styling package to the segment. It may not have the imposing presence of its direct rivals but offers a more tasteful and mature appeal.

Interior:

Step inside the Kodiaq and you might be reminded of the Superb's interior, but it does get a new dashboard design. It is a mix of soft plastics in black and beige, with a black textured plastic panel separating the two. The plastic panel was the only design element we did not like in the otherwise cheery and premium interiors and we would rather prefer a wood-finished veneer instead. There are large, vertically mounted air-con vents that've been designed for better airflow and noise control. You get two glove compartments: a regular cooled unit and one above, both opened via buttons on the dash. There are cubby holes below the steering too, along with storage spots in the centre console.

The Kodiaq abroad gets an all-black interior but here it is a mix of black and beige, with beige leather seats. This cabin is a cheery place to be in and quite comfortable as well. The seats offer fantastic support, especially the front ones, both of which get electrical adjustment for height, reach and lumbar support. The glasshouse effect of the cabin is accentuated by a large panoramic sunroof, so you do feel like you're sitting in a really big car.

The rear have wide-opening doors that are heavy and take an effort to shut from the inside. Getting into the cabin is as easy as walking in; no need to climb up into the cabin like other SUVs. The middle row seats offer oodles of legroom, even with a 5ft 8in driver sitting in the driver's seat. They are adjustable and can be moved forward by 18cm. The seat-back rest angle can also be reclined to a certain degree. A unique touch is the Kodiaq's power nap package. It includes two pillows, window-mounted sun blinds and two blankets that are neatly bundled into pouches mounted at the back of the front seats. The highlight, though, is the lateral support extensions on the 2nd row headrests. These allow the occupants to hold their head in place if they wish to take a nap. We felt that this novel feature could do with more cushioning.

The AC unit has tri-zone climate control. It offers three individual settings for the driver, co-driver and the middle row seat occupants. The middle row gets just two central AC vents and could do with roof- or pillar-mounted vents for better cooling.

The last row also does not get AC vents. The seats work for small adults but for someone above 5ft 8inch, you will be sitting with your knees close to your chest. Access to the split last row is also narrow and not as easy as, say, an Innova.
Another interesting feature is the hands-free tailgate. Simply wave your foot below the bumper and the tail gate opens. Along with electronic actuation, the tailgate can also be adjusted to open to a certain height for shorter users. The boot light is a small unit that can be removed and used as an LED torch. The boot partition screen also hides below the boot floor for a cleaner look.
Boot space is 270 litres with all rows up. With the split rear seat folded flat, boot space rises to 630 litres. With the middle and rear seats dropped down, boot space is a cavernous 2005 litres, enough to swallow a refrigerator.
Technology:
The infotainment system has a large 8-inch screen with a very intuitive capacitive touch feature. It plays music via Aux-in, USB, Bluetooth and microSD card. The infotainment system supports Apple CarPlay, Android Auto and Mirrorlink. The system plays music via a high-end Canton 10-speaker audio system with a subwoofer in the boot. This 485-watt system offers a deep and immersive music experience.. You can also download the Skoda OneApp or Skoda Boss Connect app that has your phone act as a remote for the infotainment system and also allows you to control AC settings from your phone. The Kodiaq gets a voice enhancer feature, which has a mic near the driver side which is relayed through speakers in the second and third rows so you do not have to shout to have conversations while driving.

For the environment conscious, the Kodiaq shows your carbon footprint in graph and data and suggests ways to drive more efficiently.
Safety:
The Kodiaq is one of the rare cars sold in India to get nine airbags as standard. In addition, this Euro NCAP 5 star-rated SUV gets dynamic stability control, adaptive cruise control, driver alert system, lane assist, and blind spot detection. It also gets multi-collision brake, wherein if someone crashes into your Kodiaq from behind, the car will brake and come to a stop instead of crashing into another car or object ahead. When it goes on sale, the Kodiaq will be one of the safest cars in the sub-Rs 50 lakh market.
Engine and Transmission:
The Skoda Kodiaq will come with just one engine and gearbox combination for now. It is a 2.0-litre diesel motor mated to a 7-speed DSG automatic transmission. The 1968cc common-rail diesel makes 150PS between 3500 and 4000rpm and a healthy 340Nm of torque between 1750 and 3000rpm. Fuel efficiency is a claimed 16.5kmpl. With a fuel tank capacity of 63 litres, the Kodiaq should be able to cover a distance of over 1000km on a tankful.
It is a refined and responsive motor and Skoda has done a fine job of filtering out the noise from the cabin. The characteristic diesel drone is audible but is mainly a sore point only while idling and/or revving the motor hard. Its quick-revving character is well matched with the 7-speed DSG gearbox which holds gears well and offers fairly quick shifts. The Kodiaq offers strong low end torque and a powerband that stretches from idle all the way to 4000rpm. This makes driving in the city extremely easy. Overtaking can be done in a quick manner as the gearbox drops down a couple of gears as you accelerate, allowing for a cleaner getaway. The Kodiaq also gets steering-mounted paddle shifters for manual gear changes.

Performance is not as good as the diesel Superb due to the nearly 230kg of added weight, boxy SUV-like aerodynamics, and the facts that the motor delivers 27PS and 10Nm less output. This is seen at high speeds and under high revs where the motor feels more strained. High speed overtaking takes a bit more time than we would have liked. The Kodiaq, though, will happily cruise north of 120kmph all day if you want it to.

There are four drive modes on offer: Eco, Sport, Individual and Snow; which adjust throttle response, gear shifts and steering response. Eco mode, apart from other factors, changes AC response for better mileage. Sport mode sharpens response and is best suited for when you are in the mood for energetic driving. Snow mode is for mild off-road conditions. In Individual mode, you can customise different parameters to suit your own needs.
Ride and Handling:

The Kodiaq gets a monocoque chassis with an independent front suspension and a multi-link rear. While the international version gets 19-inch wheels, for better ride comfort, the India-spec comes with 18-inch ones with higher profile tyres. The suspension setup is on the firmer side but possesses excellent damping properties. Thanks to the firmness, you are aware of the surface you are traveling on, but the road undulations are not transferred to the occupants. The suspension makes a bit of noise on extremely bad roads but did not crash anywhere despite the broken B-roads we encountered on our drive in Kerala. There is also a bit of side rocking motion while going over bad roads. The ride quality gets better as speeds increase, though you are always aware of the surface you are travelling on. Overall, the ride quality is good but isn't as plush as the Superb.

In terms of dynamics, the Kodiaq offers great composure. Body roll is well contained and the taut suspension and grippy tyres gives you confidence to push the car into corners. The steering wheel feels light in normal mode but weighs up nicely in Sports mode. Driving the car in narrow, congested roads is an easy affair and despite its size, the Kodiaq feels compact while driving. It feels stable at high speeds though sudden lane changes has the Kodiaq remind you of its SUV roots through its body roll.
The brakes have a strong bite, enough to get this 1.8-ton SUV to stop in a quick and controlled manner.

Overall, the Kodiaq offers a good balance between ride and handling, and is a car that should keep the ones driving and the driven happy.
Ground clearance is 188mm, which drops down more than 48mm while laden. It is enough to take the occasional broken path leading up to a farmhouse or through a field. We took the Kodiaq close to the beach and the SUV easily cleared the small rocks that jutted out of the beaten path. It gets a Haldex all-wheel drive system which should help the Kodiaq get out of sticky situations. In normal conditions 96 per cent of the power is delivered to the front wheels, but as the situation demands, power can be split 50:50 between the front and rear wheels. The system detects slip and sends power to individual wheels, increasing traction over slippery roads. The system works well in mild off-road conditions and is let down only by the road-biased Hankook tyres.
Verdict:

The Skoda Kodiaq, on one hand, takes on butch ladder-framed SUVs like the Toyota Fortuner and Ford Endeavour; and at the other, luxury SUVs like the BMW X1, Audi Q3 and Mercedes-Benz GLA. Skoda will be bringing the Kodiaq to India in just one trim: a diesel with automatic gearbox and with all the bells and whistles. We expect this top-specced Kodiaq to be priced between Rs 34 to 36 lakh. At this price, the Kodiaq offers good performance, an intuitive automatic DSG gearbox that both the Fortuner and Endeavour miss out on, and above all, features that even luxury SUVs miss out on. The Kodiaq might not be a hardcore off-roader, but then, how many times do you actually take your daily driver off-road? It is sorted on the dynamics front and space as well. The Skoda Kodiaq is like those students that answers all the questions correctly in an exam and then answers the extra ones too, just for the kick of it.
There is a caveat though. The Kodiaq has been doing well internationally and commands a waiting period of 9 to 12 months. If Skoda plays their cards right and gets the waiting period in India reduced considerably, they just might have a winner in the Kodiaq.
Words: Benjamin Gracias
Photo: Eshan Shetty