Skoda Kodiaq Review
Published On Mar 23, 2018 By Tushar for Skoda Kodiaq 2018-2020
We spend a few days with the Skoda Kodiaq and put it through a series of tests to check for compromises. And yes, we found some.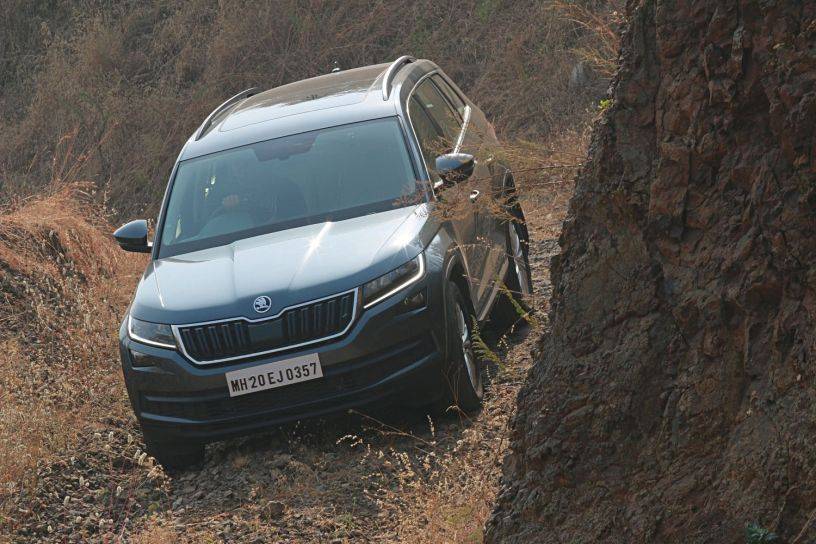 The Skoda Kodiaq falls into a tricky territory. It isn't aggressively priced when compared to its better established rivals, nor is it as rugged as them. However, as we discovered in our first drive, it certainly is more premium. But is it still an SUV?
Exterior

Imposing, intimidating and threatening - words you would not use to describe the Skoda Kodiaq. It's typical euro-car fare which means it's understated and has a similar vibe as the current Audi Q7. That, of course, divides the audience because while a small faction prefers low-key design, the vast majority prefers SUVs that give them a sense of authority on the road. This isn't to say that people won't recognise this SUV.

In fact, a group of school kids in a semi-urban part of Pune immediately recognised the Kodiaq and mouthed its name as we drove by. However, it isn't a particularly muscly looking thing nor does it have the l-o-u-d Japanese styling of the segment leader, the Toyota Fortuner.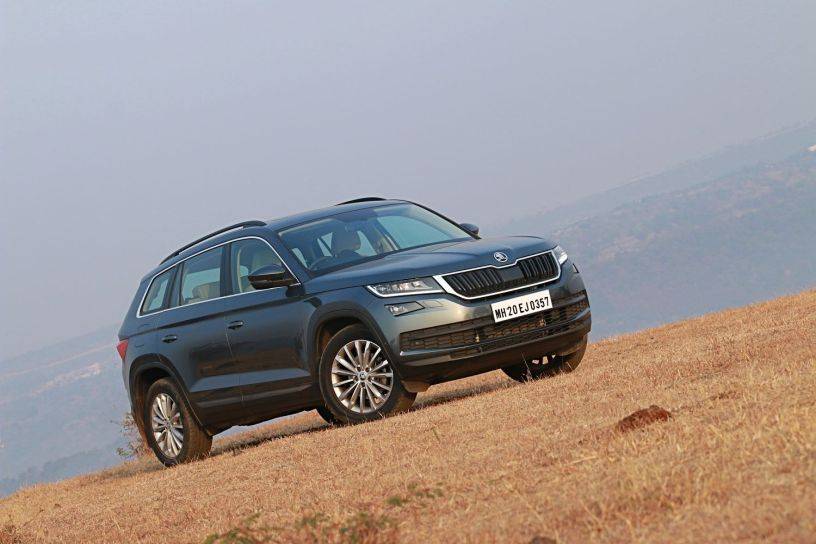 The Kodiaq is classy, though, and with 188mm of ground clearance (140mm laden) it comes across quite low slung. The 18-inch alloy wheels look elegant too and the full LED exterior lighting brings a good dose of modernity into the mix.
Interior

The first thing you notice here is how easy the Skoda Kodiaq is to get into. Since it doesn't sit too high up off the ground, even senior citizens can get in (the first or second row) with ease. Don't forget the door protectors that guard the door edges, should you have to step in or out in a tight spot.
Inside, the cabin's layout is pleasing and premium but like the outside, it is quite sombre. The design puts functionality first, so the controls are laid out in an easy to understand manner, which is good because there are so many features to fiddle about with. For starters, the 8.0-inch touchscreen infotainment system gets SmartLink connectivity that includes Android Auto, Apple CarPlay and MirrorLink. The same display also gives you a wide range of information including your driving analytics to tell you how economically you're driving (Greenscore) and even gives you control of the climate control system, in addition to the central dials. Even the MID is super-detailed, relaying everything from trip and efficiency information, to the oil temperature, turn-by-turn navigation feed and audio source chosen.

The steering doesn't get motorised adjustment but it does move for rake and reach, and like all VW cars, every power window gets the one-touch up down function. The front seats are electrically adjustable too and get the memory function but ventilated seats, for reasons best known to Skoda, have been skipped!

The 2nd row seat is quite comfortable with enough room for two 6 footers to sit one behind the other. It's also wide enough for three people of an average build but the central tunnel and climate control console do foul with the middle passenger's feet. Pillar/roof mounted vents like in the Endeavour would've been nice too, since the rear vents are placed quite low and your knees can block the air-flow quite easily. Rear occupants also get the power nap pack which includes a few pillows, a blanket and the lateral headrest supports.

Now, the 3rd row in a monocoque SUV is rarely something to brag about and it's no different here. The Kodiaq's last row, though, usable, is best suited to kids or short adults but they can sit here even for 150-200km inter-city trips. The seat sits directly on the boot floor so your knees point skyward. But the backrest is well-sized and you don't feel claustrophobic here, courtesy the large glass area a plus-sized sunroof.

However, a major flaw is the lack of AC vents here which we guarantee will be a problem in Indian summers. The best solution here would be to have the AC running on full-blast before the rear occupants get in, so at least they won't break into a sweat.
The real redeeming quality for the Kodiaq is, well, its quality. Everything around you is premium to the touch with soft-feel elements like those of the door pads elevating the in-cabin experience.
Performance

The Kodiaq is an example of why cars cannot be defined by their on paper numbers alone. 150PS certainly seems too low when compared to Herculean rivals like the Fortuner and Endeavour which make around 180-200PS. However, we managed the 0-100kmph sprint in 10.31 seconds - half a second quicker than the Endeavour and nearly 2 seconds better than the Fortuner. There are two reasons for this. 1. The Kodiaq is considerably lighter than its ladder-frame rivals 1,799kg vs the 2,140kg Fortuner and nearly 2.4 ton heavy Endeavour - that's a whole passenger load's worth of difference! That aside, the 7-speed DSG transmission is miles quicker and smoother than any other 7-seater in the segment, which makes it that much sprightlier.

This also translates to easy driveability, as the Kodiaq feels quite car like to drive. The diesel engine has a strong 340Nm torque reserve from as low as 1,700rpm and light throttle inputs are enough to work your way up the gears and hit cruising speeds. You do have paddle-shifters but unless you're driving hard, you won't feel the need to use them. It's also fairly efficient, managing 13.29kmpl in the city and 16.18kmpl on the highway. We can safely vouch for the Kodiaq's abilities as a cruiser as the engine enjoys relaxed motoring with even 120kmph seeing the engine spinning over at under 2,000rpm.

However, that isn't to say that we didn't find the need for more power. The fact is, when you're paying this kind of money, the performance shouldn't stop at adequate. The Kodiaq fails to deliver the punch you want at high speeds and revving it hard just makes the engine sound strained. Anything beyond 3,500rpm is futile and that's where you find yourself wanting for more. Highway overtakes do need some planning and if you find yourself stuck in a flood of truckers on the ghats, that lack of extra muscle shows. 20-80kmph (with kickdown) takes nearly 7 seconds and on the strong chance that you're running with a full passenger load, that'll only take longer!
The Kodiaq makes for an easy daily drive and offers good touring capabilities too but while the performance will match your needs, a more powerful tune would help make this a considerably better drive on the highway and importantly, a better machine to use with a full passenger load.
Ride & Handling

It's not that the Kodiaq just drives like a sedan, it also rides quite similarly. A primary difference between it and its ladder-frame rivals is the fact that there's no noticeable vertical bobbing while driving, something which is apparent particularly in the rear rows of its rivals. The ride quality is quite stable and akin to something with a smaller footprint. However, on the flip side, the suspension has a limited travel range. So while that makes the ride less bouncy, it also leaves very little give when the roads turn ugly.

You cannot laugh your way through bad roads as sharp bumps will be heard and felt in the cabin. To put it simply, on bad roads, it's best to treat it like an Octavia rather than an Endeavour. Even undulations see the Kodiaq toss a lot from side-to-side, reminding you that as sedan-like as this may feel, it still is a very much a tall boy SUV. In fact, if you come across light broken patches, it's better to speed up. You will still hear the thuds from the suspension but won't get tossed about too much laterally as the suspension settles itself down.
The handling package throws no unexpected surprises. There isn't any notable feedback from the steering but it is responsive. Setting the drive mode selector to Sport adds a good dose of weight to the steering so it gets more engaging to drive, while throttle response sharpens too. Just be aware that cornering will be accompanied with a good dose of body-roll but that's to be expected in a car of this size.
Safety & Features

The Skoda Kodiaq comes in a single, fully-loaded 'Style' variant which comes as standard with 9 airbags, ABS with EBD, anti-skid regulation (ASR), multi-collision brake, ESP, all round parking sensors and a reversing camera.

The features list, as mentioned above, is rich - complete with an 8-inch touchscreen infotainment system that's paired with a 10-speaker sound system, hands-free parking, 12-way adjustable powered front seats, a panoramic sunroof, 3-zone climate control and an electric tailgate.
Verdict

The Skoda Kodiaq is not an SUV without compromises. It hasn't been designed to be as tough as its more rugged stablemates but its on-road mannerisms are better and more predictable. Even though it is plus-sized, it's a very easy daily drive and does so while cocooning you in a luxurious interior.
There are primarily two compromises. One, we do feel it needs more power especially since buyers picking this will want to travel with the SUV loaded up. Two, the suspension offers great on-road mannerisms but isn't rugged enough to handle more than some muck/slush or gravel.
Overall, if you're in the market for a butch, go-anywhere SUV that'll seat 7, there are better options. But if you want a premium, feature-loaded SUV with good road manners that delivers better value and practicality than a luxury brand 5-seater, the Skoda Kodiaq hits the spot.
Words: Tushar Kamath
Photography: Vikrant Date
Also Read: 2017 Volvo XC60: First Drive Review || Lexus NX 300h: First Drive Review