New Audi R8 vs Mercedes AMG GT S: Who makes it to the finish line?
Modified On Feb 15, 2016 01:58 PM By Sumit for Audi R8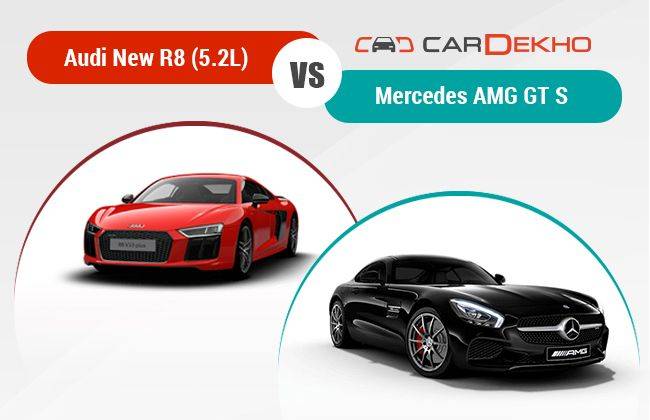 Audi launched its new R8 at the recently concluded Auto Expo 2016. The car starts at a price of Rs. 2.47 crore and offers you almost everything you can imagine from an automobile. The more powerful variant (V10 plus) offers you enhanced power figures with 10-cylinder engine to keep you ahead (always), a driver-focused digital 12.3 inch Virtual cockpit system to ensure he is always connected with the surroundings, and what not?
While R8 was already present in the Indian car market, this new version make things more pleasant. The car will be competing with Mercedes AMG GT S here. While the choice is surely tough, for one who plans to buy a car in this segment, we have made the things simpler by comparing these two splendid pieces of technology on specific parameters. Have a look!

Yes, the new R8 pounces the Mercedes' product in power delivering capacity. Mileage is less but when you are going for a car of this category, you hardly care about it. What matters more is performance and power. Those 120 millimetres of extra length works quite well for AMG GT S too. That reflects when you see the side-view of both the cars. GT S looks massively long and amazingly impressive. It gives you that very feel of a sports car. Now when both the cars come almost at the same cost (GT S is priced at Rs. 2.5 crore), it remains to be seen what excites the customers more. But surely, the new R8's deployment of latest technology and upgradation of features, will matter in the race.
Also Read: The Audi R8 V10 Plus is Very Fast: But You can Catch it here!
Read More on : Audi R8
Was this article helpful ?
0 out of 0 found this helpful