Rarest exclusive cars on the planet!!
Modified On Oct 20, 2015 01:35 PM By Abhijeet
The rich flaunting money is no new concept. And cars are easily the most sought after tool to show off wealth by the elite. However, there is a level far beyond show off, stepping into the unknown, stepping into the super rich. These people thrive not for just exclusivity, but uniqueness.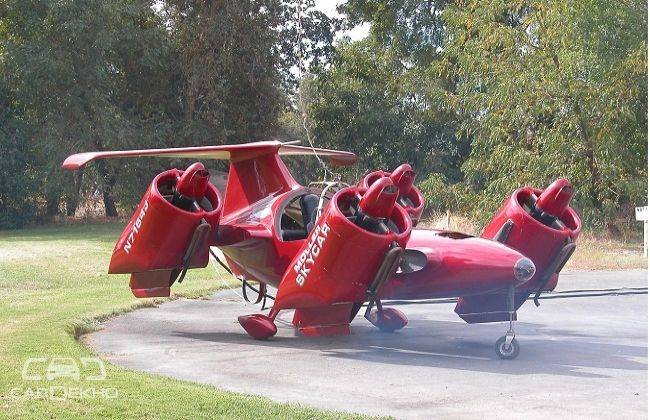 They wish to have something more than tool, but a statement, "you can never have this". Money no object, they shower manufacturers to create a shining star to be etched in their crown. Enlisted are some of rarest, most exclusive and indeed very expensive modern cars wandering on surface of earth.
Blastolene B-702

Also Read : And the offers continue...
This car totally takes away the ultra-rare cool cake. The V12 engine, from an M47 Patton tank, French curve car design ala 1930 Delahaye, christened B702 (70 cubic inches that is), took a whooping 2.5 year to complete. Prominent design features include a polished glass grille and hand blown taillights for a out of this world look. The body is hand crafted in aluminium body finished in brilliant dark blue with a catchy maroon leather interior.
Moller M400 Skycar

Ever wondered if you could just take off while stuck in a river of traffic, with the Moller M400 Skycar you actually can. Despite aeronautical engineers calling the development 'impossible', Moller continued working on it and made it a reality. The M400 has Vertical Take-Off and Landing (VTOL) and can take 4 passengers at a top speed on 560kmph at a cruising altitude of 25,000ft. The engine produced 865bhp of power and had a maximum range of 1200km.
Thrust SSC

Also Read : The glossary of automotive jargons
Quite simply the fastest car on the planet, Thrust SSC took Wing Commander Andy Green to a dazzling 1,228kmph (cracking the speed of sound) on the Black Rock Desert in Nevada setting the World Land Speed Record on 15th October 1997. Two Rolls-Royce Spey turbofan jet engines powered the Thrust SSC producing an astonishing 110,000bhp. The entire car is 16.5m long, 3.7m wide and weighed in at 10.5tons. Thrust SSC burnt 18 litre of fuel per second.
Blanc Veyron (Bugatti Veyron Grand Sport L'Or Blanc)

Ummm funny enough this Bugatti Veyron actually has porcelain on it. Yes, the same space grade material you never expect to see on one of the world's fastest cars, the Blanc Veyron was made in collaboration with the Royal Porcelain Manufactory Berlin as the first car ever to get porcelain both inside out. The wheels centres, fuel filler caps, centre console surround and even the EB badge on the rump is made on porcelain. This is one car that you could actually buy, for 1.48 million GBP that is.
Maybach Exelero

Now the Maybach 62 or the 57 are already super luxurious and very rare cars. Topping them is no easy task, but Rap shouter and bling enthusiast, Birdman, wanted even more exclusivity. Hence the Maybach Exelero, a chopped down 2-seater coupe based on the Maybach 57. The Exelero sports a twin turbocharged V12 engine that can propel the 2.6 ton mass from a standstill to 96kmph in 4.4 seconds, up to a top whack of nearly 350kmph.
Jaguar XJ13

The Jaguar XJ13 is a piece of automotive art. Carrying the legacy of one of the most successful cars at the 1950s LeMans bagging five wins in a short span of seven years, the original car suffered a crash during a demo run in 1971. The car was then reconstructed with extensive physical surgery.
Ferrari P4/5 by Pininfarina

The P4/5 is an icon of style, power and panache. Created entirely by Pininfarina, the beautiful body featured more than 200 exclusively developed components. The sculpted bi-xenon head lamps, crafted alloy wheels and visible aluminium hinge form part of the carbon body which originally belonged to the Enzo Ferrari.
GM EcoJet

Famous collector, comedian and talk show host, Jay Leno, wanted GM to create a unique polar bear friendly supercar for him. This led to the birth of GM EcoJet, which had a Honeywell LT-101 turbine powered biodiesel burning 650bhp civilised monster that would hug trees as it would go by. The frame was picked from a Corvette ZO6 and modified with further addition on aluminium and magnesium components to keep it light weight.
Splinter

Right at the beginning you must know that the Splinter is made of wood! The world's first ever wooden super car had a 700bhp twin supercharged 4.6 litre V8 engine and weighed in at just 1,134 kilograms. The construction involved maple, plywood and MDF, that made it weigh about 240 kilogram lighter than a Porsche for heaven's sake. Owing to its construction, the Splinter took 3 seconds to sprint from 0 to 96kmph.
Luigi Colani Sawed-Off Miura Le Mans

This one could be gently shifting off from being exclusive to plain ridiculous; the Sawed-Off Miura Le Mans was built in the 1970s based on the Lamborghini Miura. The construction involved a Miura's rear end, and then sawing off the rear seats. The front section was a fibreglass bubble and had a joystick or tiller arrangement probably turning the entire front assembly.
Read More:
Was this article helpful ?
0 out of 0 found this helpful