An Amazing Drive to Rann Utsav
Modified On Mar 27, 2015 11:17 AM By Rajpal
The vivid and vibrant nature of India is what attracts the world towards us. These colours of India give it a unique identity, but amidst all these colours and landscapes there is a vast barren white salt desert - the Great Rann of Kutch. There might be no signs of life for kilometers, but nature has its own charm that even the barren land can look tempting. You can feel the same, when you see the world's largest salt flat. The pure white desert stretches to the horizon and sheer silence in the atmosphere provides you the moments of solace.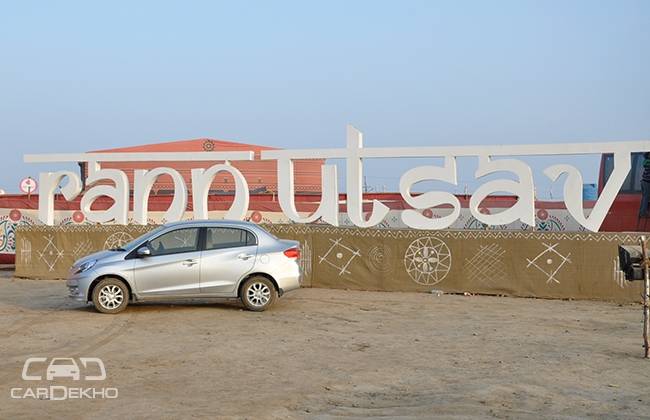 Since 2006, Government of Gujarat has been organizing a 4 month long festivity called Rann Utsav, which converts this isolated land into a must visit destination. When Honda Cars India invited us to the Rann Utsav to celebrate the milestone of 1.25 lakh units for Honda Amaze and to have hands on experience on the newly launched AVN variants, I was ready with my bags packed. We all flew down to Ahmedabad from where we started our journey towards Bhuj.

I drove the Amaze petrol on my way to Bhuj and as the new AVN grades are equipped with built-in satellite navigation unit, Bluetooth and integrated music player, our drive became more joyful. The roads in Gujarat are quite good and the NH 8A was in a great shape. The flat and straight roads allowed us to cruise in three-digit-speed. Amaze's ride quality is pretty impressive as it gets quite a balanced suspension set-up, however on broken patches the rear passengers tossed a bit due to a tad stiff rear suspension. The 1.2-litre i-VTEC engine loves to be revved and lives up to Honda's pedigree; however overtaking maneuvers become a task sometimes as the throttle response is not that electrifying. On the other hand, the 1.5-liter i-DTEC has a lot of power and torque to deliver in every gear and it is the better choice between the two.

The good roads allowed us to reach Bhuj by evening. After tea at Bhuj, we continued our journey towards Dhordo Tent City, some 80kms from the town. Here, I would like to mention the thrilling experience of watching roaring Indian AirForce Aircrafts, that too the mighty Sukhoi SU-30 MKI. Bhuj is a base station for IAF and Sukhois were looking spectacular taking off for a watch on Indo-Pak border.

The road towards Dhordo is a single lane road, but we were amazed to see that even in a remote area, the roads were well kept might be due to heavy tourist activity during Rann Utsav and regular commute of BSF. We finally reached the Rann Utsav after a 7 hours journey, however we were not tired at all as the new Infotainment unit does make the drive more convenient and enjoyable.

The Amaze's cabin is airy and comfortable, however, I felt that the seat cushioning could have been a bit better. Apart from it, I noticed that the NVH levels of the car have been improved significantly.

We received a warm welcome at the Rann Utsav and we were amused to see that they build the whole city for 4 months every year. It is one of the largest tent cities in the world and second biggest in India after the Kumbh Mela arrangements. The well planned city has been divided into different clusters and several activity areas and you can find a gymnasium, yoga center, Spa, play area and library that further ease your stay here.

We were staying in nicely done tents and you can find every facility in these tents. At the dinner, we had nice Gujarati food, which was again a good experience. After the dinner, Team Honda arranged a visit to the White Rann around 11'o Clock and we were amazed to see the clear sky, which was filled with stars. In our cities, where pollution and lights do not allow you to watch the stars in the sky, the white Rann took me to my childhood, when my father used to teach me about Polaris, big dipper, small dipper and other star formations. The white Rann was looking alluring in the night, and I was thinking how mesmerizing it will turn on a full moon light. After spending an hour, we returned to tent city.

The next morning we were planning to participate in Kite Festival, but it was quite windy, which didn't allow us to fly kites. However, we went to White Rann and drove the cars on it, the experience was great, but one have to be careful as the area is filled with swamp and you can get into trouble easily.

After lunch, we went to Kala Dungar Top, some 60 km from Dhodhor Tent City, which is the highest point of the area. The mount top is famous as a sunset point and surrounded by a wildlife sanctuary home of Leopards, Jackals, Caracals and migratory birds. From Kala Dungar, you can see the Rann of Kutch Lake and white Rann with Arabian Sea in backdrop. With the water bodies in the background, sunset looks spectacular from the top.

At day 3, no major activities were planned, so I went to capture the sunrise at White Rann, the sunrise was breathtaking as the sky was filled with different colours and you can see the white Rann till Horizon. It was one of the most memorable experiences, I ever had. After the sunrise, I visited the small market near the tent city, where I bought some souvenirs of Kutch and then left to catch my flight from Bhuj Airport.

To sum up this drive, I would say Rann Utsav is one festivity where you can actually experience the true colours of Rann and hospitality of Gujarat.

You can always fly down to Bhuj , but try to drive down as roads in Gujarat are simply brilliant.

I had a good time driving with my companion Amaze here, plan a trip for you as well, as the Rann Utsav will continue till March.
Was this article helpful ?
0 out of 0 found this helpful