Everything to know about Barack Obama's armoured Cadillac Limousine 'The Beast'
Modified On Mar 27, 2015 10:37 AM By Akshit
The cars nowadays are very safe, literally very safe, up to the level that anyone wouldn't have ever imagined of. Volvo is even on the way to offer 100 percent life saving guarantee in their cars after five years. All this seems fine for us, but is that enough for a person, who is one of world's most influential figures and occupies the throne of the world's most powerful country, not essentially though!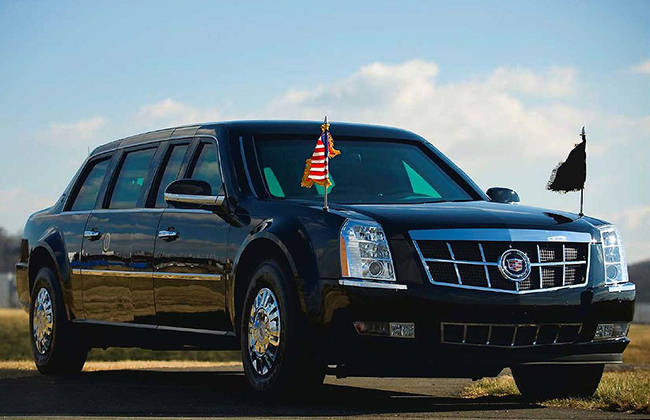 Barack Hussein Obama II, the 44th and the current President of the United States, travels in one of the safest rides of this earth, the Presidential State Car which is an armored Cadillac limousine, also called 'The Beast.' The 18 feet long and 5ft 10 inches high Presidential State Car is based on the Cadillac's DTS model with chassis and drive-line sourced from the Chevrolet Kodiak commercial truck. In terms of safety standards, the vehicle stands on an unimaginable level and calling it just armored is an understatement.
Although the exact specifications of the vehicle is a matter of national security, and therefore kept secret, but what so ever info is public, we've tried to enlist here. The superstructure of the Beast is made of titanium, ceramic, steel, and aluminum and its armor plating is said to be five-inch thick bulletproof windows, containing at least five layers to put a damper on any effort by subversives. Mind you, its 8-inches thick doors weigh as much as those on a Boeing 757 aircraft.

The trunk of the Beast carries an oxygen supply tank and advanced firefighting equipment. Also, the bottles of President's blood for emergencies, an unspecified number of pump-action shotguns for defense, and the ability to lock down the cabin like a nearly-impenetrable panic room are some other specialties of this Beast. Its fuel tank features a specially designed foam that resists from exploding, even in case of an extreme direct collision. Made by Goodyear, the run-flat tyres on the vehicle are Kevlar-reinforced, shred and puncture proof. The Beast runs on a 6.5-litre Duramax diesel engine, that can achieve a top speed up to 100 miles kilometers per hour and sucks 29 litres of fuel for every 100 kilometers.
The cockpit holds a seating capacity of seven occupants and has a laptop with wi-fi connectivity and satellite phone as well as a special panic button for any emergency. The 'pilot' on-board is a secret service driver, that have undergone extensive training and can execute tight 180 degree- J-turns and other police-style evasion techniques whenever required.

Although its not confirmed yet, but we might see the Beast on our roads during Obama's three day visit to India, for the Republic day celebrations.
Was this article helpful ?
0 out of 0 found this helpful