Mercedes-Benz S-Class: The Technological Masterpiece!
Published On Sep 24, 2014 06:00 PM By Akshit for Mercedes-Benz S-Class 2012-2021
It is not very often I get to write about the 'Best car in the world'. A car that actually redefines the meaning of luxury and technology on an automobile, yes, I am talking about the Mercedes-Benz S-Class. For several decades, the S-class has been a synonym for innovation and luxury, and marked the debut of Mercedes latest and most advanced technologies.
The S-Class is special. It's every piece feels like it was milled just for this car out of one solid piece, and then placed in the car with care by skilled German craftsmen. From a small knob to the hand stitched seats, every part of it feels plush and crafted for total satisfaction.
Though it's impossible to talk about every single feature in an S-class, but enlisted below are some major ones, which literally changed the meaning of motoring luxury.
THE COMFORT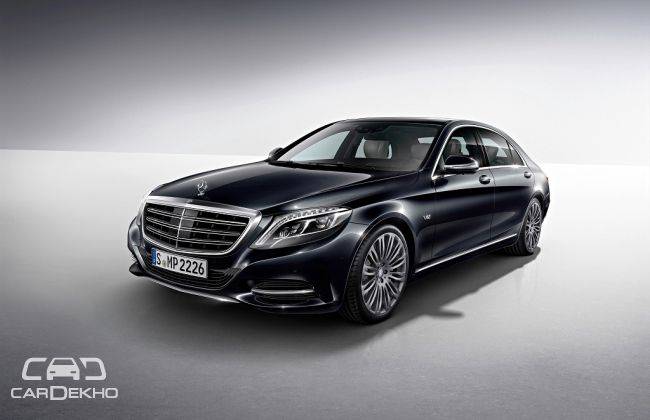 Interiors:
Though the whole S is special, but interiors is place where its real exclusivity lies. Meant for people with eight digit earnings, the S-Class' is not less than a palace on wheels, which can easily be converted into a mobile office with availability of folding tables, individual entertainment systems, 12 V power sockets, USB-AUX in points and a standard wireless hotspot.

Seats:
Its multi contour seats with dynamic massage function offer outstanding comfort. The air chambers in the seats' lumbar and shoulder regions adjust according to individual's body automatically, plus side bolsters ensures optimum support and best sitting comfort to the occupant. Plus, you can recline the rear seats up to 37 degrees, which gives a true business-class feel. Despite giving the best sitting comfort, it enhances the over-all relaxing experience with its massage facility. You can select any of the four different massaging programs, and let the rolling motion of its seven chambers gently stimulate your back muscles acting like a stress-buster.


Burmester Audio:
When it comes to S, you'll find nothing but the best in it. A Burmester music system comprising of 24-speakers and a 24-channel amplifier with a total output of 1,540 watts, you can't ask for more. Apart from this, you get a big 12.3-inch display that can be used for navigation as-well-as entertainment. While for the rear occupants, the S offers two 10-inch screens combined with all connectivity options, and wireless headphones for best in-house entertainment.

Seven Ambient Lighting Options:
The S-Class not just offers world's most comfortable seats to relax, and best music system to enjoy. It also offers seven different ambient lighting for perfect atmosphere in the cabin. These lights can be dimmed as per your requirements.
Luxury Automatic Climate Control:

The S-Class' automatic climate control has a luxury quotient to it. This system enables the driver and front seat passenger to select separate temperature settings. In addition, there's a choice of three different climate modes – Diffuse, Medium and Focused, to choose from. The occupants can also choose between five temperature settings for the foot wells, independently of their selected temperature settings.
THE DRIVE
Transmission:

7G-Tronic Plus:
"The 7G-Tronic Plus 7-speed automatic transmission unites driving comfort, agility and efficiency," states Mercedes-Benz. Though the class whom the S serves to, hardly cares about efficiency, but it very much justifies the comfort and agility quotient. The seven forward gears ensure a large ratio range and keeps jumping through revs from one gear to the next, resulting in short, smooth and fuel-efficient gear shifting. The gearbox is also capable of skipping individual gears to allow precise multiple downshifts for quick and powerful sprints. That's not all, it also offers three different modes to choose from, namely 'Manual', 'Economy' and 'Sport' modes.
Suspension:
AirMatic :
S-Class' excellent AirMATIC suspension is the main reason behind its ultra-comfortable experience. More commonly known as air suspension, it replaces the conventional coil springs with tough rubber bags, which are inflated to a certain pressure and height to mimic the coil springs. Basically it features an on-board air compressor, sensors and electronic controls, which automatically adjust the air pressure in the rubber bags, to provide a way better experience than the conventional metal coils.
Crosswind Assist:

It can be called a more targeted as well as precise form of Electronic Stability Program (ESP). The CA detects the sudden and strong gusts of wind, and helps the vehicle to remain in the same lane through targeted braking. It uses the ESP sensors to automatically reduce the effects of high wind through course-correcting brake actuations, on the wind-facing side of the car.
Magic Body Control:

This feature is offered only on the top-end S, that too as an option. Now you can easily imagine how sophisticated this feature must be. It basically detects bad road surfaces in advance and prepares the suspension in advance to react accordingly. A mounted camera captures a detailed picture of the further road conditions, which is then analysed to allow the system to decide how best to dampen each individual wheel to compensate for every upcoming bump. And mind you, this all happens faster than actually anyone breathes.
THE SAFETY
The S-Class' is not just the most luxurious and comfortable car, it is one of the safest too. Mercedes has put in the best of safety features in S, including Distronic Plus with Steering Assist and Stop& Go Pilot, Pre‑Safe Brake with Active Pedestrian Protection, Active Lane-Keeping Assist, Active Blind Spot Assist and BAS with Junction Assist, rear-end collision warning and Pre‑Safe Plus protection system. Brand's registered- Pre-Safe anticipatory safety system works on the 'prevention is better than cure' philosophy. Pre-Safe recognises likely accident scenarios and takes steps that help to further enhance occupant protection.

8 AirBags:
The S comes fitted with 8 airbags as standard, including two frontal airbags for driver and front passenger, two window bags and two rear side bags. Additionally, an inflatable belt bag for the two outer seats in the rear cabin is also available. This inflates to three times its original size and offers further protection for the rib cage.
Pre-Safe Impulse:
In case of frontal impact, the driver and front passenger are more at risk. And to counteract these forces, their seat belts are tensioned in the early stages of a collision and released again with controlled force to limit the strain. Seat-belt tensioners aren't a new thing, but as compared to conventional ones, the force for retracting is stronger and maintained longer. This pre‑acceleration and force limitation allows the occupants to be temporarily isolated from the effect of an impact.
Night View Assist Plus:

Half of the road accidents occur during the night in the dark. Therefore, this feature allows the driver to see pedestrians or animals sooner than they actually appear, with the help of infrared camera. Additionally, the Spotlight function flashes at pedestrians up to four times across the width of the road to maintain the lane.
Anticipatory safety system:
This system detects a probable accident situation, and takes anticipatory measures before the actual collision. The system keeps on evaluating data provided by its ESP as well as BAS systems, and analyses situations like extreme under or over steering, or emergency braking. If a critical situation is detected, the front seat belt tensioners are automatically activated, with the help of above mentioned Impulse technology, and the front windows closed to ensure optimum protection in case of a collision.
Brake Assist:
This feature calculates the required brake force to prevent a collision or reduce the severity of an impact. So, no matter the driver brakes hard enough or not, this feature automatically initiates partial or an emergency brake. It can also detect pedestrians in the area ahead of the vehicle and increase the brake force applied by the driver if necessary.

"Picture Courtesy: Mercedes-Benz"
Was this article helpful ?
0 out of 0 found this helpful