DRLs - The Dawn Of A New Era
Modified On Oct 20, 2015 02:07 PM By Raunak
What introduced as a safety purpose in Scandinavian countries is turning out to be a major designing element. I'm talking about DRLs - Daytime Running Lights. Sweden was the first country in the Scandinavian region to impose strict regulations on the use of DRLs in 1977 and currently vehicles in many countries come standard with daytime running lights. DRLs use less power than the main lamps and initially were Halogen lamps while LEDs have replaced them nowadays, almost entirely.
Today - DRLs are for vehicles, what Jewels are for girls
As they are getting into the design, DRLs have acquired a crucial role when it comes to the overall appearance of a vehicle. Moreover, rather than just a design element, DRLs have started becoming brand specifying - their design and placement; making them an identification factor. Let us see few brand which have unified DRLs pattern.
BMW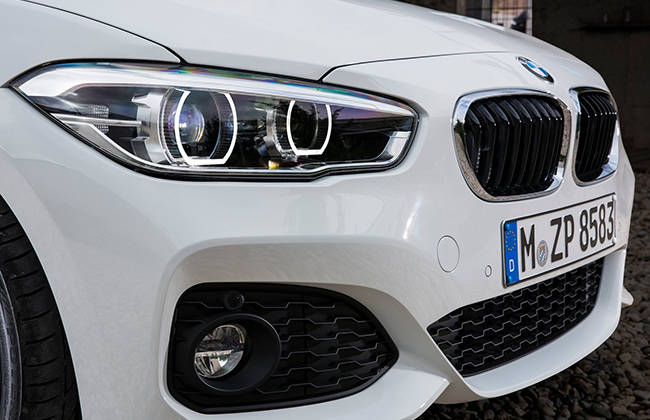 Also Read: Who Owns What; Major Stakeholders in Big Car Companies Part-2
BMW has the most famed daytime running lights, Bimmer aficionados call them 'Angel Eyes' or 'Halo rings'. But the Bavarian automaker calls them 'Corona Rings'. These were always a design statement apart from the safety. BMW introduced the Corona rings in the fourth generation 5 Series for the first time and later rolled it down to the entire clan, it has become BMW's trademark now. Initially, the Angel Rings were pale yellow they were using the CCFL technology but nowadays they are bright white, courtesy to - LEDs.
Audi

Audi brought the first daytime running lights illuminated by Light Emitting Diodes - LEDs with their flagship in 2004 - Audi A8 W12. Earlier these daytime running lights were not seamless, like nowadays, and were also placed around the bumper in Audis. Currently, Audi offers a seamless design and DRLs are now integrated into the headlamp cluster. And indeed the new Audi's - Q7, TT and R8 have a striking resemblance (see the images).

Mercedes Benz
Mercedes-Benz has also shifted from a unified design to a more flamboyant unified design! Merc has shifted the DRLs from the bumper into the headlamp cluster, like the Audi.

Also Read: The New One - All about the new BMW 1 Series
The current DRLs design is applied to almost every vehicle in the portfolio and give an appearance of a flashy eyebrow flare to the projector lamps. With the hot S-Class coupe, they went to an entirely different level, incorporated 47 Swarovski crystals in which 17 angular crystals create the flare-shaped daytime running lamps and the rest 30 are for the side repeaters!

Volvo

This Scandinavian brand is on en-route to resurrection and in this spree they shook the world by introducing their flagship SUV - hellishly sexy 2015 XC90 last year.

Now, what XC90 brought with it apart from the new design language and platform is the 'T' shaped LED daytime running light - we call it Thor's Hammer! Even the recent concept that Volvo have showcased featured the same Thor's Hammer inspired DRLs. Moreover, Volvo's new flagship sedan (S80's replacement) will probably have the same pattern!
Also Read:
Was this article helpful ?
0 out of 0 found this helpful