Amazing roadtrip
Published On Sep 03, 2013 11:31 AM By Rahul for Honda Amaze 2016-2021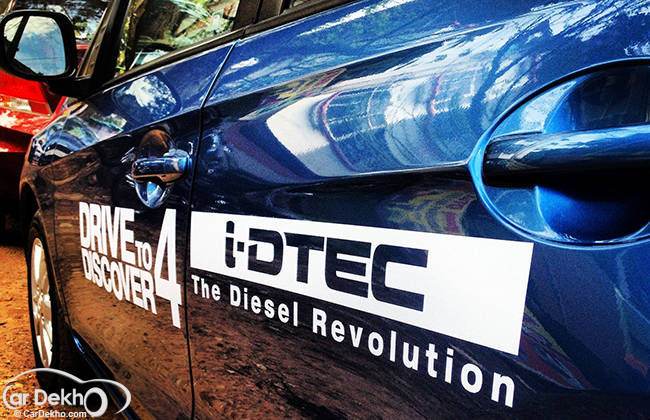 India is an extremely diverse country when it comes to food, language, religion, culture and even Gods. Having travelled across the country, there is always the urge to see other parts of the country and as Octane Addict drive on new roads. Something similar happened this time, driving from the West Coast of India to the East Coast passing through Kanyakumari. That's a new road and untouched Indian terrain for me, how could I miss it ?

Then begins my drive from Trivandrum to Chennai via the coastal road of India. My previous experiences of Kerala tell me it's a state with narrow roads that are heavily crowded, however I wasn't sure of what was there in Tamil Nadu. I have driven on the GQ that ends in Chennai and then on the extremely crowded ECR and a four-lane toll road that runs parallel to the ECR. The vehicle for this trip was a sedan that was powered by a new diesel engine from Honda. In fact, the first oil burner from Honda India— on the Amaze. I have liked this sedan since the first time I drove it in Japan last year. This was my first longer experience with the Honda Amaze.

Our journey began from a Honda dealership in Trivandrum, where are cars were washed and cleaned before being handed over to us. My car had done about 8,000 odd-kms before I got behind the wheel — barely anything for a modern car. We used maps to move out of the city to head to Kanyakumari, which was our first stop over for lunch. The road outside the city was a small single lane highway, which was absolutely packed with local buses and autos. There was a village after every five kilometres, or maybe less. The streets however were surprisingly clean, not much of plastics or papers were visible on the road or at the side. In a few hours time, we entered Tamil Nadu and soon the scenario changed. The roads became wider, and there were lesser towns and people on the road. By about lunch-time we were in Kanyakumari, making a total of 4 hours of driving to reach this destination. The route isn't that scenic and even in August, the climate is hot and humid.

At the coast of Kanyakumari, what you have is the Vivekanand statue and his temple. This is what most of the people come to visit. There are several small hotels in and around Kanyakumari and there are luxurious ones too. We found our way into a Bengali restaurant that serves Bengali and Chinese cuisines. The food wasn't exciting, but it was fresh.

The fishes were freshly caught and our travel buddies, seemed to be eager by this fact, eager to try these fishes. Soon, we headed out to Rameshwaram. This is the last town before the coast, from where Sri Lanka is about 15kms away. We took the Madurai route to this place and soon we were headed on a dual carriageway. This helped us reduce the number of kilometres in a jiff.



The Amaze was smoothly cruising at speeds in excess of 100km/hr. The route soon became scenic and windy too. There were several windmills on our way to Madurai. After driving for a couple of hours, we turned on to a smaller road. This was again a state highway, but it was clean and as it was late in the evening the towns were deserted. With about 170kms from to go to Rameshwaram, we managed to clock a good average of 60-65km/hr without much of pushing. The temperature had also cooled and the traffic was light.


By about 11 in the night, we reached the Rameshwaram town. The route to this town passes through a bridge that goes over the sea and also there is a rail bridge, which is used in several Hindi movies. The Rameshwaram town has one nice big hotel, and as this is a pilgrimage centre, you get only vegetarian food and no hard drinks. Our hotel did definitely feel extremely luxurious when compared to the town and the cost of our rooms was about Rs 4000 per night. On the first day, our Amaze had done a good job of cruising and comforting us. With iPod connectivity, I was pleased to connect my Apple smartphone for music, and not miss out on the joy of this road trip.

Next day we headed to the tip of India, which was about 14kms away from our hotel. The road ended a few kms before the tip and the only way to access it is by renting a seat in a 4x4 mini bus. This drives you to the tip through the beach, charging Rs 100 a person. There used to be a road and railway tracks almost till the tip, but it got destroyed in the cyclone in 1964, and it is a shame to know that our government hasn't taken any measures to restore the same road. There are also the remains of a small village with a railway station, which got destroyed in the same cyclone. This is the same tip, from where Ram's army marched into Lanka to get back Sita from the evil clutches of Ravana. The route was destroyed centuries ago. To our surprise, the water was clear and the sky was blue.

Soon, we got back into our cars and headed to our next destination Pondicherry that was a good 300 kms away. The road to Pondicherry was on the ECR. We crossed the bridge on the main India and stopped for lunch. There are several places serving authentic Chettinad food and if you are one affected by the Western civilisation do not forget to carry a spoon, as most of the places do not have one and what you are served are mountain heaps of rice.

Soon we headed on to ECR which wasn't that crowded and we were cruising at a speed of 80-90km/hr on this single lane highway. The Amaze had been a comfortable vehicle to drive and cruise in and the AC ensured sufficient cooling despite the hot sun and no window tints. Driving even at 35degC wasn't an issue. We decided to follow the maps and take the shorter route. The result was a state highway that was narrower, crowded and bumpy. Our average speed had taken a hit, soon we realised that ECR was the best route to take. But it was too late till then. However, soon we found an empty stretch and headed on the ECR.

A few kilometres before Chidambaram, the route was flooded with several buses, trucks and what not, coming at high beam. Not that we haven't seen people drive with brights, but these were intense enough to turn you blind or take away a fraction of your vision. Buses, trucks, vans, micro trucks all coming on with high-beamer and some pilgrimage walking people flash LEDs for their protection. Sometimes, even the LEDs couldn't be seen thanks to the bright head lamps of several vehicles heading in your direction. Probably, the second worst road after NH7 from Hyderabad to Vijaywada, where you lose your vision for a week if you drive at night. We made it into the French colony in Pondicherry, which was a big sigh of relief. Next day we headed to the French colony in the city and the buildings do remind us of Europe, the only factor that made the difference was the temperature.


Do visit Auroville, as this is where most of the French people stay and the place is extremely quiet. Also visit Tanto restaurant in Auroville that serves lip smacking European food and this is a treat for sea food lovers. Very soon, we got back on the ECR and headed in the direction to Chennai in under five hours we were in Chennai.

The Honda Amaze had been a great companion for this trip. Despite being compact, it was spacious and comfortable. The engine had sufficient power to overtake and even cruise. The drive was extremely relaxed and you never felt running out of steam. The boot was also large to gobble last sized bags and is the largest boot for a sub 4-metre sedan. We were truly amazed with this road trip.
Read More on : Honda Amaze
Was this article helpful ?
0 out of 0 found this helpful