7 Cars for 7 Decades of Indian Republic Days
Modified On Jan 25, 2016 03:49 PM By Manish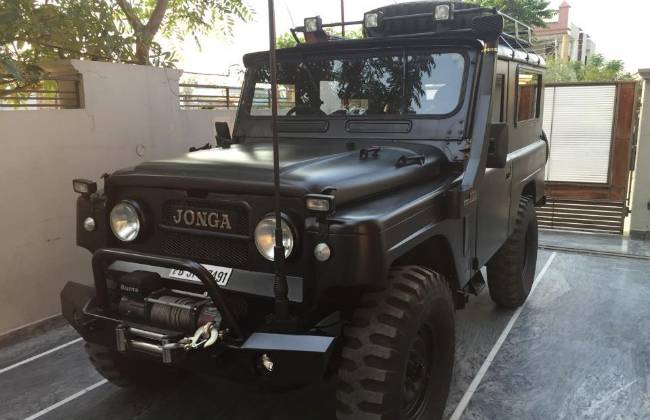 So, the 67th Republic Day is just around the corner and considering that we are in the 7th decade of our sovereignty, we have lined up seven car's that help defend our nation and can be owned by you. Even though, Republic Day is a celebration of the Indian constitution coming into effect, we have lined up cars that help defend our freedom rather than those used to ferry delegates of our constitution about. So, let's check them out.
Tata Sumo

One of the most accessible vehicles to get your hands on, which comes with a strong Indian Army lineage. The key to spotting the right model lies in one's attention for detail. Get a first generation Tata Sumo and a simple paint job will make you stand out of the crowd.
Maruti Gypsy

I am sure all of us at one point or another have spotted this particular mountain goat trotting along on the streets and damn the Gypsy looks good in every single one of its skins. Be it the snow or desert camouflage, the solid army green or the commanding officer's black, you can never go with this offroader.
Mahindra Striker

Now, this car was never actually used by the Indian army but was designed by the boffins back at Mahindra's customisation wing with an intent to be utilized by the Indian Army. Speaking of utility, Striker is based on "India's no. 1 SUV", the Mahindra Bolero. The modifications are not just skin deep and Striker, just like Indian Army never compromises. The wheelbase has been shortened and the power-to-weight ratio has been improved, so that our heroes have a ride which can tread anywhere, anytime and at any speed with ease.
Mahindra Jeep

No prizes for guessing this one, Mahindra's MM540 has been defending the nation's borders for ages now and has been fatigueless while doing so. The car can pretty much tackle any terrains, even overseas during its tenures of peace mission in United Nations. Our desi-Humvee also has a civilian cousin, which is available for you to pounce right out of the showroom, the Mahindra Thar.
HM Ambassador

The darker cousin of politician's favourite white retro-esque sedan undertakes the duty of making sure that Generals, DDSTs, Brigadiers, Commanding Officers amongst other important officers of Indian Army get top where they need to be and it does that with all the intimidation a car can muster. A true Dark Knight.
Jonga

If you don't know of this particular Indian army automotive hero, then forgiving your ignorance let me introduce you to the Jabalpur Ordnance aNd Guncarriage Assembly or the JONGA. The car was developed by Nissan and the car's sturdy and reliable work history is a testament to company's Japanese precision. The car is really hot in the customisation circuit because of its Urban tactical vehicle design and because its is substantially unknown. Thanks to its 4X4 drive type, it is also a favourite amongst off-roading fanatics.
Willys Jeep

Topping our list is this classic piece of Americana and ask yourself if you had to pick a side during the great war, wouldn't a Willys Jeep be enough motivation to join the Allies (other than the mass-genociding manic on the other side). There are still a few pieces of these automotive heroes probably lying around in the stables of Indian army but finding one, or procuring the same at an auction is getting rarer by the Day. So, you better start looking because this veteran has a lot of admirers.
Hope you liked this article, please leave your comments below and on behalf of the CarDekho team, I wish all of you out there a…
Very Happy Republic Day
Recommended Reads: Human Rights Day - United Nations' Hot Wheels with Indian Connection
Image Source: The Internet
Was this article helpful ?
0 out of 0 found this helpful