6 cool automobile brands that you can wear!
Modified On Oct 20, 2015 02:11 PM By Firdaus
If you're an auto nerd then besides having multiple vehicles, gadgets and a library of automobile books, the one thing you'll definitely sport is automobile merchandize. Yes, owing them puts you entirely in the league of cool, and that too at the head of the pack. Now the only thing that determines if you're the Tim Gunn of this league of cool is proportional to the amount of merchandize you possess. Right from tee-shirts, watches to sunglasses and luggage, if you have more than 3 of these pricey possessions, you're righteously in a position which commands respect.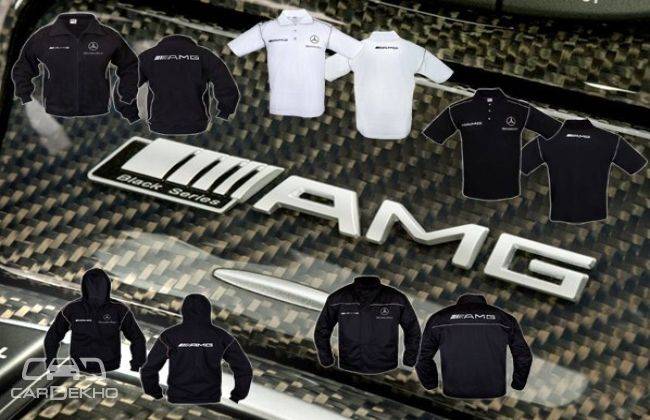 Also Read: The Top 5 Biggest Automotive Brands in World
If you're yearning to be in a similar spot, we list down for you six automobile brands whose merchandise you ought to have and which will make you the king of cool as well. The other good bit about these merchandize is that you can comfort yourself with these even if you don't own a car from these marquees. So here we go.
1. Lamborghini

Known as the daddy of cool, Lamborghini Automobili has an extensive list of merchandise that ranges from sophisticated to outright hot and outrageously expensive as well. Products from Lamborghini are equally sought after as their cars. Their range includes apparel, accessories and special editions which cover a huge plethora of apparel, phone and tablet covers, scale models, sweatshirts, cufflinks, belts, carbon fibre bags, luggage and writing instruments to name a few. Phew!
Given that we have a few Lamborghini official stores in the country (three to be precise) one can get their hands on some the above mentioned merchandise like tee-shirts, caps, writing instruments etc, but for the rest one will have to place an order at the store or make a purchase online, which will blow a hole in your pocket because the prices are either in dollars or Euros. Also not forgetting to mentione the customs tax that you'll have to pay once you decide to ship them from their place of origin, which makes their value almost double. What it also does is double up your bragging rights!
http://www.lamborghinistore.com/in_en/
2. Ferrari

Growing up the brand that almost every kid aspired for was a Ferrari. It has been a cult symbol for the longest time, and they cashed on this popularity bandwagon way before other automotive brands. Today one can easily source Ferrari merchandise at prominent stores in the country, ranging from perfumes and tee- shirts to bags and shoes; Ferrari offers its fan boys and girls a huge list of options to choose from. If tee-shirts, shoes and bags are what you fancy, then you get your hands on these at any of the Puma stores, since Ferrari has an official tie-up with the brand to retail their merchandise
http://store.ferrari.com/xa_en/?___store=in
http://in.puma.com/collections/ferrari.html
3. Porsche

Also Read: Top-5 Affordable Popular Cars in India That are Selling Across The Globe
The German bad boy, Porshce has a wicked collection of apparel and accessories which are understated yet never fail to make an impression. Right from watches, luggage to kids wear Porsche has something for every lover of this marquee. If you're looking for something on a budget, then you may invest in the sling bags and baseball caps, or even their mugs, but if you're looking at splurging then you can look at their leather jackets, watches, cycles and yeah, their cars! You'll be lucky if you find anything more than a tee-shirt and cap at their showrooms across the country, which makes possessing Porsche gear a task in itself.
http://shop2.porsche.com/germany/
4. Mercedes AMG Petronas

The Formula 1 wing of Mercedes-AMG, their Merchandise looks really cool, and who could imagine that a combination of grey-teal could look so swag! Merchandise from this house follows the same design theory the company applies on its F1 and road going cars – clean neat lines which look crisp and sharp. Yes, that is precisely how their apparel looks, and makes you look. Though getting your hands on all the Mercedes AMG-Petronas merchandise is a distant dream the one fathoms, you can manage to grab their caps from any of the Mercedes-Benz showrooms in the country; though this will also be aquest in itself. What one can also find at the Mercedes-Benz showrooms is the list of Mercedes-Benz merchandise, right from lapel pins and cufflinks to pens and scale models. So at least you won't be disheartened.
https://shop.mercedesamgf1.com/
5. McLaren

Think of McLaren merchandise and a suave looking image of Jenson Button pops into the mind. Yes, their gear looks as desirable as the man who is often spotted wearing them. Truth be told, Jenson Button looks hot, and with the McLaren apparel, he looks even hotter. There is just something about the way McLaren has played with the colour grey that makes their line stand a class apart. Unfortunately the only way you can lay your hands on McLaren apparel and merchandise is by shopping online from their store. Their stuff is expensive and by the time you get your hands on it, its value jumps notches higher!
http://www.mclarenstore.com/stores/mclaren/default.aspx
6. BMW motorsport

Who doesn't like the M badge? Everyone has their own interpretations of the M badge – maniacal, mind blowing, mind numbing, marvelous and magnificent. But what is stands for is motorsport! Yes, BMW's M badge is widely coveted in the automobiling circuit and their takers huge. No wonder the BMW stores in the country are always well stocked with all the cool stuff BMW has to offer. The best part about the BMW merchandise is that they are well priced, encouraging even an aspirant to make the splurge. BMW merchandise is also available at the Puma stores where they have a tie-up to sell BMW Motorsport shoes, tee-shirts, bags, wallets etc!
Also Read:
Was this article helpful ?
0 out of 0 found this helpful