First Indian to race the Prancing Horse across the world at the Ferrari Challenge European Championship
Published On Apr 17, 2015 07:40 PM By Parth Mahendra
"Gautam Singhania will be racing with the renowned Swiss Team Kessel racing and training under former Formula One Driver Andrea Motermini making the GHS Team strong this year."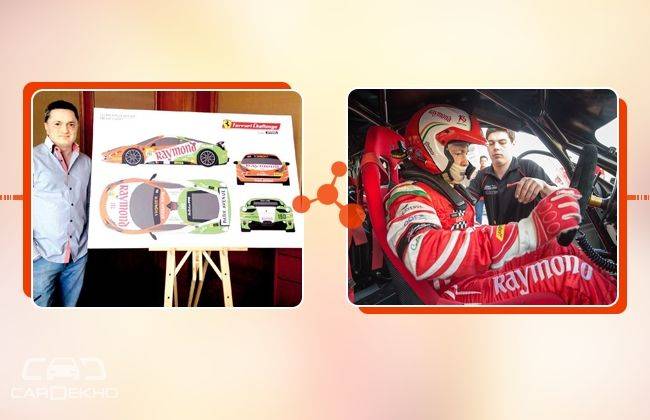 Gautam Singhania revealing customized livery of his Ferrari and the final preparations before the race
A keen motorsport enthusiast since his childhood, Gautam Hari Singhania, Chairman and Managing Director, Raymond Limited and Founder Chairman, Super Car Club, is all set to become the first Indian to race at the prestigious Ferrari event - Ferrari Challenge Europe Championship 2015, starting this month and will be endorsed by the Federation of Motor Sports Clubs of India (FMSCI). The entire season comprising in total of 15 races with two races a weekend, spread over six weekends mainly at Monza (ITALY), Imola (ITALY), Mugello (ITALY), Le Castellet (FRANCE), Valencia (SPAIN) and Budapest (HUNGARY). This culminates into to the world finals, consisting of three races in December 2015, where one race is together with the other two regions of Asia and N America. The gird will consist of about 40-50 cars like last year and there's sure to be some competitive racing that promises to be a great experience.
This year, Gautam Singhania has a different team and will race with the renowned Swiss Team named Kessel Racing that has registered numerous wins and an exhaustive experience under its belt. He has also signed up current GT driver and former F1 driver Andrea Motermini as his coach for the season.

Former Formula One Car and current GT Car Driver Andrea Motermini is signed to train Mr.Singhania for the Ferrari challenge European championship
Speaking about this milestone and the forthcoming series, Gautam Hari Singhania, Chairman & Managing Director, Raymond Limited said, "I am extremely thrilled to participate in the forthcoming full season championship and fully focused on the task at hand. It was a proud moment for me last year to get a podium finish in Abu Dhabi." He further added, "I have decided to race with Kessel Racing as it is a bigger team and their support could be much more valuable. With my recent racing success and steady improvement, this was the next logical step. I have also signed up with Andrea as my new coach and hope to benefit from his extensive racing experience. I am looking forward to some great racing weekends this year and have set my sights on the Championship and World Finals 2015."

Highly professional Swiss based Kessel Racing in action registering multiple wins in 2014
2014 has been a great year for Gautam Singhania as he participated in various prestigious racing tournaments across the world, most recently being the Ferrari Finali Mondiali in Abu Dhabi where he secured a podium finish in the Coppa Shell EU Race 2 category and NGK Racing Series at the Yas Marina Circuit wherein he bagged a double win.
Since 1993, Ferrari has been celebrating the end of its racing season with its now-legendary 'Finali Mondiali' that will witness competitors from United States, Asia-Pacific, and Europe series coming together. The Ferrari Challenge is a single-marque sport championship, and was earlier created for owners of the Ferrari 348 Berlinetta, who wanted to be involved in racing. (The Ferrari 348 (Type F119) is a mid-engined, rear-wheel-drive V8-powered 2-seat sports car). The Ferrari458 challenge series is a racing tournament that is a real treat for Ferrari fans, as this occasion is all set to showcase over 250 exotic and limited series Ferrari cars, thus providing four extraordinary days of excitement and spectacle.
Gautam Hari Singhania is a pioneering enthusiast in the Indian motorsport landscape. He is the co-founder of the Super Car Club (SCC), which has launched various activities to promote the popularity of these super machines including Ferrari, Lamborghini, Porsche, Bentley, Rolls-Royce, BMW and Mercedes in India. He has been successfully organizing the Parx Super Car Show for six years now, bringing together numerous super cars from across the country to a single venue for the city of Mumbai to view. The Club undertook a thrilling expedition to Leh-Ladakh in 2013 and Rajasthan Desert Escape in 2014.

SCC, under the leadership of Gautam Singhania, is promoting drifting as an auto sports in the country. He also unveiled India's first and only exclusive drifting car towards the end of 2013. The unveiling ceremony happened a few months after he emerged as the winner in the amateur category of the All Stars European Drift Championship held at Malta in September 2012. The event saw over 30 participants competing in an intense final which he won by the point difference of 2.5. Mr. Singhania also holds the record for being the only Asian and Indian to have participated and won.
Was this article helpful ?
0 out of 0 found this helpful