Maruti Ertiga 2015-2022
Change car
Rs.6.34 - 11.21 Lakh*
This car model has discontinued
Key Specs of Maruti Ertiga 2015-2022
| | |
| --- | --- |
| Engine | 1248 cc - 1498 cc |
| Power | 80.46 - 103.26 bhp |
| Mileage | 17.03 - 25.47 kmpl |
| Seating Capacity | 7 |
| Fuel | Diesel / Petrol / CNG |
| Transmission | Manual / Automatic |
Explore Price of Ertiga 2015-2022 Alternatives

Maruti Ertiga 2015-2022 price list (Variants)
Ertiga 2015-2022 BSIV LXI1373 cc, Manual, Petrol, 17.5 kmplDISCONTINUED
Rs.6.34 Lakh*
 
Ertiga 2015-2022 LXI Option1373 cc, Manual, Petrol, 17.5 kmplDISCONTINUED
Rs.6.73 Lakh*
 
Ertiga 2015-2022 LXI Petrol1462 cc, Manual, Petrol, 19.34 kmplDISCONTINUED
Rs.7.55 Lakh*
 
Ertiga 2015-2022 BSIV VXI1373 cc, Manual, Petrol, 17.5 kmplDISCONTINUED
Rs.7.66 Lakh*
 
Ertiga 2015-2022 VXI Limited Edition1373 cc, Manual, Petrol, 17.5 kmplDISCONTINUED
Rs.7.85 Lakh*
 
SHVS VDI Limited Edition1248 cc, Manual, Diesel, 24.52 kmplDISCONTINUED
Rs.8.10 Lakh*
 
Ertiga 2015-2022 LXI1462 cc, Manual, Petrol, 19.01 kmplDISCONTINUED
Rs.8.12 Lakh*
 
Ertiga 2015-2022 VXI Petrol1462 cc, Manual, Petrol, 19.34 kmplDISCONTINUED
Rs.8.17 Lakh*
 
Ertiga 2015-2022 BSIV ZXI1373 cc, Manual, Petrol, 17.5 kmplDISCONTINUED
Rs.8.27 Lakh*
 
Ertiga 2015-2022 VXI CNG1373 cc, Manual, CNG, 17.5 km/kgDISCONTINUED
Rs.8.27 Lakh*
 
Ertiga 2015-2022 Sport1462 cc, Manual, Petrol, 19.34 kmplDISCONTINUED
Rs.8.30 Lakh*
 
Ertiga 2015-2022 BSIV VXI AT1373 cc, Automatic, Petrol, 17.03 kmplDISCONTINUED
Rs.8.68 Lakh*
 
Ertiga 2015-2022 SHVS LDI1248 cc, Manual, Diesel, 24.52 kmplDISCONTINUED
Rs.8.79 Lakh*
 
Ertiga 2015-2022 LDI1248 cc, Manual, Diesel, 25.47 kmplDISCONTINUED
Rs.8.85 Lakh*
 
Ertiga 2015-2022 BSIV ZXI Plus1373 cc, Manual, Petrol, 17.5 kmplDISCONTINUED
Rs.8.85 Lakh*
 
Ertiga 2015-2022 SHVS LDI Option1248 cc, Manual, Diesel, 24.52 kmplDISCONTINUED
Rs.8.86 Lakh*
 
Ertiga 2015-2022 VXI1462 cc, Manual, Petrol, 19.01 kmplDISCONTINUED
Rs.8.93 Lakh*
 
Ertiga 2015-2022 CNG VXI BSIV1462 cc, Manual, CNG, 26.8 km/kgDISCONTINUED
Rs.8.95 Lakh*
 
Ertiga 2015-2022 VXI AT Petrol1462 cc, Automatic, Petrol, 18.69 kmplDISCONTINUED
Rs.9.19 Lakh*
 
Ertiga 2015-2022 ZXI Plus Petrol1462 cc, Manual, Petrol, 19.34 kmplDISCONTINUED
Rs.9.41 Lakh*
 
Ertiga 2015-2022 ZXI Petrol1462 cc, Manual, Petrol, 19.34 kmplDISCONTINUED
Rs.9.51 Lakh*
 
Ertiga 2015-2022 SHVS VDI1248 cc, Manual, Diesel, 24.52 kmplDISCONTINUED
Rs.9.58 Lakh*
 
Ertiga 2015-2022 ZXI1462 cc, Manual, Petrol, 19.01 kmplDISCONTINUED
Rs.9.65 Lakh*
 
Ertiga 2015-2022 VDI1248 cc, Manual, Diesel, 25.47 kmplDISCONTINUED
Rs.9.87 Lakh*
 
Ertiga 2015-2022 1.5 VDI1498 cc, Manual, Diesel, 24.2 kmplDISCONTINUED
Rs.9.87 Lakh*
 
Ertiga 2015-2022 CNG VXI1462 cc, Manual, CNG, 26.08 km/kgDISCONTINUED
Rs.9.88 Lakh*
 
Ertiga 2015-2022 SHVS ZDI1248 cc, Manual, Diesel, 24.52 kmplDISCONTINUED
Rs.9.95 Lakh*
 
Ertiga 2015-2022 ZXI AT Petrol1462 cc, Automatic, Petrol, 18.69 kmplDISCONTINUED
Rs.9.96 Lakh*
 
Ertiga 2015-2022 VXI AT1462 cc, Automatic, Petrol, 17.99 kmplDISCONTINUED
Rs.10.12 Lakh*
 
Ertiga 2015-2022 ZXI Plus1462 cc, Manual, Petrol, 19.01 kmplDISCONTINUED
Rs.10.14 Lakh*
 
Ertiga 2015-2022 SHVS ZDI Plus1248 cc, Manual, Diesel, 24.52 kmplDISCONTINUED
Rs.10.69 Lakh*
 
Ertiga 2015-2022 1.5 ZDI1498 cc, Manual, Diesel, 24.2 kmplDISCONTINUED
Rs.10.70 Lakh*
 
Ertiga 2015-2022 ZDI1248 cc, Manual, Diesel, 25.47 kmplDISCONTINUED
Rs.10.70 Lakh*
 
Ertiga 2015-2022 ZXI AT1462 cc, Automatic, Petrol, 17.99 kmplDISCONTINUED
Rs.10.86 Lakh*
 
Ertiga 2015-2022 1.5 ZDI Plus1498 cc, Manual, Diesel, 24.2 kmplDISCONTINUED
Rs.11.21 Lakh*
 
Ertiga 2015-2022 ZDI Plus1248 cc, Manual, Diesel, 25.47 kmplDISCONTINUED
Rs.11.21 Lakh*
 
View All Variants
Maruti Suzuki Ertiga 2015-2022 Review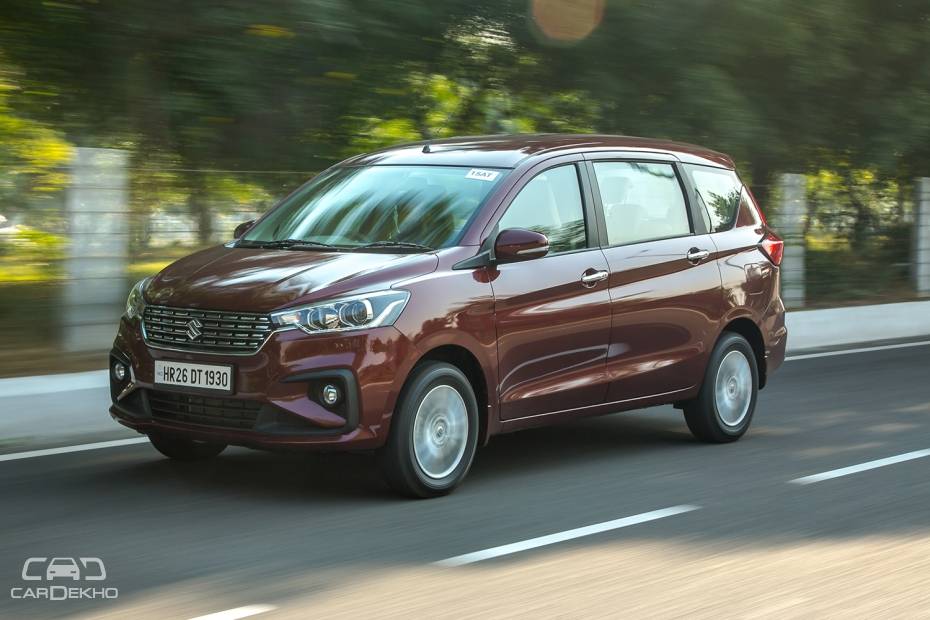 The first-gen Maruti Suzuki Ertiga was a sensible car. It was compact yet could seat seven people. It was priced attractively but never felt made-to-a-budget. It had its fair share of shortcomings too: limited boot space and cramped third row being the most prominent ones. But were these real deal-breakers? Or was it the fact that it looked like a vehicle that a lot of us didn't want to be seen driving?
Even before we drive it, we can say that the new Ertiga is better than the first generation Ertiga in more than one aspect. It's longer and wider on the outside and roomier on the inside. It's got a more powerful and yet a more fuel-efficient petrol engine, and a new platform that's stiffer which makes it lighter. It's got more features, too, and is still priced sensibly.
But is it also desirable? Or does it still appeal to the brains and not the hearts? We spend a few hours with it to answer these tricky questions.
Exterior

On the road, the new Ertiga grabs more attention than the first generation model. The heavy usage of chrome on the front grille might not be to everyone's liking, but it certainly makes the new Ertiga eye-catchy. The busy design of the bumper and headlamps further make the front look striking. Daytime running lights, whether integrated within the headlamps or on the front bumper, would have added a touch of modernity and given it a premium feel. Hopefully, aftermarket kits will be able to cater to these needs.
Unlike the front, which might polarize opinions, the rear will appeal to most. The three-part tail lamps with LED lights climb on to the D-pillar and look stylish. Sharp creases on the boot lid that extend to the bumper make the rear look crisp. The Ertiga has gained 40mm in width, but it isn't noticeable unless both the first- and second-gen models are placed side-by-side.
| | | |
| --- | --- | --- |
| Dimensions | Ertiga Old | Ertiga New |
| Length | 4296mm | 4395mm (+99mm) |
| Width | 1695mm | 1735mm (+40mm) |
| Height | 1685mm | 1690mm (+5mm) |
| Wheelbase | 2740mm | 2740mm |
| Tyres | 185/65 R15 | 185/65 R15 |
| Ground Clearance | 185mm | 180mm |
A thick shoulder line runs from the front fender to the tail lamps and cuts some bulk of the big doors. The floating roofline adds a modern touch to the design. 15-inch multi-spoke alloy wheels look similar to the ones on the Indonesia-spec Ertiga and, in my personal opinion, do not do justice to the otherwise striking front and smart rear. The new Ertiga measures 4395mm in length, which is 99mm more than the outgoing model. And it does look longer, especially when you look past the C-pillar.

New Ertiga's colour palette has five options to choose from -- Auburn Red (maroon), Oxford Blue (same as the Dzire's blue), Magma Grey (same as the Dzire's grey), Silky Silver (same as the Dzire's silver) and Pearl Arctic White (same as the Dzire's white). Dark colours like black, brown or even the Swift's Midnight Blue might have made the Ertiga look more appealing. Given the choice, we'd get the Oxford Blue or Magma Grey shades, in which, the new Ertiga looks particularly classy.
Interestingly, Suzuki has showcased a sportier looking variant of the MPV in Indonesia, named the Ertiga GT. While this model receives no performance enhancements, it gets different styling highlights like a black mesh grille, a sharper set of bumpers with a diffuser up front, black alloy wheels, red accents and a GT badge at the rear. This version certainly looks cooler than the standard car and is the equivalent of what Honda offered with the Mobilio RS. However, India is unlikely to get this version.
Interior

Despite being 40mm wider than the first-gen Ertiga, the new version feels compact from the driver's seat, and that's not surprising since it's only as wide as the new Dzire. That makes driving the new Ertiga in the city as easy as the Swift or the Dzire. Drivers also get the advantage of having a fairly high-up and commanding driving position, making judgement that little bit easier.

It's heartening to finally see the Ertiga getting a different dashboard design compared to the Swift or the Dzire. Not only does that give the MPV its own identity, but it also puts it in consideration for buyers upgrading within the Maruti family. Previously, a similar dashboard with different colours meant that the interior environment of the Swift, Dzire and the Ertiga was more or less the same.

While the design of the layered dashboard looks upmarket together with the flat-bottom steering wheel, it doesn't feel a step-up from the older Ertiga as far as quality of plastics is concerned. Add to it the fact that you can identify some parts like power windows being carried over, and you do feel you're sitting in an improved Ertiga but one that hasn't taken a huge leap forward.

The Ertiga, even in its first generation, offered one of the better back seats (middle row) in the price range. There was ample legroom and headroom and the positioning of air vents on the roof was also perfect. With Maruti Suzuki not lengthening the wheelbase, the feel in the second row of the new and old Ertiga is very similar, the only minor difference being a larger storage space in the door handle on each door that can stow a modern smartphone.
However, some dimensional changes have had a positive impact. The second row shoulder room, for example, has gone up by 30mm. Coupled with a full 50mm increase in seat base width, the new Ertiga offers better supports for all three second row occupants. Even the headroom has increased by 10mm. Aside from adding comfort for middle row occupants, this also helps third row occupants get a less hemmed in view while looking ahead.

Head into the third row and you immediately notice that there's more space for full-sized adults. The minimum knee room has increased from 550mm to 610mm but the maximum travel knee room has been limited to 725mm from the earlier 780mm by keeping the middle row travel range in check. Simply put, even with the second row pulled all the way back, there's more knee room for third row passengers. Push the middle row all the way back and there's some space between the third and second row for your legs; this was not the case before. There's also adequate foot room in the last row, aiding comfort further. Adjusting the middle row (slide and recline) appropriately would mean that even an adult would be relatively comfortable in the third row in intercity commute.

Additionally, the third row gets three levels of backrest recline, helping make the boot more usable. The maximum recline position is the most comfortable for rear seat passengers, but switching to the most upright position gives you a bit more luggage space, which can be particularly useful when cramming bags or just making enough space for the boot to close with a trolley bag at the back. The most upright position means a near-perpendicular seatback. Overall, though, the new Ertiga offers a major leap ahead in practicality. With 209-803 litres of boot space available, it can now hold two large trolley bags with a full passenger load or help you move house with all the seat rows folded. The boot floor is evenly split and can be moved to reveal a deep recess, opening up more room for storage.
Safety
The new Ertiga is available with dual front airbags, ABS, EBD, Isofix child seat mounts and front seatbelt pretensioners with load limiters as standard. With those features ticked, it meets the minimum requirement for us to recommend it to buyers in any variant. Features like speed-sensitive auto door lock and central locking are also standard. The variants with automatic transmission get ESP and hill hold feature.
Performance

The new Ertiga is based on Suzuki's Heartect platform, which Maruti says is more rigid yet lightweight than the previous platform. The new platform is the same one that underpins the current Dzire, Swift, Ignis and even the new WagonR. There is a noticeable improvement in the way the Ertiga maintains a straight line on highways at higher speeds, and one of the reasons for it could be the new chassis. While the Ertiga does feel as easy to drive as a regular hatchback or sedan thanks to its light controls, through the corners, use caution. This is a big and tall MPV and has the body roll you'd expect from something of this stature. In hilly-areas with twisty roads, it's best to drive in a relaxed manner or risk making your passengers car sick.

A major highlight of the new Ertiga though, is the ride quality. There is a firmness in the suspension setup compared to the older version, but it's just enough to not make the ride bumpy. The car settles down quickly after negotiating a bad patch and that should keep third-row occupants more happy in the new Ertiga than in the older model. It's also good to see the suspension (front) not crashing when hitting a big pothole the way it did in the first-gen model. So you can drive over small speed breakers, potholes and rough patches at low to medium speeds without unsettling the cabin.
What's even better? The ride stays equally planted at highway speeds exceeding 100kmph. A pleasant surprise is how the Ertiga brushes off badly made expansion joints (like on certain sections of the Mumbai-Pune Expressway) without losing composure. So the ride and handling mannerisms are consistent. There's also strong braking performance on offer, with the car taking 44.49 metres to go from 100-0kmph. That's less than a metre more than the Mahindra Marazzo that not only gets all wheel disc brakes but also has wider tyre tread.

Apart from the new platform, the Ertiga also benefits from a new petrol engine - a 1.5-litre unit that's also accompanied with SHVS mild-hybrid technology. The engine is more powerful than the outgoing 1.4-litre unit by 13PS and makes 8Nm more torque. The increase in torque is not substantial on paper, but on the road it showcases a positive intent to lunge forward as soon as you leave your foot off the clutch. The availability of more torque throughout the range is also noticeable, making it better to drive with a full passenger load.
The older engine felt underpowered when going uphill with a full load of passengers, while this one is adequately powered. To clarify, this doesn't mean it's ideal for the hills. The power/torque output increase isn't massive and with 30-80kmph (third gear) taking over 9 seconds, acceleration for overtakes isn't brisk. You will still have to plan them, especially while driving with seven on board. The meat of the Ertiga's muscle is between 4400-6000rpm, and because of the tall gearing, the engine doesn't build up the revs very quickly.

What we really like about the Ertiga petrol is how usable it is in multiple drive conditions. Easy as it is to drive in the city, it's also a very relaxed highway tourer. Sit at 80-100kmph and it'll happily munch mile after mile, which is important. Several Ertiga buyers aren't necessarily buying it to use seven seats all the time but want something that'll be a good partner for road trips, which is why Maruti Suzuki really should've offered cruise control.
| | |
| --- | --- |
| Maruti Ertiga Petrol MT | Test Results |
| 0-100kmph | 12 seconds |
| 30-80kmph (3rd gear) | 9.25 seconds |
| 40-100kmph (4th gear) | 15.98 seconds |
In our tests, the Ertiga petrol manual managed to deliver 13.40kmpl in the city and 16.03kmpl on the highway. Given that this is a fairly large people mover, these are strong mileage figures. With a fuel tank capacity of 45 litres, you can get a tank range of around 600-700km, depending on the driving conditions. However, we must note that these figures are only with the driver on board and they will drop with a full passenger load or in really heavy traffic.
The engine feels more lively with the 5-speed manual transmission than with the 4-speed automatic unit, which is a torque converter. The automatic transmission is more suited for relaxed and not spirited driving. It takes its own sweet time to respond (change gears) to accelerator inputs, so overtaking manoeuvres will require a bit of planning. Claimed fuel efficiency for the more powerful petrol engine is more than the 1.4-litre, 92PS engine, and that could be down to the mild-hybrid technology.
| | | |
| --- | --- | --- |
| Petrol | Ertiga Old | Ertiga New |
| Engine | 1.4-litre | 1.5-litre |
| Power | 92PS @ 6000rpm | 105PS @ 6000rpm (+13PS) |
| Torque | 130Nm @ 4000rpm | 138Nm @ 4400rpm (+8Nm) |
| Transmission | 5MT/4AT | 5MT/4AT |
| Claimed FE | 17.50kmpl / 17.03kmpl | 19.34kmpl / 18.69kmpl |
| Diesel | Ertiga Old | Ertiga New |
| Engine | 1.3-litre | 1.3-litre |
| Power | 90PS @ 4000rpm | 90PS @ 4000rpm |
| Torque | 200Nm @ 1750 | 200Nm @ 1750 |
| Transmission | 5MT | 5MT |
| Claimed FE | 24.52kmpl | 25.47kmpl |
Variants
The new Ertiga is available in four variants (L, V, Z and Z+) with both petrol and diesel engines with a manual transmission. An automatic transmission is also on offer, but with the 1.5-litre petrol engine only. The petrol-automatic powertrain can be had in V and Z variants only. For all the features that it gets, the new Ertiga's base variant appears to be priced sensibly, although we would have liked the prices to be closer to the Rs 7 lakh mark for the LXi variant (it was launched at Rs 7.44 lakh, ex-showroom Delhi). Other than the L variant, it's the Z variant that offers good value for money.
Verdict
Buying the Maruti Suzuki Ertiga is a decision you make with your head. While this Ertiga is a brand new generation, the experience remains very similar. The cabin quality, for one, doesn't see a significant change so it does feel acceptable, but nothing more. It also has the same powertrain options as before, though, the petrol SHVS improves driveability, particularly in city and on inclines.
What has changed is that it looks a little sharper, works a lot better as a 7-seater and while it always was very car-like to drive, the new version does even better in this aspect with its improved ride quality.
Pros & Cons of Maruti Ertiga 2015-2022 Car
CarDekho Experts:
The new Ertiga is striking from the front and stylish at the rear and that is what will make some of us, if not all, fall in LUV with it finally!
Things We Like
Ride quality: Goes over road uncertainties with more confidence and doesn't crash into potholes
Compact: Only as wide as the Dzire, easy to drive in city
Practical: 60:40 split second row, 50:50 split third row allows multiple seating and storage options
Petrol engine: One of the more affordable petrol-powered MPVs. The petrol engine is also quite fuel efficient, rated at over 19kmpl with the manual transmission
Things We Don't Like
Missing features - Cruise control, auto-up driver window, auto-headlamps/auto-wipers, steering reach adjustment. No 4 or 6 airbag option either.
No AC vents for third row: Roof-mounted air vents ahead of the second row only, no separate air-con vents for third row
Not a premium 7-seater. Overall quality is good but rivals like the Mahindra Marazzo do better.
No diesel automatic. A diesel AMT option like the Vitara Brezza would've added a big dose of convenience.
Stand Out Features
Flat-bottom steering wheel: The only MPV in the affordable space to get one; looks sporty.

SmartPlay infotainment system with navigation: Includes multiple connectivity options like Apple CarPlay and Android Auto for smartphone pairing.

Flexible boot storage: Third-row seats are 50:50 split, can recline and fold as well to offer varying luggage space.
Specification of Maruti Ertiga 2015-2022
| | |
| --- | --- |
| ARAI Mileage | 25.47 kmpl |
| Fuel Type | Diesel |
| Engine Displacement (cc) | 1248 |
| No. of cylinder | 4 |
| Max Power (bhp@rpm) | 88.50bhp@4000rpm |
| Max Torque (nm@rpm) | 200Nm@1750rpm |
| Seating Capacity | 7 |
| Transmission Type | Manual |
| Fuel Tank Capacity (Litres) | 45 |
| Body Type | MUV |
Maruti Ertiga 2015-2022 Car News & Updates
Latest News
Must Read Articles
Maruti Ertiga 2015-2022 User Reviews
Based on
1110 User reviews
All (1110)
Looks (282)
Comfort (397)
Mileage (343)
Engine (159)
Interior (130)
Space (197)
Price (174)
More ...
LATEST
HELPFUL
VERIFIED
CRITICAL
The car is useless because it consumes more fuel than XL6. The good thing about the car is that it h...Read More

Ertiga was the best family car in this segment and the mileage was awesome. I really liked the ...Read More

It is a very good fuel-efficient car, good in performance, quality should improve, low mai...Read More

The car is good it comes with an extensive look. The best SUV, if want to have a good car with ...Read More

I have used this car for 4 years from that experience I can say the car is really good for an Indian...Read More

View All Ertiga 2015-2022 Reviews
Maruti Ertiga 2015-2022 Car Latest Update
Latest Update: Maruti has opened bookings for the facelifted Ertiga.
Maruti Ertiga Price: The MPV is priced from Rs 8.12 lakh to Rs 10.85 lakh (ex-showroom Delhi).
Maruti Ertiga Variants: It is sold in four trims: LXi, VXi, ZXi, and ZXi+.
Maruti Ertiga Seating Capacity: It can carry up to seven occupants.
Maruti Ertiga Engine and Transmission: Maruti has equipped the Ertiga with a 1.5-litre petrol engine (105PS/138Nm), coupled with both a standard 5-speed manual and a 4-speed torque converter. The CNG-petrol variant uses the same 1.5-litre petrol engine but without the mild-hybrid tech. It has a claimed efficiency of 26.08km/kg but the performance drops to 92PS and 122Nm. The petrol engine with the MT and AT options has a claimed efficiency of 19.01kmpl and 17.99kmpl, respectively.
Maruti Ertiga Features: It comes with projector headlights, fog lamps, LED tail lamps, 15-inch wheels, a 7-inch infotainment system with Android Auto and CarPlay, and push-button start/stop. The Ertiga also gets ventilated front cup holders, auto climate control with rear AC vents, and a reverse parking camera.
Maruti Ertiga Safety: Passenger safety is covered by dual front airbags, ABS with EBD, ISOFIX child seat anchors, and reverse parking sensors. Limited to the automatic variant, it also comes equipped with ESP and hill hold assist.
Maruti Ertiga Rivals: Maruti's 7-seater MPV rivals the Toyota Innova Crysta, Kia Carens, and Mahindra Marazzo.
Read More
Maruti Ertiga 2015-2022 Videos
Maruti Ertiga 2015-2022 2023 has 5 videos of its detailed review, pros & cons, comparison & variant explained, test drive experience, features, specs, interior & exterior details and more. Watch our Latest Hindi video of Maruti Ertiga 2015-2022 to know price, safety features & more.
10:4

2018 Maruti Suzuki Ertiga Review | Sense Gets Snazzier! | Zigwheels.com

Nov 24, 2018 | 16274 Views

6:4

2018 Maruti Suzuki Ertiga Pros, Cons & Should You Buy One?

Dec 12, 2018 | 52201 Views

9:33

Maruti Suzuki Ertiga : What you really need to know : PowerDrift

Nov 25, 2018 | 14183 Views

2:8

Maruti Suzuki Ertiga 1.5 Diesel | Specs, Features, Prices and More! #In2Mins

May 03, 2019 | 61587 Views

8:34

2018 Maruti Suzuki Ertiga | First look | ZigWheels.com

Nov 22, 2018 | 136 Views
Maruti Suzuki Ertiga 2015-2022 Images

Maruti Suzuki Ertiga 2015-2022 Mileage
The claimed ARAI mileage: Maruti Ertiga 2015-2022 Diesel is 25.47 kmpl . Maruti Ertiga 2015-2022 Petrol variant has a mileage of 19.34 kmpl . Maruti Ertiga 2015-2022 CNG variant has a mileage of 26.8 km/kg.The claimed ARAI mileage for the automatic variants: Maruti Ertiga 2015-2022 Petrol is 18.69 kmpl.
| Fuel Type | Transmission | ARAI Mileage |
| --- | --- | --- |
| Diesel | Manual | 25.47 kmpl |
| Petrol | Manual | 19.34 kmpl |
| Petrol | Automatic | 18.69 kmpl |
| CNG | Manual | 26.8 km/kg |
Found what you were looking for?
Maruti Ertiga 2015-2022 Road Test

Are you Confused?
Ask anything & get answer in 48 hours
*Ex-showroom price in New Delhi
×
We need your city to customize your experience