Key Specs of Volkswagen Ameo
| | |
| --- | --- |
| Mileage (upto) | 22.0 kmpl |
| Engine (upto) | 1498 cc |
| BHP | 108.62 |
| Transmission | Manual/Automatic |
| Boot Space | 330-litres |
| Airbags | yes |
Second Hand Volkswagen Ameo Cars in New Delhi
Explore Price of Ameo Alternatives

Ex-showroom price in New Delhi
1.2 MPI Trendline1198 cc, Manual, Petrol, 17.0 kmplEXPIRED
Rs.5.32 Lakh*
 
1.2 MPI Anniversary Edition1198 cc, Manual, Petrol, 17.0 kmplEXPIRED
Rs.5.89 Lakh*
 
1.0 MPI Trendline999 cc, Manual, Petrol, 19.44 kmplEXPIRED
Rs.5.94 Lakh*
 
1.2 MPI Comfortline1198 cc, Manual, Petrol, 17.0 kmplEXPIRED
Rs.6.00 Lakh*
 
Cup Edition Comfortline999 cc, Manual, Petrol, 19.44 kmplEXPIRED
Rs.6.19 Lakh*
 
1.2 MPI Comfortline Plus1198 cc, Manual, Petrol, 17.0 kmplEXPIRED
Rs.6.34 Lakh*
 
1.0 MPI Comfortline Plus999 cc, Manual, Petrol, 19.44 kmplEXPIRED
Rs.6.44 Lakh*
 
1.0 MPI Comfortline999 cc, Manual, Petrol, 19.44 kmplEXPIRED
Rs.6.65 Lakh*
 
1.0 MPI Corporate Edition999 cc, Manual, Petrol, 19.44 kmplEXPIRED
Rs.6.69 Lakh*
 
1.5 TDI Trendline1498 cc, Manual, Diesel, 21.66 kmplEXPIRED
Rs.7.11 Lakh*
 
1.0 MPI Highline999 cc, Manual, Petrol, 19.44 kmplEXPIRED
Rs.7.15 Lakh*
 
1.2 MPI Highline1198 cc, Manual, Petrol, 17.0 kmplEXPIRED
Rs.7.27 Lakh*
 
1.2 MPI Highline Plus1198 cc, Manual, Petrol, 17.0 kmplEXPIRED
Rs.7.35 Lakh*
 
1.2 MPI Highline 16 Alloy1198 cc, Manual, Petrol, 17.0 kmplEXPIRED
Rs.7.45 Lakh*
 
1.2 MPI Highline Plus 161198 cc, Manual, Petrol, 17.0 kmplEXPIRED
Rs.7.45 Lakh*
 
1.5 TDI Comfortline Plus1498 cc, Manual, Diesel, 21.66 kmplEXPIRED
Rs.7.78 Lakh*
 
1.5 TDI Corporate Edition1498 cc, Manual, Diesel, 21.66 kmplEXPIRED
Rs.7.99 Lakh*
 
1.0 MPI Highline Plus999 cc, Manual, Petrol, 19.44 kmplEXPIRED
Rs.7.99 Lakh*
 
1.5 TDI Comfortline1498 cc, Manual, Diesel, 21.66 kmplEXPIRED
Rs.8.10 Lakh*
 
1.5 TDI Comfortline AT1498 cc, Automatic, Diesel, 22.0 kmplEXPIRED
Rs.8.50 Lakh*
 
1.5 TDI Highline1498 cc, Manual, Diesel, 21.66 kmplEXPIRED
Rs.8.51 Lakh*
 
1.5 TDI Highline 16 Alloy1498 cc, Manual, Diesel, 22.0 kmplEXPIRED
Rs.8.69 Lakh*
 
1.5 TDI Highline Plus 161498 cc, Manual, Diesel, 21.66 kmplEXPIRED
Rs.8.88 Lakh*
 
1.5 TDI Comfortline Plus AT1498 cc, Automatic, Diesel, 21.73 kmplEXPIRED
Rs.9.08 Lakh*
 
1.5 TDI Highline Plus1498 cc, Manual, Diesel, 21.66 kmplEXPIRED
Rs.9.25 Lakh*
 
1.5 TDI Highline AT1498 cc, Automatic, Diesel, 22.0 kmplEXPIRED
Rs.9.31 Lakh*
 
GT 1.5 TDI1498 cc, Manual, Diesel, 21.66 kmplEXPIRED
Rs.9.90 Lakh*
 
1.5 TDI Highline AT 16 Alloy1498 cc, Automatic, Diesel, 22.0 kmplEXPIRED
Rs.9.99 Lakh*
 
1.5 TDI Highline Plus AT1498 cc, Automatic, Diesel, 22.0 kmplEXPIRED
Rs.9.99 Lakh*
 
1.5 TDI Highline Plus 16 AT1498 cc, Automatic, Diesel, 21.73 kmplEXPIRED
Rs.9.99 Lakh*
 
View All Variants
Volkswagen Ameo Review
Volkswagen seems to have gotten most of the things right with its debutante entrant in the compact sedan segment. The Ameo can easily outsell its rivals when it comes to features. Volkswagen has loaded it to the brim. Even mechanically it comes with one of the best engine and transmission options.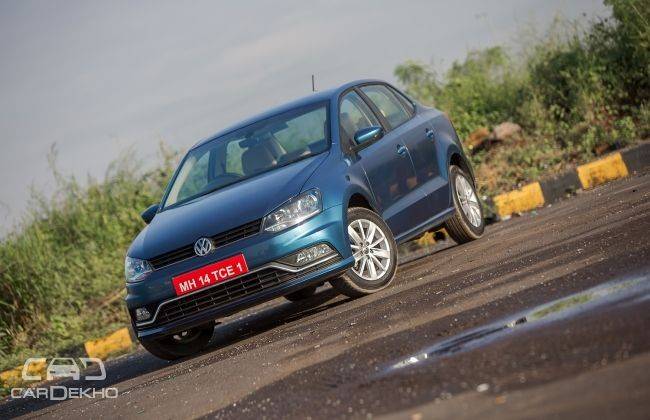 The Ameo is not a boot-pasted Polo. With the kind of built quality on offer along with potent engines under its hood, this sub-compact sedan from Volkswagen does stand out. Yes, it does reflect Polo's identity but that again is not a bad thing at all.
Considering its competitive price-point with regards to the several class-leading features on offer, it makes its own identity in this mass-runner segment. Ameo offers a solution to buyers who are looking to upgrade to a car that offers a premium look and feel at a price point that doesn't put a big hole into their pockets.
Exterior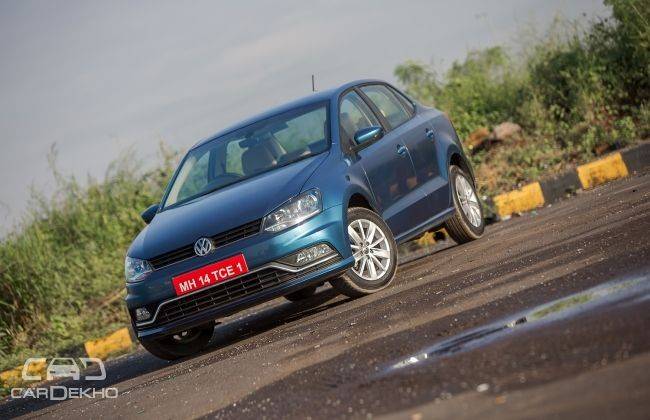 It is hard to differentiate between the Polo and the Ameo, especially if you're looking at the front profile. Although, its sub-4m dimensions allows it to qualify for fewer taxes, makes the car look disproportionate from certain angles. The same applies to the entire segment the Ameo belongs to.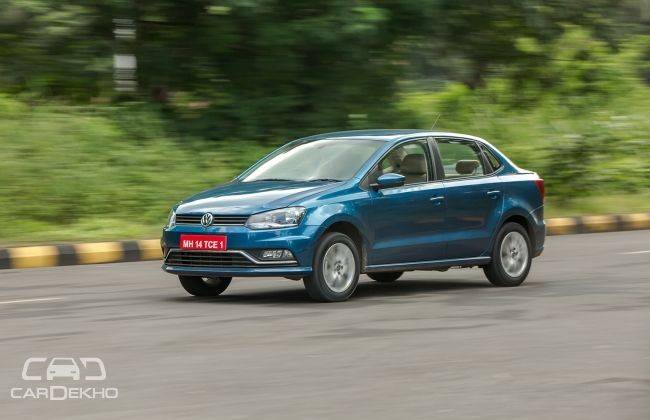 As mentioned above, the front is a carbon copy of the Polo hatchback and there's nothing you have not seen before. To begin with, it features dual-barrel halogen headlamps and multi-slat grille. The re-styled front bumper which was offered with the Polo facelift has been lifted and now is also featured in the Ameo. The bumper comes with a chrome strip which runs along its length and the fog lamps come with static cornering lights.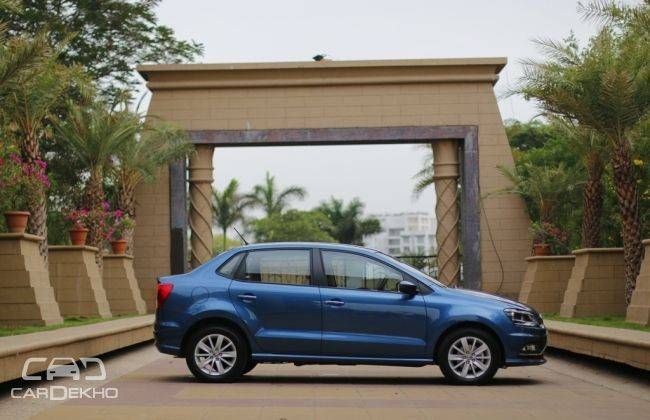 Like the front fascia, the side profile is also similar to the Polo, up until the C-pillar. Things start to differ after the C-pillar as the company has incorporated a boot. Furthermore, the production-spec Ameo features 15-inch alloy wheels, which are borrowed from the Polo — unlike the 16-inchers which were shown at the time of its debut.
Exterior Comparison
Maruti Dzire
Volkswagen Ameo
Length (mm)
3995mm
3995mm
Width (mm)
1735mm
1682mm
Height (mm)
1515mm
1483mm
Ground Clearance (mm)
163mm
Wheel Base (mm)
2450mm
2470mm
Kerb Weight (kg)
880-915Kg
1069kg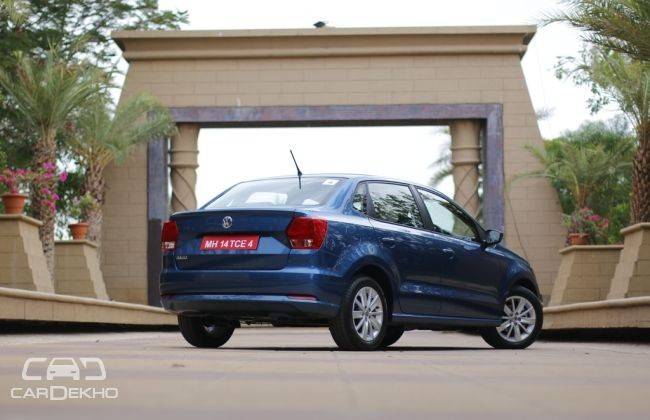 %exteriorquote%
Compact sedans do have a stubby boot and this in-turn makes them look disproportionately from certain angles. There are good and bad examples but no one has certainly perfected the art of incorporating a boot in restricted dimensions. The Ameo is no exception either!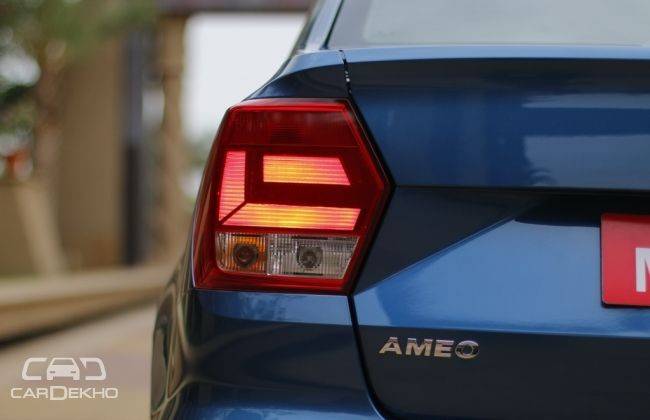 On the brighter side, you do get an integrated spoiler and faux-LED graphics in the taillamps much like the Polo and the Vento.
Boot Space Comparison
Maruti Dzire
Volkswagen Ameo
Volume
378
330
Interior
Sit inside and you just cannot differentiate among the three cars — the Polo, the Vento and the Ameo. Almost the entire feature list is same, along with dashboard layout.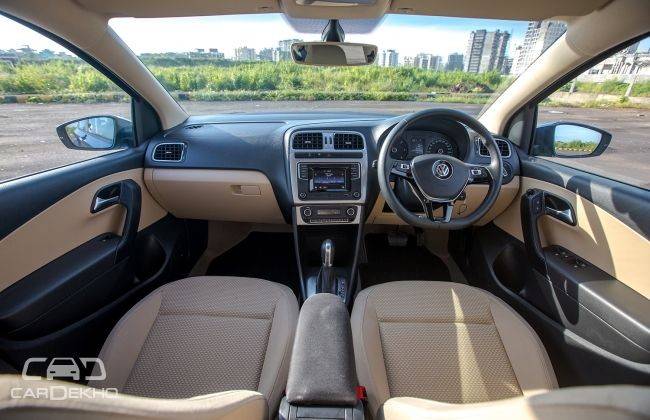 The overall design of the dashboard is not as flamboyant as you find with its peers, but it feels like the dash is built to last. The Ameo has received the flat-bottom leather-wrapped steering wheel with piano black inserts, which is also offered with the Polo and the Vento.
%interiorquote%
The Ameo's highlight would be the new touchscreen infotainment system. Like any other of its kind, the system offers a host of connectivity options — Bluetooth connectivity, AUX-in, USB and also offers a screen for the reverse parking camera. Besides this, you even get segment-first MirrorLink support.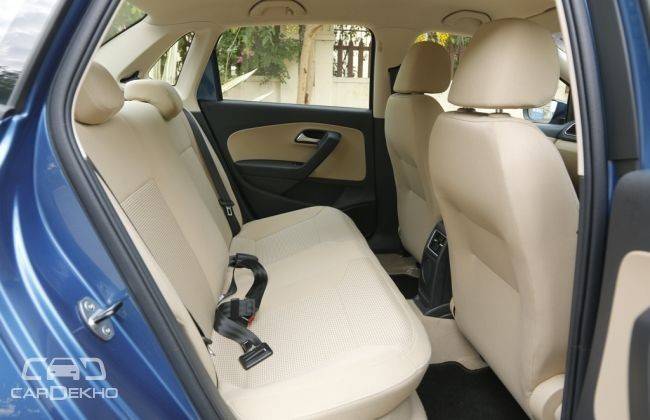 Speaking of the rear cabin, Volkswagen has used the Polo's underpinnings and not the stretched version which the Vento uses.The space inside the Ameo is decent as compared to the Polo's, which is not known of its rear legroom. However, Volkswagen has managed to make minor changes to the seat to make the rear of the car more accommodating than its hatch sibling .
Performance
1.2L Petrol
The Ameo will be powered by a 1.2-litre MPI naturally aspirated petrol and a 1.5-litre TDI turbo diesel. Transmission options include a standard 5-speed manual, while the diesel will also come with a 7-speed DSG dual-clutch automatic transmission option.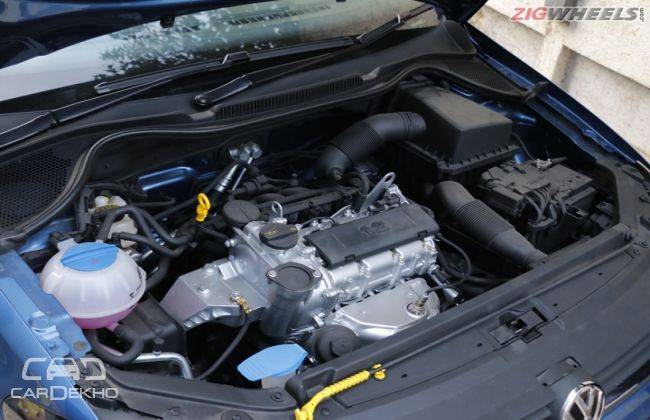 The 1.2-litre unit in the Ameo churns out 75PS and 110Nm of peak torque, while the diesel is expected to put out 90PS and 230NM of max torque. The diesel powered Ameo's specs have not been revealed by the automaker, however, it is said to get the updated 1.5-litre TDI oil burner. Initially, the German automaker has only introduced the 1.2-litre petrol.
Performance Comparison (Petrol)
Volkswagen Ameo
Maruti Dzire
Power
73.75bhp@5400rpm
88.50bhp@6000rpm
Torque (Nm)
110Nm@3750rpm
113nm@4400rpm
Engine Displacement (cc)
1198 cc
1197 cc
Transmission
Manual
Manual
Top Speed (kmph)
0-100 Acceleration (sec)
Kerb Weight (kg)
1069kg
880-915Kg
Fuel Efficiency (ARAI)
17.0kmpl
23.26kmpl
Power Weight Ratio
68.98bhp/ton
-
This petrol engine doesn't offer neck-snapping acceleration and frankly it's not meant to do so either. However, it does offer a certain level of refinement but the low-end delivery is not as smooth as you would expect. It does require constant throttle inputs especially when you perform an overtaking manoeuvre or if you are at an incline.
Diesel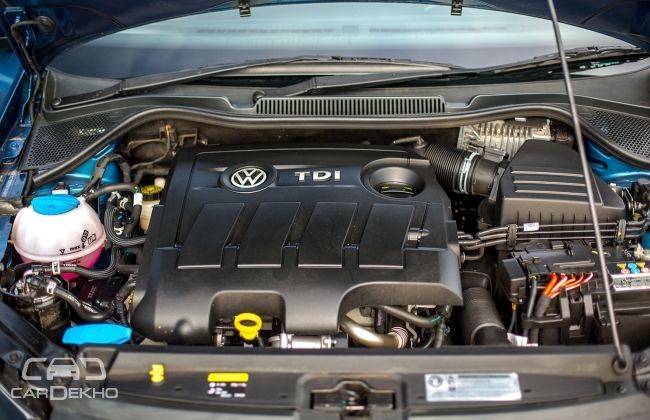 The diesel Ameo is poles apart compared to the petrol variant. Unlike the petrol Ameo that feels underpowered and lethargic, the diesel is quite a performer. The 1.5-litre TDI diesel engine gets an upgraded turbocharger, that has bumped its power up to 110PS, while peak torque is rated at 250Nm. There's a hint of lag under 1500rpm, post which the Ameo diesel pins you to the back of your seat. Power delivery is seamless, and eggs you on to drive enthusiastically.
Performance Comparison (Diesel)
Volkswagen Ameo
Power
108.62bhp@4000rpm
Torque (Nm)
250Nm@1500-3000rpm
Engine Displacement (cc)
1498 cc
Transmission
Manual
Top Speed (kmph)
0-100 Acceleration (sec)
11.64 Seconds
Kerb Weight (kg)
1163kg
Fuel Efficiency (ARAI)
21.66kmpl
Power Weight Ratio
93.39bhp/ton
The short-throw 5-speed manual does well to add to the experience, but the hard clutch does take some getting used to. We preferred the 7-speed DSG, for its butter-smooth shifts and its ability to change personas at the drop of a hat. Drive sedately, and the automatic transmission shifts up early aiding fuel-efficiency. Go throttle heavy or slot into Sports, and the gearbox holds the revs right up to the redline letting you exploit all of the 250Nm.
%performancequote%
Although, once you put your foot-down on the accelerator pedal, the engine does open up post 3000rpm and all the way to the red line. But, in result, you get a noisy cabin as the engine sound increases gradually. On the good side, the manual gearbox is a delight offering smooth shifts. The clutch is also quite light and nimble but it's not as light as a Hyundai or a Maruti product. Speaking of the fuel efficiency, the petrol gets an ARAI certified mileage of 17.83 km/l, while the diesel will return around 20-21 km/l.
Thanks to a solid built chassis, balance and handling of the Ameo is sublime. Like other Volkswagen cars, the ride quality is on the stiffer side, but that is something that Volkswagen audience accept quite happily.
Safety
%safetyquote%
This is one of the areas where Volkswagen usually scores over its rivals in most of the segments. The Ameo is the only vehicle in its class to come with dual-front airbags along with ABS (anti-lock braking system) as standard. The diesel automatic also offers ESP (electronic stabilisation programme) and Hill-Hold Control. The Ameo is Volkswagen's first Made-for-India offering and will compete with the likes of the Maruti Suzuki Swift DZire, the Hyundai Xcent, the Honda Amaze, the Ford Figo Aspire, and the Tata Zest.
%safetyComparision%
Variants
Following the footsteps of its other Volkswagen siblings, Ameo too gets three variants to choose from i.e Trendline (base), Comfortline and Highline (top). Now, even before you choose, do keep in mind that Volkswagen has packed all its variants with ABS and dual-airbags as standard.
Not like any other base variant of a car which is generally deprived of almost everything, Trendline gets a lot of features that are value for money. For starters, you get body coloured bumpers, door handles and mirrors as well. Step inside and you get a sporty flat bottom steering wheel with tilt and telescopic adjustment, cup and bottle holders as well as a folding rear backseat as standard across all variants. But this is where its list of features come to a halt.
To get access to more features one has to go for the upper Comfortline variant can be your best bet in-terms of the price point. In addition to the Trendline features, you now get a decent audio system with USB, AUX and Bluetooth support that also manages to sync your phonebook. On the outside, you now get dual-beam headlamps while there are a lot of additions inside the cabin as well. There is a dual-tone beige setup along with a fancy cooled glovebox feature. You also get a lot of first in segment features such as cruise control, one touch up-down power windows, key remote opening and closing of all windows.
To get a more premium feeling out of the Ameo, its Highline variant does the job well. In addition to both Trendline and Comfortline, Highline takes the feature list a notch-up. On the outside, the use of chrome is well highlighted along with 15-inch alloy wheels. You also get access to first-in-segment rain sensing wipers. Step inside and you get an additional central armrest along with automatic climate control feature. Use of leather and brushed aluminium further adds to the premium feel. The biggest addition inside is the newly appointed touchscreen infotainment system which comes with a reverse parking camera. Along with voice command feature you also get steering mounted audio controls.
Pros & Cons of Volkswagen Ameo

CarDekho Experts:
With a host of class leading features along with a mouth watering price tag, the Ameo makes for an amazing package.
Things We Like
110PS diesel engine is a powerhouse! Can be fun and frugal at the same time.
Solid build quality inside-out, similar to that of its siblings. The Polo and the Vento.
Most feature loaded vehicle in the segment with features such as cruise control, MirrorLink support and others.
Things We Don't Like
Cabin best suited for four occupants. Rear-seat legroom and headroom could have been better as well
Relatively weak after sales network compared to competitors like Maruti Suzuki and Hyundai.
The Ameo doesn't offer an automatic option with petrol, almost every other car in the segment offers a petrol automatic.
The 1.2-litre petrol engine feels underpowered, especially on the highways.
Stand Out Features
Expandable boot space. With its first in segment single folding rear seat backrest you can easily store extra luggage on the go.

Segment-first dual-clutch automatic transmission with diesel, rest of the diesel automatics in the segment. The Maruti Suzuki Swift DZire and the Tata Zest come mated to an AMT gearbox.

Dual-front Airbags and ABS (anti-lock braking system) offered as standard. None of the vehicles in the segment offer this combination as standard
Volkswagen Ameo User Reviews
All (220)
Looks (52)
Comfort (59)
Mileage (44)
Engine (65)
Interior (33)
Space (38)
Price (36)
More ...
LATEST
HELPFUL
VERIFIED
CRITICAL
Comfortable and safest car. Very good average but feel low in power when you are using air conditioners. Service cost is high

Pros. Good Milage Affordable Beautiful design Smooth gear Shifting Adjustable seats and Steering wheel Cons. The car is spacious only if you have 4 or less than 4 in the ...Read More

Nice Average with Heavy Engine, Nice Safety Features, and Maintenance Cost is Heavy. Overall Good Car.

Damn good from a driver's perspective, rear seat, legroom are for 3ft, I guess😂 Buy the car use it as a 2 seater u would feel really happy, and will love the car.
Ameo Latest Update
Latest update: Latest Update: Volkswagen has introduced the GT Line variant to the Ameo, only with the diesel-AT variant for now, priced at Rs 10 lakh (Ex-showroom, India). Details here.
Volkswagen Ameo Prices & Variants: The Volkswagen Ameo is priced between Rs 5.84 lakh and Rs 10 lakh (ex-showroom pan-India). It is available in three variants: Trendline, Comfortline and Highline Plus.
Volkswagen Ameo Engine: The Ameo can be had with a 76PS, 1.0-litre petrol engine or a 110PS, 1.5-litre diesel engine. Both the engines are mated to a 5-speed manual transmission while the diesel can also be had with thr 7-speed DSG. The petrol engine on the Ameo is underpowered when compared to the competition while its diesel engine is at par with other cars offered in the segment.
Volkswagen Ameo features: On the features front, the Ameo gets dual-beam halogen headlamps, rain-sensing wipers, auto-dimming IRVM, a 6.5-inch touchscreen infotainment system with Apple CarPlay and Android Auto, cruise control, automatic climate control with rear AC vents and rear parking sensors, among others. In terms of safety features, the Ameo gets dual front airbags and ABS as standard across all its variants.
Volkswagen Ameo Rivals: The Ameo rivals the likes of the Maruti Dzire, Honda Amaze, Hyundai Xcent, Figo Aspire and the Tata Tigor.
Read More



Volkswagen Ameo Road Test

Are you Confused?
Ask anything & get answer in 48 hours
Write your Comment on Volkswagen Ameo
2 comments
1
R
rakesh barhia
Aug 9, 2021 6:03:23 PM
Price of VW ameo front bumper
Read More...
Reply
Write a Reply
1
P
pradeep s
Apr 18, 2020 11:38:24 PM
Awesome car.. enjoying the drive..
Read More...
Reply
Write a Reply