Hyundai Grand i10 Nios CNG Vs Tata Tiago CNG Comparison Review
Published On Jun 08, 2022 By Tarun for Hyundai Grand i10 Nios 2019-2023
While outright performance can take a back seat in the city, the need of the hour is to save on running costs. Which of these is the better choice?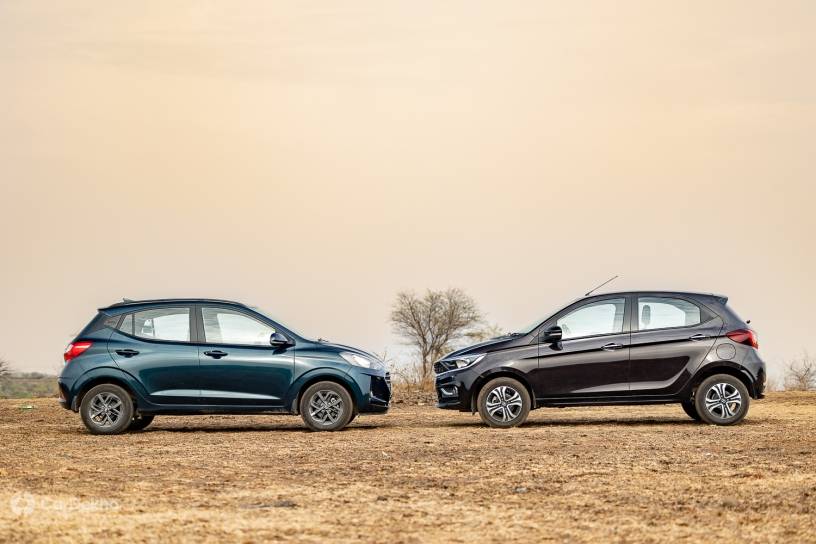 Not too long ago, CNG cars were believed to be cheap, unreliable, and frankly, too basic for the family. And despite CNG prices being as low as Rs 20 per kg in 2010, nearly two and a half times cheaper than petrol, its 'taxi fuel' image kept it from being widely used. Jumping to 2022, rising petrol prices have forced carmakers as well as buyers to consider CNG. And with better technology and ever-increasing demand, the cars have become a lot more sophisticated.
Today, we are comparing fully-loaded CNG variants of the Hyundai Grand i10 Nios and Tata Tiago. Both of them are priced similarly, but which one offers better space, practicality, performance, and fuel economy? Let's find out.
Looks

Both the hatchbacks are similar in size. However, they are a bit different when it comes to the exterior highlights. The Tiago's XZ+ CNG variant offers projector headlamps, steel wheels with covers that look like alloys, and the option of a dual-tone roof. The Grand i10 Nios gets halogen headlamps but projector fog lamps, 14-inch alloys, and roof rails. In our opinion, it's the Grand i10 Nios that looks more stylish and eye-catching.
Boot Space

The presence of the 10kg CNG tank barely leaves any boot space in both. You can still fit 1-2 small duffle bags or a couple of laptop bags in the Nios, but the Tiago can't go through with anything more than a thin shopping bag. This is primarily because in the Nios there is space between the tank and the boot to put stuff in, whereas the Tiago's Tank is too close to the boot lid, making it much harder to squeeze bags in.
Interiors

The Tiago and Grand i10 Nios both have good-looking interiors. However, the Hyundai's cabin feels more premium with better fit and finish and better quality plastics. The Tiago still suffers from fit and finish issues with inconsistent panel gaps in certain areas. You also feel airier in the Grand i10's cabin with a light dual-tone interior theme.
Features

Common Features

Tiago Highlights

Nios Highlights

LED DRLs

Android Auto and Apple CarPlay

Voice Assist

Front USB charger

Automatic AC

Dual Front AIrbags

Rear Parking Camera

Height adjustable driver seat

Projector headlamps

7-inch touchscreen infotainment

Black/Beige interior theme

Digital instrument cluster

Auto-folding ORVMs

Rear wiper/washer

Puncture Repair Kit

Cooled Glove Box

Dynamic guidelines in the rear camera

Projector fog lamps

8-inch touchscreen infotainment system

Dual-tone grey interior theme

Rear AC vents

Rear 12V socket
Both the cars are packed with more than basic features, which would be helpful for your daily needs. The Nios has an upper hand in the infotainment experience which is easier to use and gets a smoother interface. The Tiago's 8-speaker sound system is certainly better and the Tata hatchback also offers rear wiper washer, cooled glove box, auto-folding ORVMs and bending guidelines in the rear camera. Between the two, it's the Tiago which is offering a richer and more practical feature set.
Cabin practicality

In terms of cabin practicality, both the hatchbacks score good points with adequate storage spaces. Both get a dedicated space for phones and other knicknacks in the centre console, front USB charger and a 12V socket, two cup holders and bottle holders in doors. The Nios gets an open storage space over the glove box for added practicality, and the Tiago gets a cooled glovebox, but the door pockets can't fit larger 1-litre bottles. Overall, it's the Nios which can store more items with ease.
Rear Seat Experience and Features

The rear seats of both the hatchbacks are best for two adults, as three average sized adults abreast would find it uncomfortable in either. As a 4-seater, the Nios offers slightly more knee room and underthigh support and goes on to offer better features like rear AC vents and a 12V socket, which is missing in the Tiago. Dial in the light interiors and a larger glass area, and it's clearly the Nios that is offering a better rear seat experience.
Safety

Needless to say, Tata takes the lead here with its 4 star Global NCAP safety rating over the Nios's 2 star rating. So, in case of an accident, it's the Tiago which should keep you safer. In terms of safety features, both of them offer dual airbags and rear parking cameras and sensors. However, the Tiago extends its lead with a tyre puncture repair kit and front adjustable headrests.
Ride Comfort

Inside the city, both of the hatchbacks will keep the occupants comfortable and leave little to complain about. However, the Tiago is the better of the two here. Over potholes and speed breakers, it manages to offer a flatter ride, and the occupants feel less of the imperfections and harshness. This is because of better balanced suspension tune and better cushioning on the seats. Even on the highways, we felt the ride of the Tiago to be better settled than the Nios.
The Nios lets you feel more of the harsh surfaces and bad roads. While this softer suspension setup will keep you comfortable on good roads, it starts to translate more of the surface as the going gets rough. This is also accompanied by a thud sound which makes you feel the impact more. This is where the better rounded suspension of the Tiago takes a lead.
Engine And Performance

| | | |
| --- | --- | --- |
| | Grand i10 Nios | Tiago |
| Engine | 1.2-litre four-cylinder | 1.2-litre three-cylinder |
| Power (CNG) | 69PS | 73PS |
| Torque (CNG) | 95.2Nm | 95Nm |
| Power (Petrol) | 83PS | 86PS |
| Torque (Petrol) | 113.8Nm | 113Nm |
| Gearbox | 5-speed MT | 5-speed MT |
Numbers apart, the biggest difference between the two hatchbacks is the number of cylinders in the engine which in this case directly correlated to the refinement. The Nios gets a 1.2-litre four-cylinder petrol engine, and the Tiago gets a 1.2-litre three-cylinder engine.

While the brochure will have you believe that the Nios is down on power, the truth in the real world is different. As you crank up the engines, the Tiago's 3 cylinder vibrated more vigorously as compared to the Nios, which is a lot more calm and natural. And this experience continues as you drive as well. Both offer city-friendly acceleration and getting off the line feels effortless. Going for overtakes and gaps also feels natural with the strong mid-range. In fact, both Nios and Tiago CNG are efficient commuters and won't leave you lacking power, or switching to petrol for everyday drives.
The Tiago though, has a trick up its sleeve. It can crank up on CNG, while the Nios needs to do that on petrol. This means, if you have low or literally no fuel in the tank, you can still start the Tiago and head out to the nearest petrol pump.
Tested Performance

(CNG Car on CNG)

Nios

Tiago

0-100kmph

15.69s

17.28s

30-80kmph 3rd

11.47s

13.69s

40-80kmph 4th

22.01s

24.50s

100-0kmph

44.67m

41.92m

City Efficiency

20.24km/kg

17.81km/kg

(Petrol Nios / CNG Tiago On Petrol)

0-100kmph

13.04s

15.51s

30-80kmph 3rd

11.28s

12.76s

40-80kmph 4th

22.06s

-

100-0kmph

44.67m

41.92m

The Nios's trick is a more useful one, offering better everyday and usable performance. As you can see from our tested figures, it is not only quicker in the 0-100kmph sprint, but also in the in-gear accelerations. This helps it feel more of an effortless drive as compared to the Tiago. Also, while the Nios and Tiago can both cruise comfortably at triple digit speeds, reaching there is easier in the i10. In the Tiago, you'll be left wanting quicker acceleration for overtakes on the highways and this is the only time when you might try switching to petrol.
Running Costs

| | | |
| --- | --- | --- |
| | Grand i10 Nios | Tiago |
| Claimed | 28.5km/kg | 26.49km/kg |
| Tested (City) | 20.24km/kg | 17.81km/kg |
| Estimated driving range (City) | Around 160 kilometres* | Around 140 kilometres* |
| Petrol | 20.7kmpl | 23.84kmpl |
* Range calculated by considering tank capacity to be 8kg of CNG
The Nios offers fuel efficiency of around 3km/kg more than the Tiago. So, for every 100 kilometres that you drive, you'll be saving Rs 30 with the Nios.

| | | |
| --- | --- | --- |
| Running Cost Calculator | Grand i10 Nios | Tiago |
| Premium for CNG | Rs 93000 | Rs 90,000 |
| Running Cost CNG (Tested Mileage) | Rs 3.81 per km | Rs 4.11 per km |
| Cost for 22000km | Rs 83,820 | Rs 90,420 |
| Running Cost Petrol | Rs 7.93 per km | Rs 7.93 per km |
| Cost for 22000km | Rs 1,74,460 | Rs 1,74,460 |
| Difference | Rs 90,640 | Rs 84,040 |
Based on our calculations and tests above, your daily running costs of both the hatchbacks on CNG will be nearly half of that when you run them on petrol. Which means savings are guaranteed in both as compared to the petrol drivetrains. But, you do incur an extra purchase cost while buying a CNG. You're paying a premium of almost Rs 90,000 over both the cars' petrol variants; and with an estimated daily running of 50 kilometres, you will easily recover this premium in around one and a half years.
Verdict

| | | |
| --- | --- | --- |
| Grand i10 Nios | Tiago | Difference |
| | XE - Rs 6.28 lakh | - |
| | XM - Rs 6.55 lakh | - |
| Magna CNG - Rs 7.16 lakh | XT - Rs 6.85 lakh | Rs 31,000 |
| Sportz CNG - Rs 7.70 lakh | XZ+ - Rs 7.68 lakh | Rs 2,000 |
If you are looking for a feature-loaded family hatchback that has the CNG option, both of these rivals will fit the bill. The Grand i10 Nios offers better fuel efficiency, a more natural and effortless drive experience and better interiors. On the other hand, the Tiago gives a more comfortable ride quality, better feature package, and the assurance of a 4-star safety rating. Also, it's the Tiago that is being offered in lower-priced CNG variants as well, which gives you freedom to pick the variant you want.